Three brand new tools for your Excel
We added 3 new tools to Ultimate Suite for Excel. They are Count and Sum by Color, Unpivot Table and Create Cards. Read on to learn how you can calculate cells by color, flatten your summary tables, and convert your data into label cards.
Whether you are a football fan or not so football-crazed, you can't miss the Brazilian World Cup spirit with the explosion of yellow, blue and green. This event made us work hard on creating and testing 3 new tools for your Ultimate Suite to be able to 'recharge our batteries' watching the matches and supporting our favorite teams.
3 new tools for Ultimate Suite
We carefully considered your feedback to see what other add-ins you may want in Excel. As a result, Ultimate Suite has got 3 more tools in the box. Please give a warm welcome to Count and Sum by Color, Unpivot Table and Create Cards. Now you can automatically calculate colored cells, flatten your crosstab tables, and turn your data into label cards for printing.
Just hit the Download button and install the latest version of Ultimate Suite for Excel.
Count and sum cell data based on their color
If you often need to calculate cell data by color, you will find Count and Sum by Color really helpful.
This tool shows you the number and sum of identically colored cells. What we really like about this add-in is that you can choose to calculate all data or pick any cell with the needed color to see the results.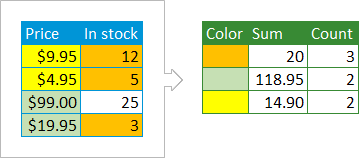 Unpivot your summary tables
We received several emails from people who often get huge complex data tables but find it challenging to transform such spreadsheets for further analysis. Our team couldn't leave you without a special feature for this task and created Unpivot Table.


Convert your Excel table to print labels
We can imagine that you use Excel not only for calculation or storing large records, but for reshaping and printing your data. Now you can quickly make the layout of your table easy for printing and avoid much horizontal scrolling with the Create Cards tool.


Enhancements for your favorite tools
Besides fixing bugs, our developers improved 2 popular add-ins based on your feedback.
In the latest version of Ultimate Suite, Consolidate Worksheets Wizard can join data from identically named columns even if the structure of your tables is different.
Now the Compare Two Tables tool from the Dedupe group allows selecting two ranges in the same table, so you don't need to copy the second range to a different sheet.
We are hungry for your feedback!
Help us help you. Please leave your comments or email us what you think about the latest version of the suite. Have you found the new tools useful? What features have yet to be improved?