Count number of characters in Excel
Ready-made formulas for char or word count
The add-in does exactly what its name suggests: counts words and characters in Excel. You can calculate all symbols or words in a cell as well as find out the number of specific letters. The results can be returned as values or reusable formulas.
Learn more
This tool is part of
Ultimate Suite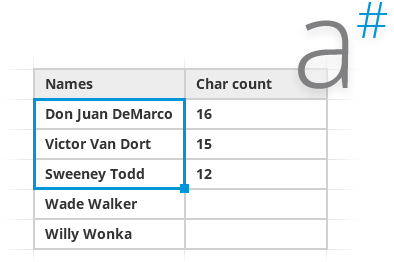 With Count Characters you will
Count all characters in Excel

Return the number of symbols in each cell of the selected range.

Get a word count in Excel

Find out the number of words in each cell within a certain range.

Count specific characters in selected cells

Check how many times a particular char appears in your dataset.

Insert the result as value or formula

Have the results as static numbers or updatable formulas.
How to count letters and words in Excel
License benefits
Our customers get
Unconditional 30-day money-back guarantee

Secure payment
guarantee

Life-time license,
no additional fees ever

Volume discounts: the more you buy, the less you pay

1 license
for 2 computers

Free life-time support
Frequently asked questions
Any questions or comments?
Please contact us here