Find and delete duplicates in Excel table
Check your worksheet for dupes and unique values
Finding and removing duplicates in Excel may be a real headache, especially when your worksheets contain thousands of rows. Duplicate Remover for Excel does the job quickly and perfectly – it can find and delete duplicates based on one or several key columns, identify unique values, highlight, copy or move the found entries.
Learn more
This tool is part of
Ultimate Suite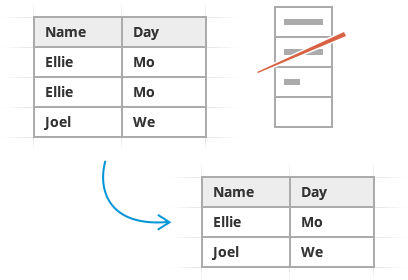 With Duplicate Remover for Excel you will
Search for duplicates

Find absolutely all duplicates in your worksheet, including their first occurrences.

Find dupes without 1st occurrences

Check your table for duplicate records, excluding their first instances.

Dedupe by multiple key columns

Check your worksheet for duplicate rows by selecting several key columns.

Delete duplicates in Excel

Eliminate all duplicate cells or repeated rows in one go.

Highlight duplicate and unique values

Shade repeated and unique values in any color of your choosing.

Check for unique values

Use this option to find the entries that appear in your spreadsheet only once.

Find uniques + 1st occurrences of dupes

Identify all different values in your Excel document to get a list of distinct entries.

Identify duplicates in a status column

Get a new column with "Unique" or "Duplicate" marks added in each row.

Show duplicates by selecting them

Have unique or duplicate cells selected in your table.

Move or copy dupes and uniques

Copy unique entries or move dupes to a new Excel file.
How to remove duplicates in Excel
License benefits
Our customers get
Unconditional 30-day money-back guarantee

Secure payment
guarantee

Life-time license,
no additional fees ever

Volume discounts: the more you buy, the less you pay

1 license
for 2 computers

Free life-time support
Frequently asked questions
About Duplicate Remover for Excel
Any questions or comments?
Please contact us here