Sum same cell in multiple sheets
Aggregate or copy same ranges the way you need
Cross-Sheet Operations is a set of two utilities for work with same cells and same ranges in multiple Excel sheets. With Cross-Sheet Cell Operations, you will edit, create references, copy, or aggregate same cells. The Cross-Sheet Range Operations utility will help you copy same range and aggregate either all same ranges together, or each one separately.
Learn more
This tool is part of
Ultimate Suite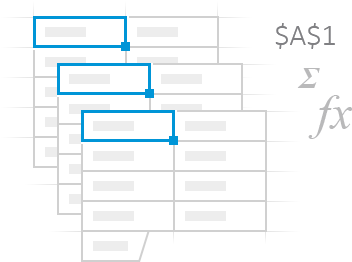 With Cross-Sheet Operations you will
Edit the same cell

You can edit the same cell across all open sheets or only the selected one.

Copy the same cell or range

Copy the same cell or range values and paste them vertically or horizontally.

Aggregate same ranges together

Perform operations with all same ranges and get the result pasted as a value or as a formula.

Sum the same cell

Select a function to apply and paste the result as a value or as a formula.

Reference same cells or same ranges

Select the paste option: paste values, create references, pull links, or paste without borders.

Sum each range separately

Sum each same range across multiple sheets and paste the results in a column or in a row.
How to edit the same cell in multiple sheets
Video: How to use Cross-Sheet Operations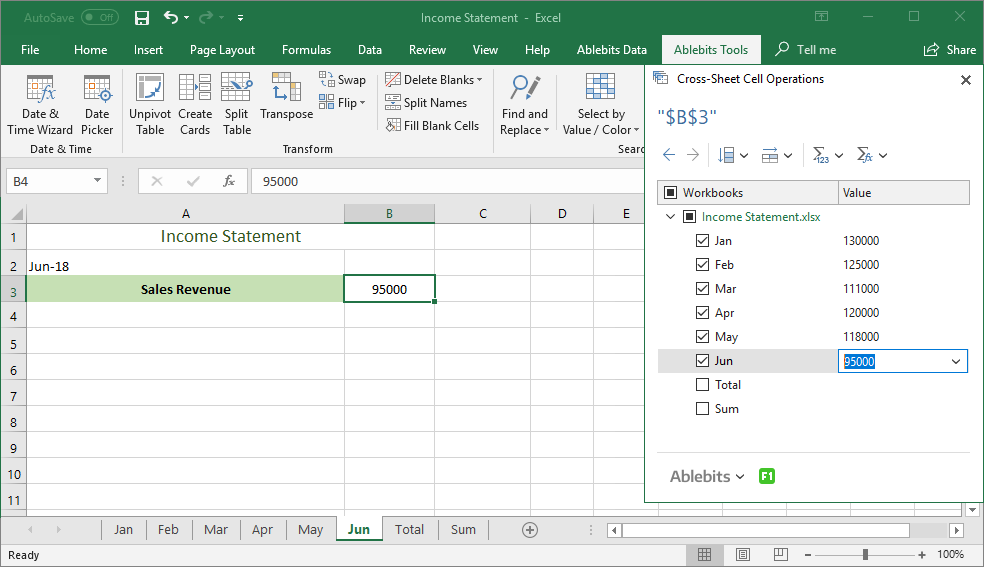 List and edit same cell across multiple sheets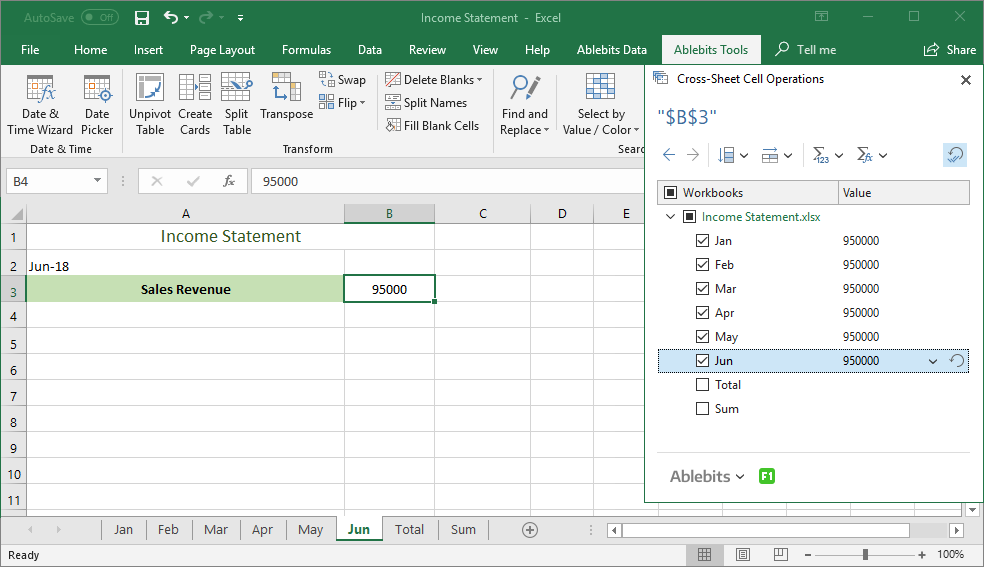 Undo one cell entry or edits to all sheets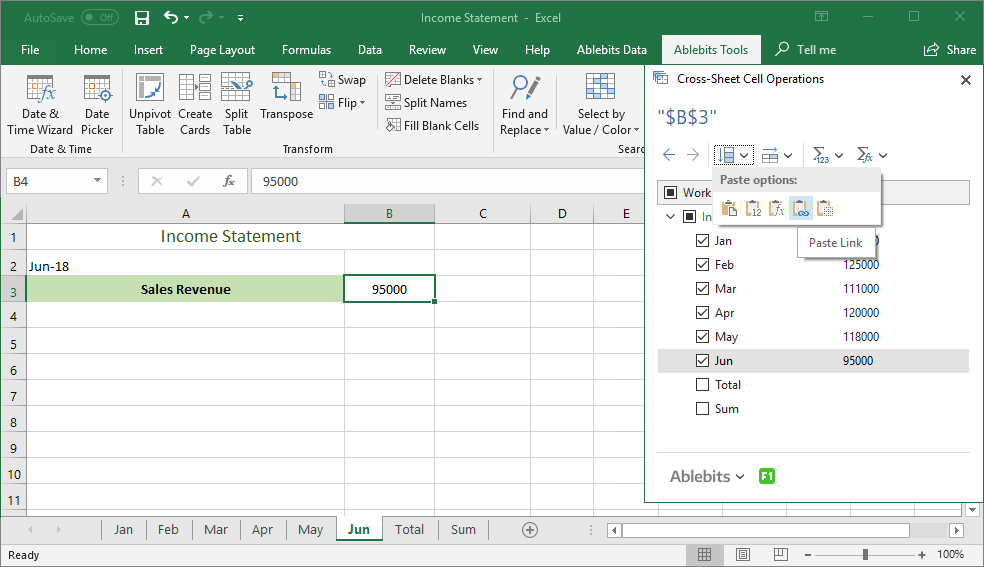 Create references to same cell, paste them in a row or in a column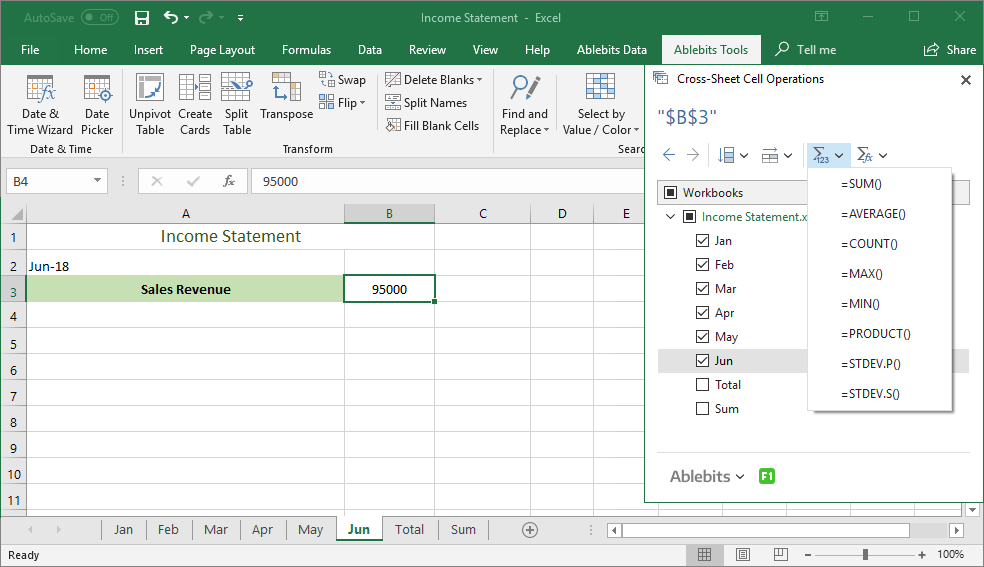 Sum same cells across multiple workbooks and paste values or formulas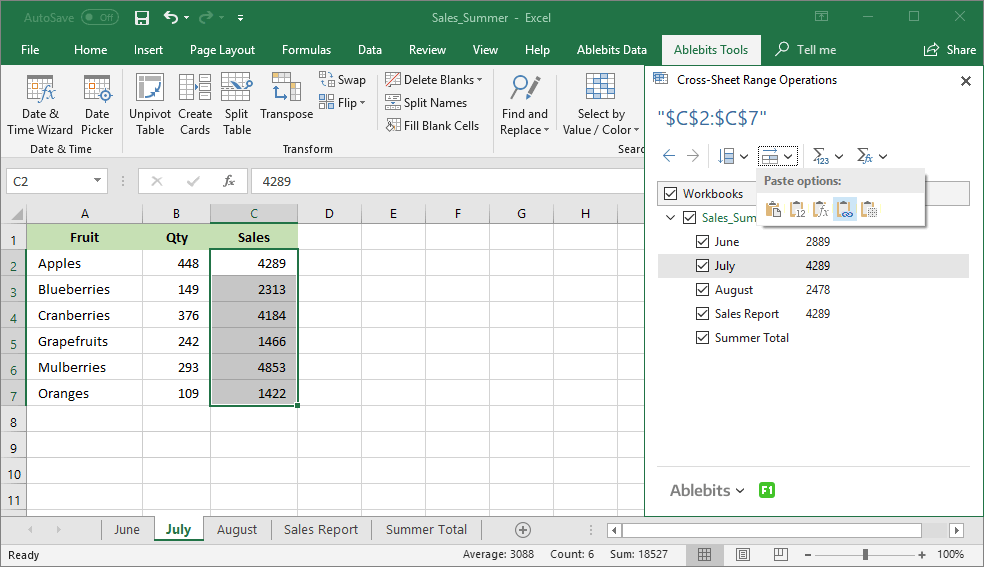 Copy same ranges and select the paste option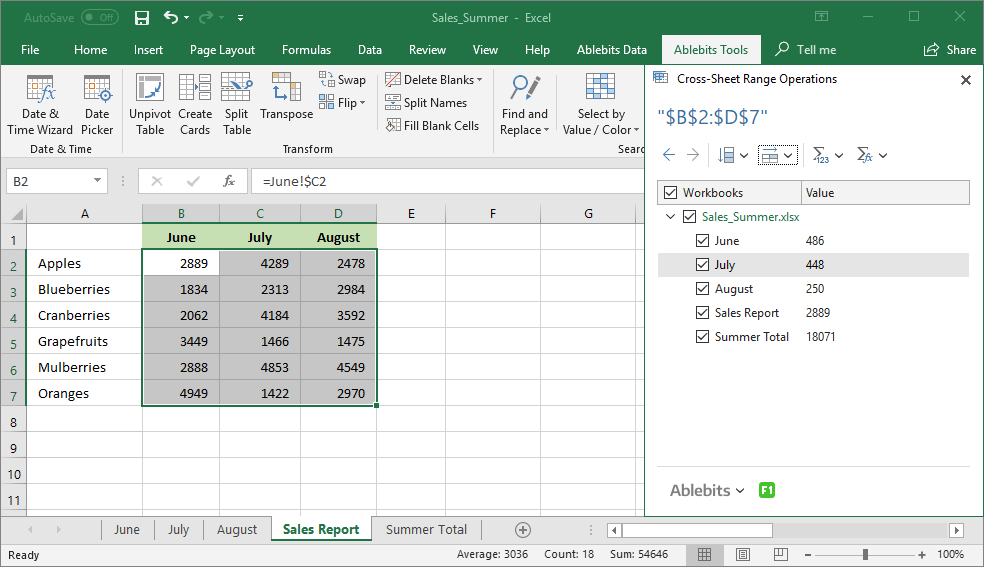 Pull same ranges and paste them vertically or horizontally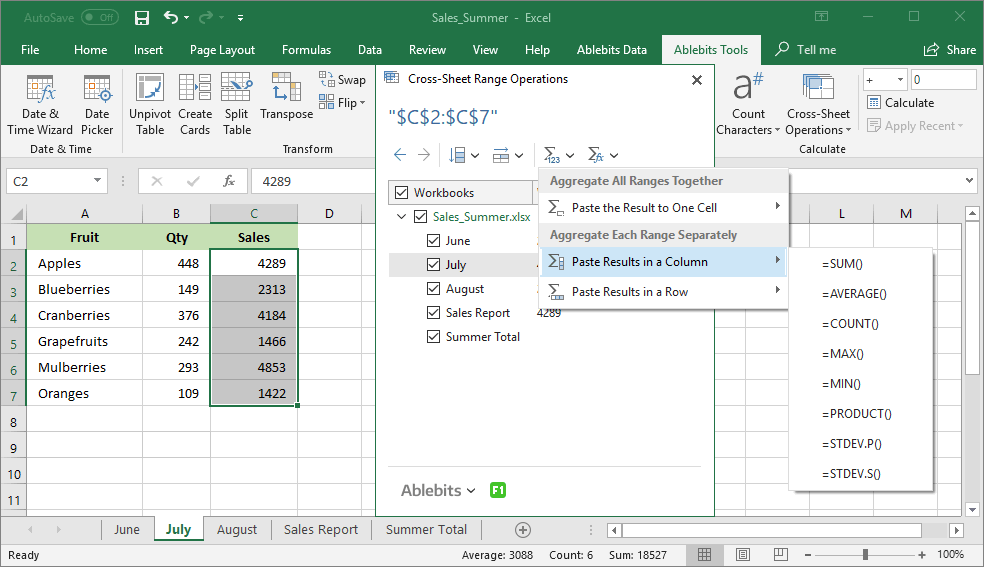 Aggregate same ranges together or each one separately
License benefits
Our customers get
Unconditional 30-day money-back guarantee

Secure payment
guarantee

Life-time license,
no additional fees ever

Volume discounts: the more you buy, the less you pay

1 license
for 2 computers

Free life-time support
Frequently asked questions
About Cross-Sheet Operations
What is Cross-Sheet Operations and what do I need it for?

Cross-Sheet Operations is a tool for Excel, part of Ablebits Ultimate Suite for Excel. It will help you review, edit, reference, or aggregate same cell and same range across multiple Excel sheets.

How do I use the tool?

First of all, you open the Excel books that contain the sheets you are going to work with. Select the cell or the range of interest. Run the Cross-Sheet Operations tool by clicking its icon in the Calculate group on the Ablebits Tools tab and select the Cell Operations or the Range Operations utility. Make sure to check all boxes next to the sheets you need. In the tool's window, select the action.

Find a more detailed instruction here.
Any questions or comments?
Please contact us here