Consolidate data from multiple worksheets
Summarize several worksheets into one report
Consolidate data from multiple Excel files into one without opening each of them. Sum, count, find the maximum, minimum, or average value in three simple steps. The Consolidate Sheets tool can summarize your data by column headers, row headers, or position in a table.
Learn more
This tool is part of
Ultimate Suite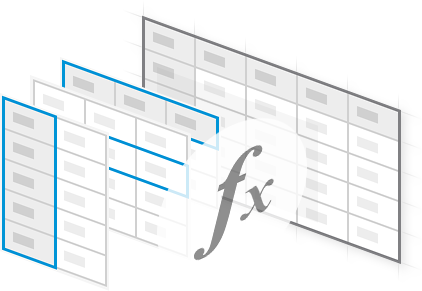 With Consolidate Sheets you will
Consolidate multiple Excel files at once

You can select as many Excel workbooks for merging as you need without even opening them.

Summarize any range

Have the add-in consolidate all data on the sheet or select the desired range.

Summarize your data in 11 different ways

All Excel consolidate functions are at your disposal to calculate the numbers one way or another.

Consolidate data in columns and rows

Use column and row labels separately or together to calculate the numbers at the intersection.

Consolidate by position

Have numbers merged and calculated according to their position in your tables.

Define a place for results

Get the result in a new workbook, new worksheet, or any destination range that you specify.
How to consolidate data in Excel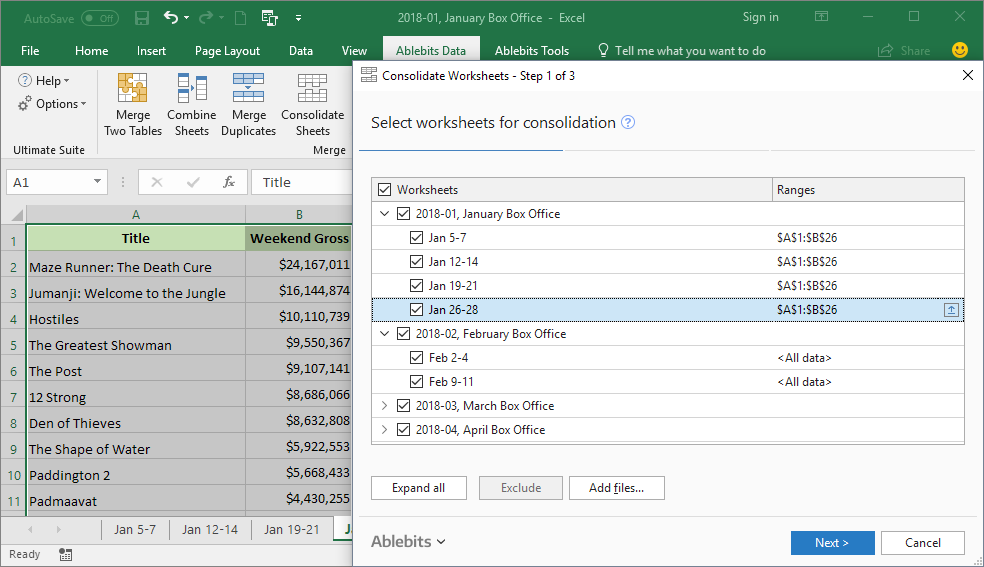 You can choose as many files for consolidation as you need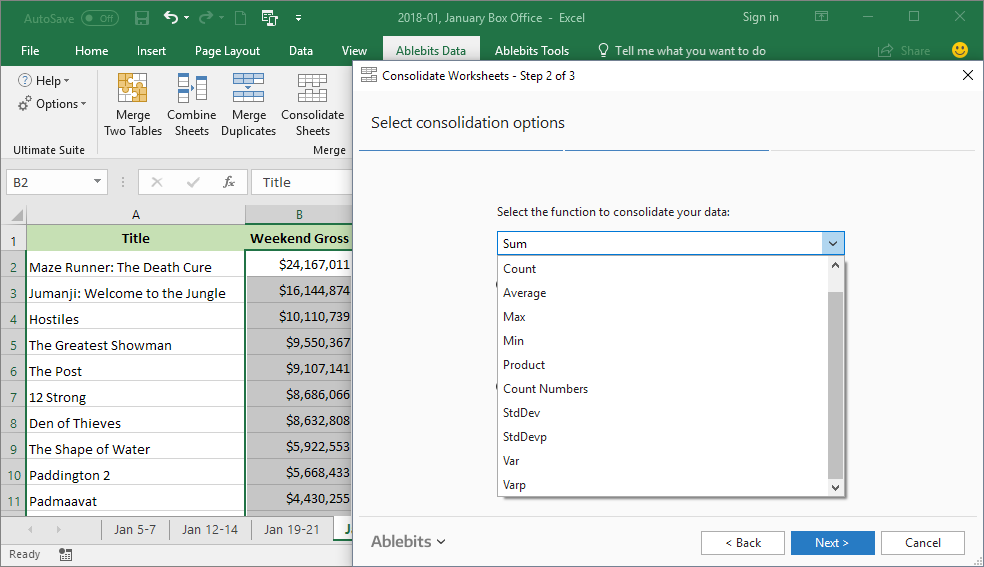 Choose any of the Excel consolidate functions for your calculations
Consolidate data based on column headers, row headers, or position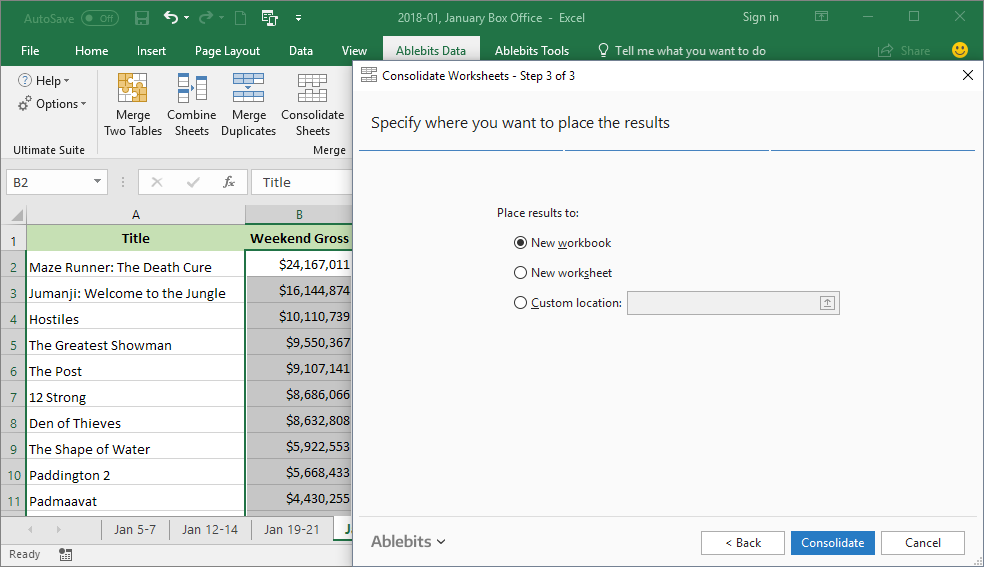 Put the result into a new workbook, worksheet, or a range of your choice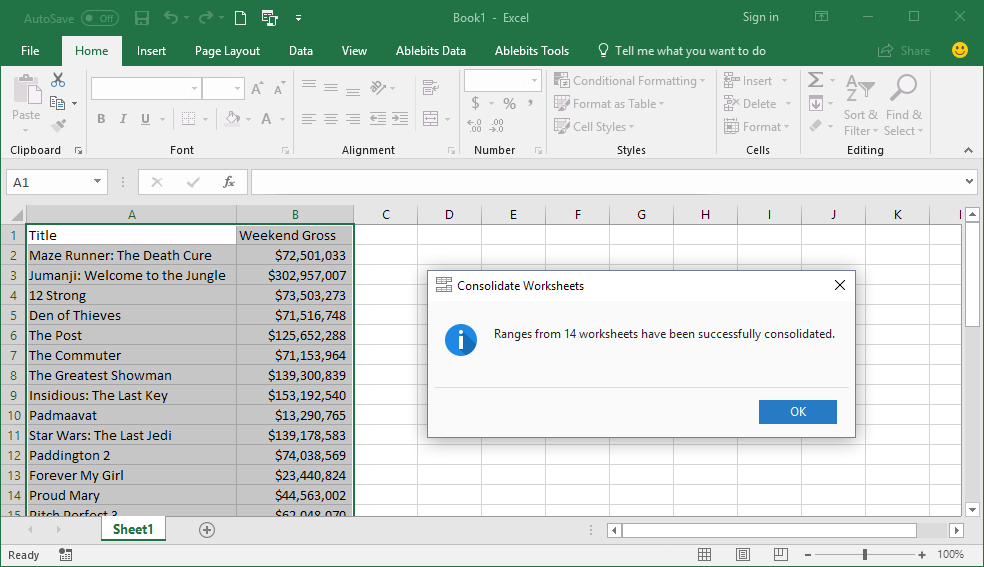 Data from all selected worksheets are consolidated
Consolidate Excel files into one
4 different ways to summarize data

Consolidate files by column headers

Summarize values by row labes

Merge and summarize data by row and column labels

Consolidate data by position in worksheets
License benefits
Our customers get
Unconditional 30-day money-back guarantee

Secure payment
guarantee

Life-time license,
no additional fees ever

Volume discounts: the more you buy, the less you pay

1 license
for 2 computers

Free life-time support
Frequently asked questions
About Consolidate Sheets
What is Consolidate Sheets and what do I need it for?

The Consolidate Sheets tool not only joins multiple Excel sheets together. It creates a full summary of your numbers, using any of Excel consolidate functions such as Sum, Count, Average, Min, Max, etc.

Doesn't Excel provide a way to consolidate data?

It does. You can use the built-in Excel Consolidate feature. But our Consolidate Sheets offers a user-friendly and intuitive way to join worksheets together. It will walk you through the consolidation process helping you configure all the options. In addition, our add-in can summarize data not only by column or row labels, but also by position.

How to consolidate many Excel files at once?

To consolidate multiple Excel files into one, do the following:

Click Consolidate Sheets on the Ablebits Data tab.
Select worksheets for consolidation.
Select the function.
Choose to consolidate by label or by position.
Decide where to place the result.
Click Consolidate.

See a more detailed description here.

How many Excel worksheets can I consolidate at once?

You are free to merge and calculate as many files as you need as long as the result table doesn't exceed the limit for cells in your Excel version.

What functions does Consolidate Sheets summarize with?

Our utility uses the following Excel consolidate functions: Sum, Count, Average, Max, Min, Product, Count Numbers, Stddev, Stddevp, Var, Varp.
Any questions or comments?
Please contact us here