Check for similar records and fuzzy matches
Quick way to perform fuzzy lookup in Excel
Use Fuzzy Duplicate Finder to find and fix typos and misprints in your Excel files. The add-in searches for partial duplicates that differ in 1 to 10 characters and recognizes omitted, excess, or mistyped symbols. You just choose what to correct, make a couple of mouse-clicks, and get a flawless data set at your disposal.
Learn more
This tool is part of
Ultimate Suite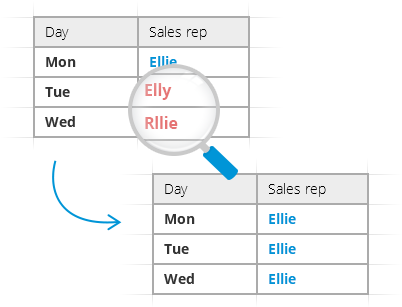 With Fuzzy Duplicate Finder you will
Search within multiple rows and columns

Find all similar values that differ in 1 to 10 characters.

Manage the correct variants

Replace the typos with one of the words from the list or enter your own proper value.

Quickly navigate between the results

See all fuzzy matches at a glance organized by duplicate groups.

Export the found misprints

Export search results to a separate worksheet for reviewing or correcting them.
Your personal Excel fuzzy duplicate finder
License benefits
Our customers get
Unconditional 30-day money-back guarantee

Secure payment
guarantee

Life-time license,
no additional fees ever

Volume discounts: the more you buy, the less you pay

1 license
for 2 computers

Free life-time support
Frequently asked questions
About Fuzzy Duplicate Finder
Any questions or comments?
Please contact us here