In this tutorial, you will find step-by-step instructions on how to deploy the Business edition of Ultimate Suite for Excel through a Group Policy Object. Also, you can deploy Ultimate Suite for Excel via SCCM.
Create a GPO
Run the Group Policy Manager:

Create a new Group Policy Object:

Review the Group Policy Object and specify target sites, domains, and users:

Run the GPO Editor
For the created GPO, add a new software installation package (User Configuration > Software Settings > Software Installation > New > Package).

Note. Do not use Computer Configuration—this deployment won't work.

Select the Ultimate Suite msi deployment package:

Pick the deployment method:

Right-click the deployment package icon and select Properties:

Open the Deployment tab and make sure to check the Install this application at logon box:

Add registration information via GPO
To deploy registration information together with installation, add two string values to the registry (via User Configuration > Preferences > Windows Settings > Registry), for example:
[HKEY_CURRENT_USER\Software\Ablebits\Ultimate Suite for Microsoft Excel]
"RegistrationName"="Fox Mulder "
"ProductKey"="ERLS7-XXXXX-4KXE6-XXXXX-TM6SP-XXXXX "
Add registration information via GPO: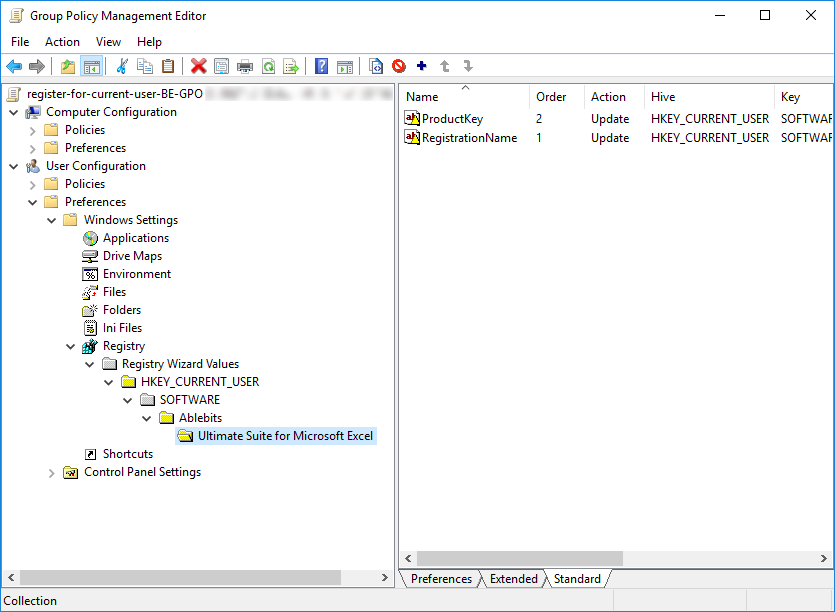 Configure AppLocker to let the add-in work correctly
If you use AppLocker in your organization, do not forget to configure it to let the Ablebits add-ins work. Find a quick manual on this page: Configure AppLocker to let the add-in work correctly