Separate first and last name in Excel
Split titles, salutations, and suffixes
If you have a worksheet with differently formatted names in the same column, Split Names for Excel will quickly clean up the mess and put first, last, and middle names into individual columns. It perfectly recognizes various multi-part names, over 80 salutations, about 30 courtesy suffixes, and post-nominal letters.
Learn more
This tool is part of
Ultimate Suite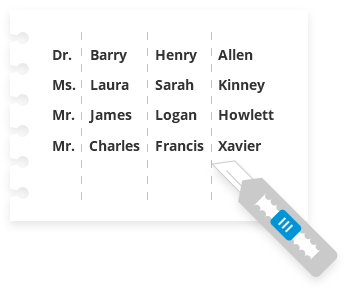 With Split Names you will
Divide multi-part names

Separate first and last names, isolate middle names as well.

Pull other words apart from names

Choose to detach salutations, titles, and courtesy suffixes.
How to separate first and last name in Excel
License benefits
Our customers get
Unconditional 30-day money-back guarantee

Secure payment
guarantee

Life-time license,
no additional fees ever

Volume discounts: the more you buy, the less you pay

1 license
for 2 computers

Free life-time support
Frequently asked questions
Any questions or comments?
Please contact us here