Insert multiple pictures in Excel at once
Add image to a cell so they make a perfect fit
The Insert Pictures add-in takes multiple images of your choice and fits them into separate cells. You decide how many pictures to insert and where to insert them - in a column or row. Also, you choose what size the images should be: pictures adjusted to cells, cells resized to accommodate images, or any specific size that you set.
Learn more
This tool is part of
Ultimate Suite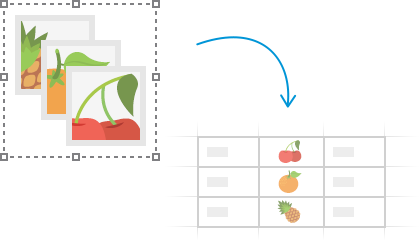 With Insert Pictures you will
Insert sets of pictures in columns or rows

Choose to add multiple images to cells vertically or horizontally, all at a time.

Fit cells to pictures

Have Excel adjust each cell to the size of each image.

Decide on the size of the added images

Specify the desired height or width so Excel pastes pictures accordingly.

Fit pictures to cells

Resize every image so that it fits properly within a cell.
How to insert pictures in Excel
License benefits
Our customers get
Unconditional 30-day money-back guarantee

Secure payment
guarantee

Life-time license,
no additional fees ever

Volume discounts: the more you buy, the less you pay

1 license
for 2 computers

Free life-time support
Frequently asked questions
Any questions or comments?
Please contact us here