Manage Excel columns the easy way
Move, insert, autofit all columns in a click
If your Excel table has multiple columns, arranging them in a proper order can be a challenge. Column Manager makes a list of all columns in your table, so you can comfortably move between them, add new ones, autofit to the longest entries, quickly find and select the needed column.
Learn more
This tool is part of
Ultimate Suite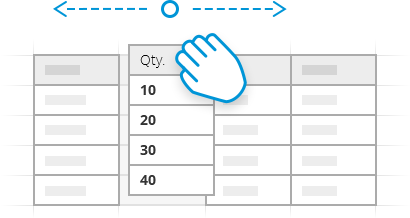 With Column Manager you will
Move your columns on the fly

Reorder your columns the way you need without copying, cutting, and pasting.

Insert and delete columns

Forget about wasting time on deleting or inserting columns, a single mouse click is all it takes.

Quickly find and select any column

Just click on the header in the list and get the corresponding column selected in your Excel table.

Autofit column width

To autofit columns in Excel, select any cell in the column and click the Auto Fit button on the add-in pane.
How to insert, move, select and autofit columns in Excel
License benefits
Our customers get
Unconditional 30-day money-back guarantee

Secure payment
guarantee

Life-time license,
no additional fees ever

Volume discounts: the more you buy, the less you pay

1 license
for 2 computers

Free life-time support
Frequently asked questions
About Column Manager for Excel
Any questions or comments?
Please contact us here