Compare Excel spreadsheets for differences
Find different values, formulas, formatting
The Compare Sheets tool will help you quickly find and highlight differences between two Excel spreadsheets or lists. The add-in detects differences in values, formulas, formatting and marks unique rows and different cells with fill, font, or border color. Once the differences are found, your worksheets are placed side by side for you to comfortably review and merge the differences.
Learn more
This tool is part of
Ultimate Suite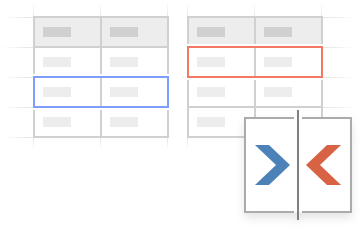 With Compare Sheets for Excel you will
Check sheets for different cells

Find all the cells that are different in partially matching rows.

Ignore or consider hidden and empty cells

It is up to you whether to include empty and hidden columns and rows into the comparison or ignore them. The tool can do both.

Merge differences with a couple of clicks

Open your sheets in a special Excel mode, place them side by side and merge all found differences under full visual control.

Copy different cells to the second worksheet

Just one click and all the selected cells are automatically copied to another sheet.

Compare sheets of different types

Compare pricelists, invoices, balance sheets, contracts, or reports. Choose one of the algorithms for processing unstructured sheets, column-organized lists and one-to-one reports.

Find unique rows

Identify rows that are present in one sheet and absent in another.

Find differences in formulas and formatting

If differences in formulas or formatting are important for you, check the corresponding options.

Choose the way to identify differences

By default, we use background color to show differences, but you can also select font color or bottom border.

Insert unique rows in the other sheet

Using a special button, you can insert the rows that exist only in one sheet in the other sheet.

Delete differences in one go

Select the cells you want to remove and get rid of them with the help of the delete button.
How to compare two Excel files for differences
Video: How to compare Excel sheets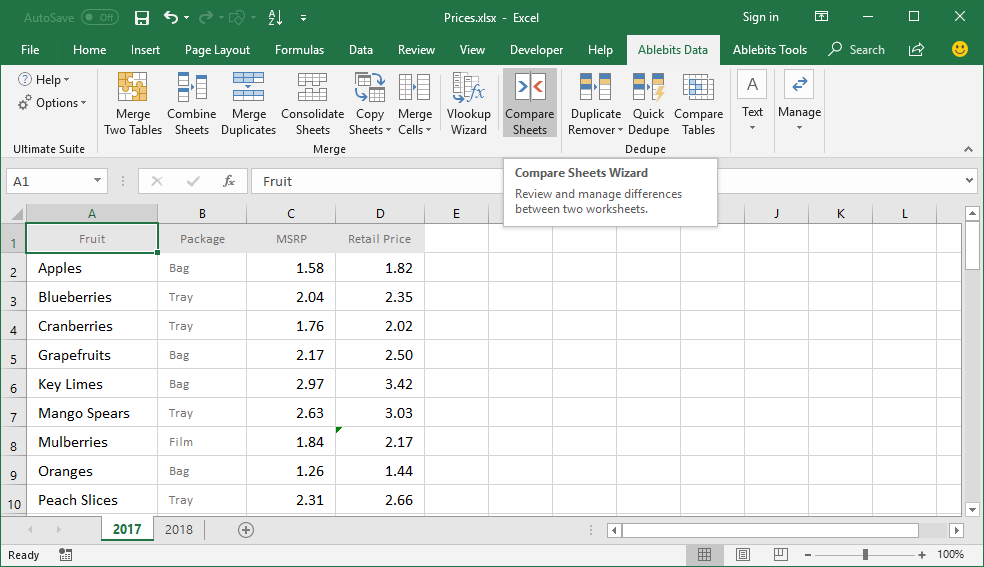 Click the Compare Sheets icon in Ablebits Data tab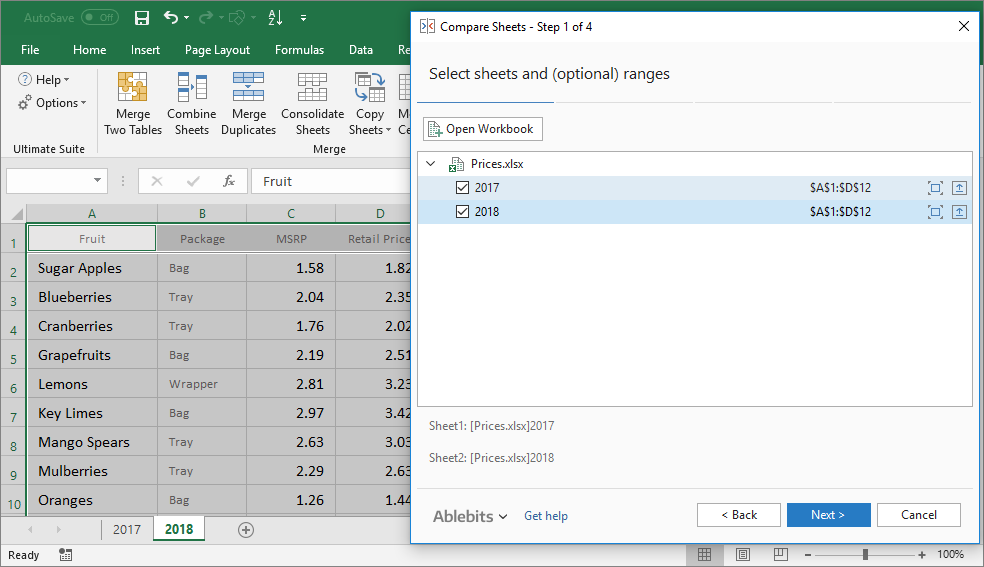 Select the Excel worksheets you are going to compare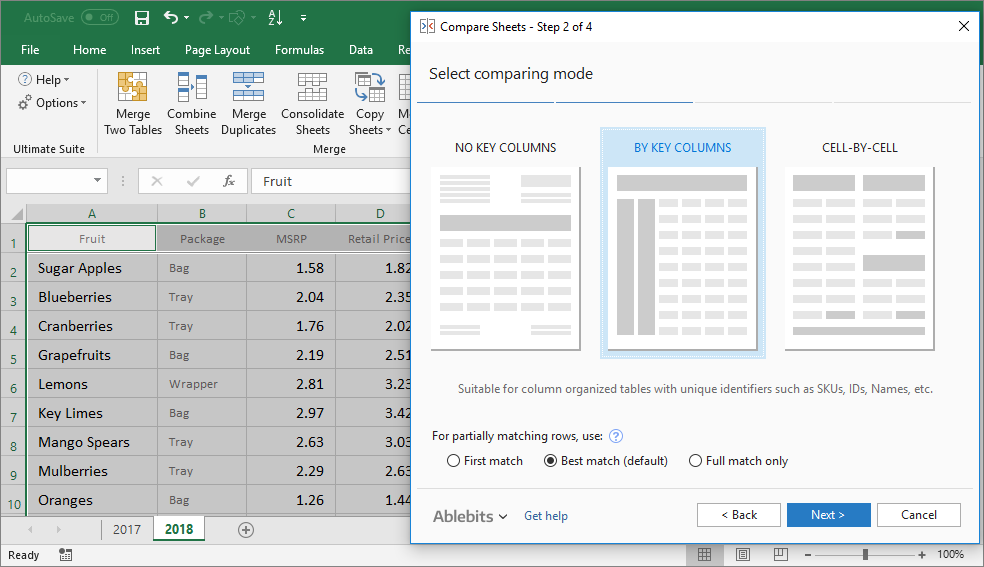 Select the mode to compare the sheets the way you need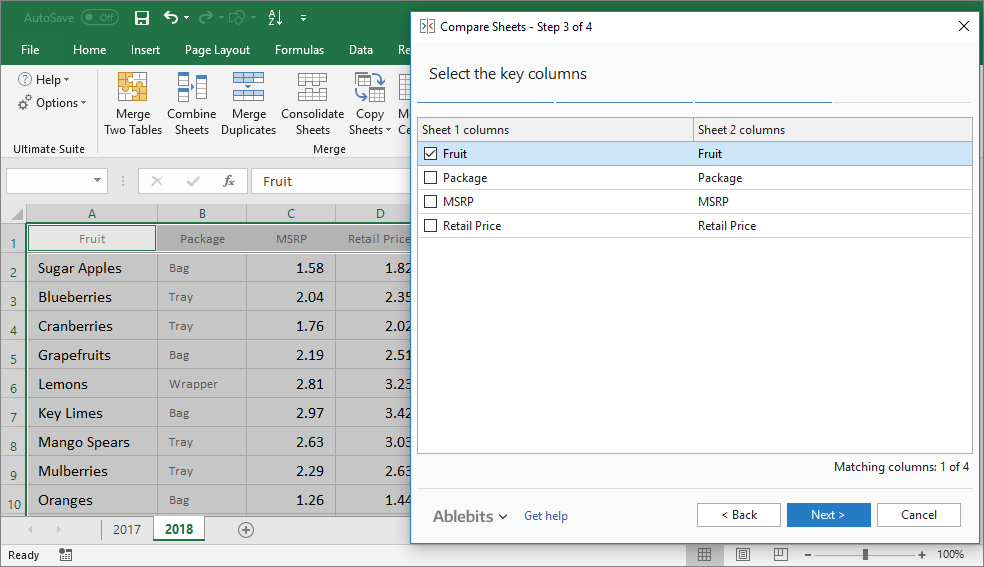 Choose the key columns if there are any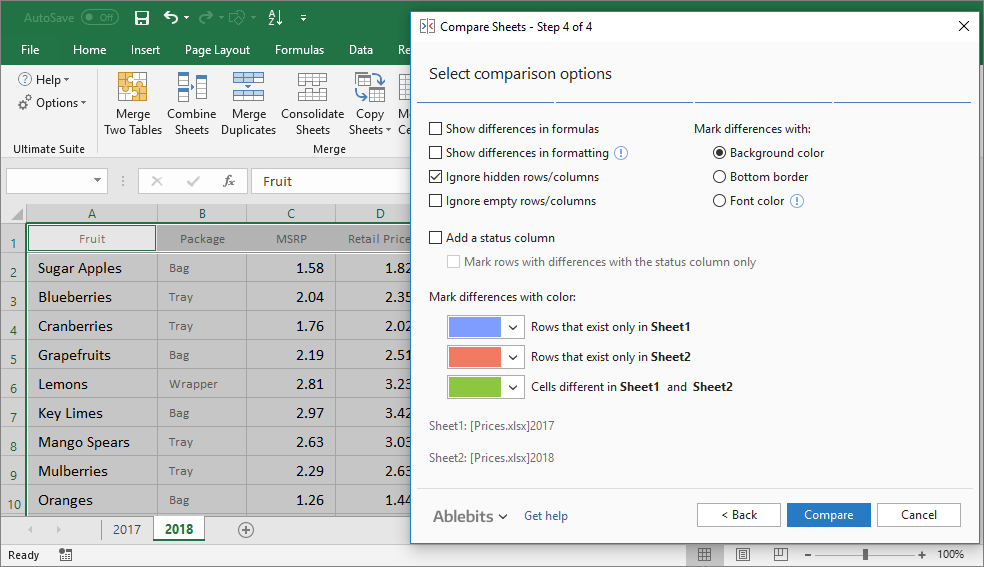 Select the desired comparison options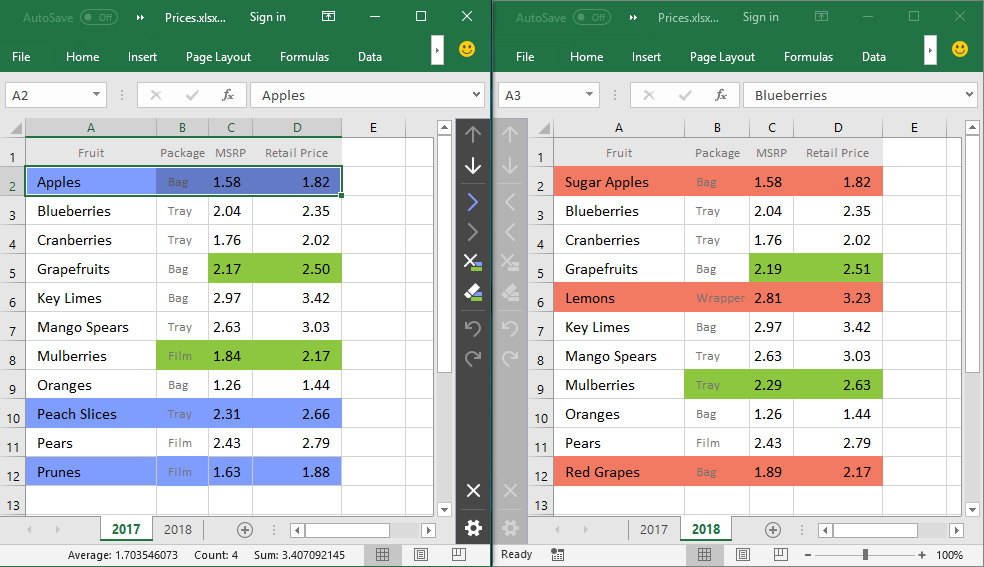 Match your sheets step by step using the special toolbar
License benefits
Our customers get
Unconditional 30-day money-back guarantee

Secure payment
guarantee

Life-time license,
no additional fees ever

Volume discounts: the more you buy, the less you pay

1 license
for 2 computers

Free life-time support
Frequently asked questions
About Compare Sheets in Excel
Any questions or comments?
Please contact us here