Create table of contents in Excel
Make hyperlinks to all sheets for easy navigation
Create table of contents in Excel with no VBA macro involved. For this, just select the top cell of the destination range and click on the add-in icon. Your table of contents with hyperlinks to all the worksheets in the current workbook will appear straight away.
Learn more
This tool is part of
Ultimate Suite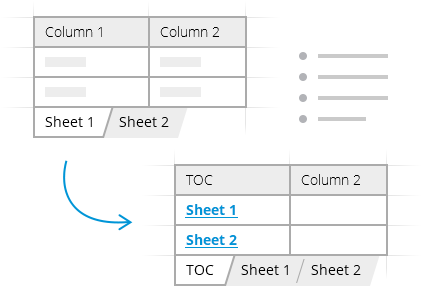 With the Table of Contents tool you will
Create hyperlinks to all sheets in the workbook

You can create a table of contents on each sheet to easily navigate back and forth.

Choose the place for your TOC

Select the top cell for the table of contents, so it will appear exactly where you need it.
Insert TOC to create hyperlinks between sheets
License benefits
Our customers get
Unconditional 30-day money-back guarantee

Secure payment
guarantee

Life-time license,
no additional fees ever

Volume discounts: the more you buy, the less you pay

1 license
for 2 computers

Free life-time support
Frequently asked questions
About Table of Contents for Excel
Any questions or comments?
Please contact us here