Combine Excel sheets by column headers
Merge multiple worksheets without copying and pasting
Use the Combine Sheets Wizard to merge data from several worksheets into a single Excel sheet based on column headers. You can choose what columns to copy, whether to move the original formulas or calculated values, and how the resulting sheet should be formatted. Have the results inserted in the same or new workbook.
Learn more
This tool is part of
Ultimate Suite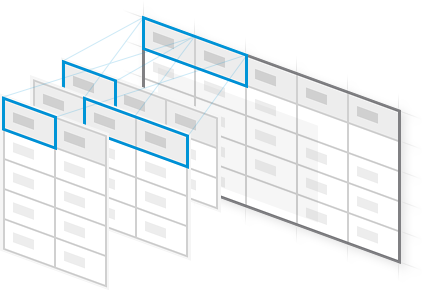 With Combine Sheets you will
Combine as many sheets as you want

Use the tool to quickly merge an unlimited number of Excel worksheets in one go.

Merge sheets by column names

Bring the data from identically named columns together, no matter the column order.

Save all formulas and formatting

Transfer not only formulas or values to a new table, but the original formatting as well.

Create links to source data

Get the results updated automatically when the data in the original tables changes.

Separate copied ranges by blank rows

Add a blank row after each subset of data to make the results better readable.

Have the results wherever you want

Put the merged tables into a new workbook or worksheet, or choose a location on your current Excel file.
How to combine Excel files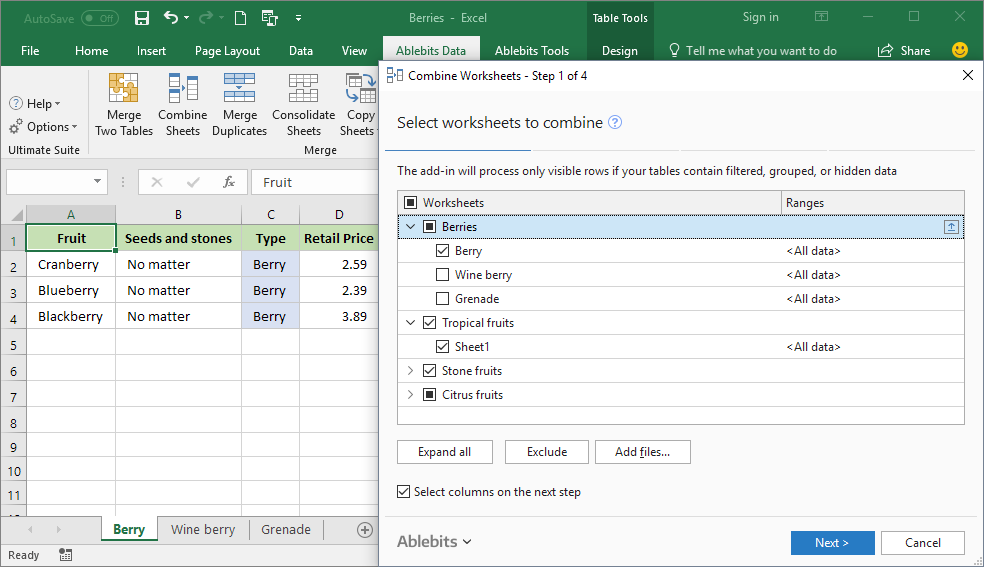 Select the workbooks and worksheets you want to merge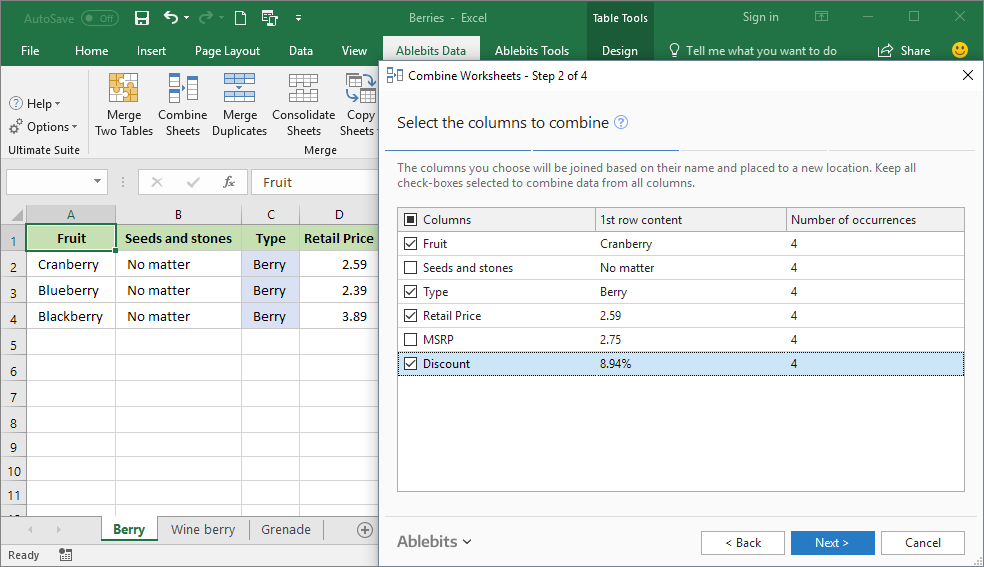 Decide which columns will be copied to your new table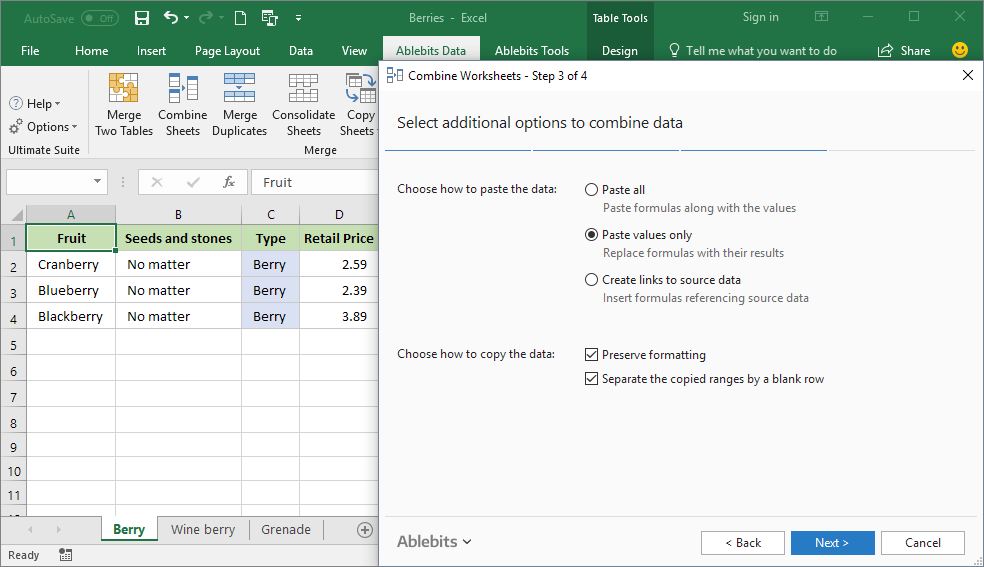 See if you want to copy formulas, values, or create links to the source data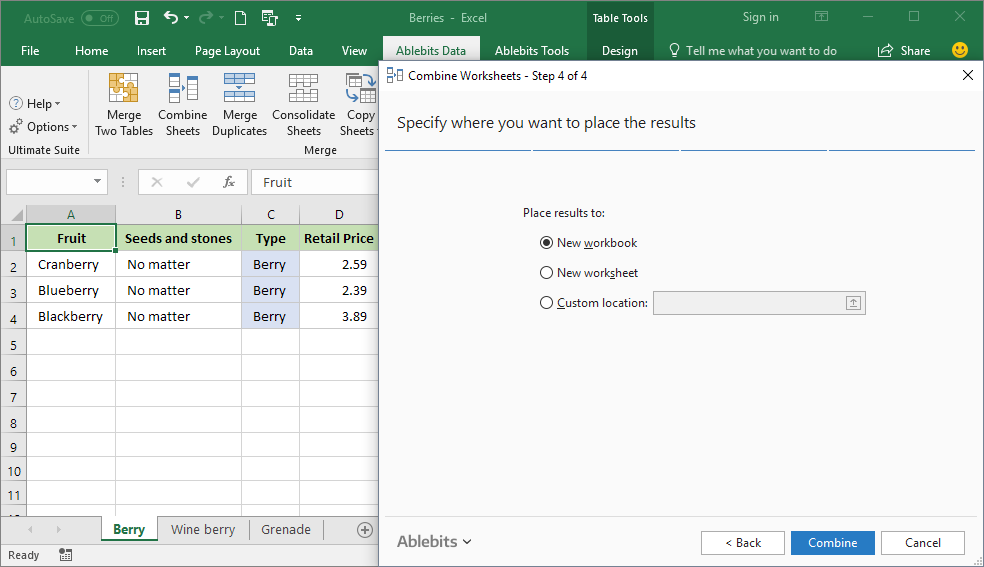 Choose to insert the results into new workbook, worksheet, or a range of your choice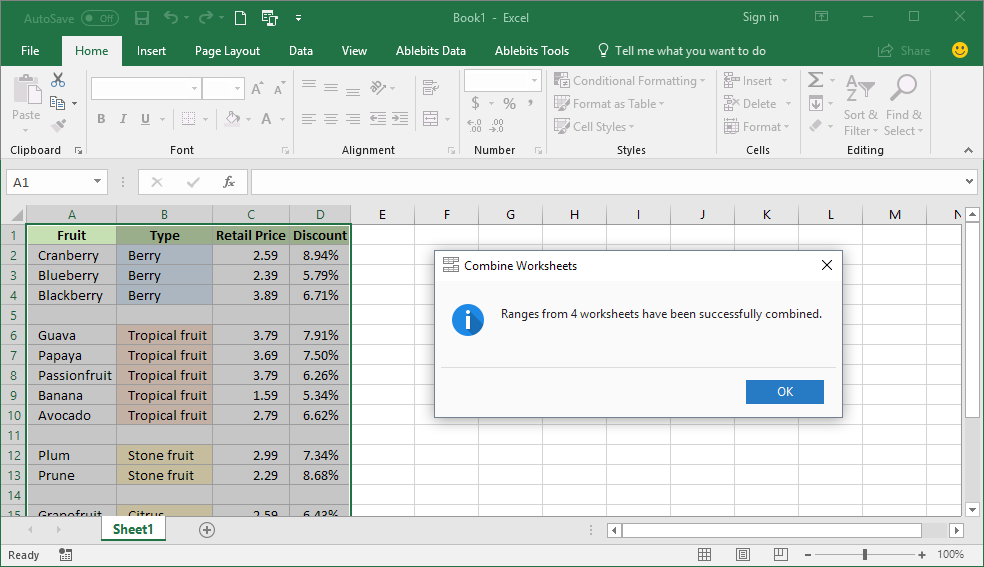 Multiple tables are combined into one according to their column headers
Combine your Excel sheets
by merging data in identically named columns
License benefits
Our customers get
Unconditional 30-day money-back guarantee

Secure payment
guarantee

Life-time license,
no additional fees ever

Volume discounts: the more you buy, the less you pay

1 license
for 2 computers

Free life-time support
Frequently asked questions
About Combine Sheets
What is Combine Sheets and what do I need it for?

This tool comes in handy when you need to merge data from many worksheets and workbooks together. The add-in combines multiple Excel sheets into a single table according to their column headers, no matter the column number or order. Their original formatting and formulas can be copied as well, or you can link the combined datasets to their sources.

Doesn't Excel provide a way to combine sheets?

You can get it done by copying and pasting your data manually or with VBA. Or, use our Combine Sheets tools for quick and easy merging.
Any questions or comments?
Please contact us here