Insert watermark in Excel - quick and simple
Add your custom watermark to a file
Whether you want to prepare your tables for printing, identify the owner or the status of the document, or simply protect the information, Watermark in Excel will help you. With this add-in, you can insert and remove built-in watermarks as well as quickly create, save, and edit your own ones.
Learn more
This tool is part of
Ultimate Suite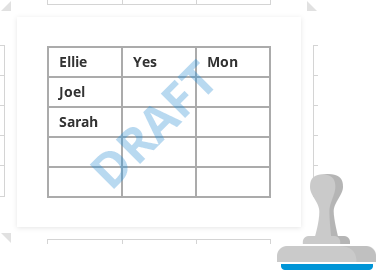 With Watermark for Excel you will
Create new watermarks

Name your watermark, make it look like a picture or text, and adjust its settings to use it right away.

Use text in your watermark

Enter any text you want, set the font, change its size and color, decide whether it should be transparent and diagonal.

Turn a picture into a watermark

Select a picture from your PC and check the option to make it transparent if needed.

Insert watermark in Excel and delete it in a snap

Open your workbook, run the add-in, and click one button to either Insert or Remove the watermark.
Work with watermarks in Excel is made easy
License benefits
Our customers get
Unconditional 30-day money-back guarantee

Secure payment
guarantee

Life-time license,
no additional fees ever

Volume discounts: the more you buy, the less you pay

1 license
for 2 computers

Free life-time support
Frequently asked questions
Any questions or comments?
Please contact us here