Manage Excel comments
Quick way to add, copy, edit, and delete notes
Use Comments Manager to quickly insert, edit, or delete comments in Excel 2016 - 2007. With this tool, you can easily convert cell contents to notes and vice versa, copy comments right from the add-in's pane, and export the notes. You can even insert a picture in your comment, add author, current date, or time.
Learn more
This tool is part of
Ultimate Suite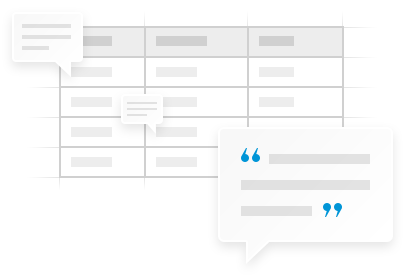 With Comments Manager you will
Insert comment in Excel

Type a new comment on the add-in pane to have it in a cell.

Copy comments to other cells

Drag and drop comments to cells directly from the add-in pane.

Insert picture, author, date, or time

Add pictures as comments, insert current date, time, or author.

Navigate among notes to edit them easily

Use the pane to move between the notes, edit, and delete them.

Turn comments into cells and vice versa

Convert cells' contents into comments or put the notes into cells.

Export notes to another file

Export comments with their cell references to another workbook.
How to work with Excel comments
License benefits
Our customers get
Unconditional 30-day money-back guarantee

Secure payment
guarantee

Life-time license,
no additional fees ever

Volume discounts: the more you buy, the less you pay

1 license
for 2 computers

Free life-time support
Frequently asked questions
Any questions or comments?
Please contact us here