Flip data in Excel vertically or horizontally
Elegant way to reverse columns and rows
Whether you need to flip a block of numbers, names, or letters, Flip Range for Excel will do it for you. Instead of writing different VBA codes to flip your table upside down or from left to right, reverse data order of columns or rows with a mouse click.
Learn more
This tool is part of
Ultimate Suite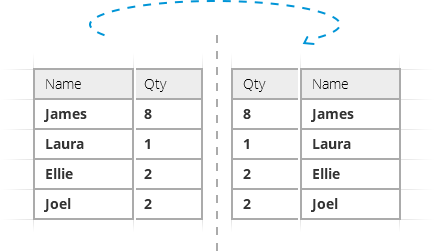 With Flip Range you will
Reverse values vertically

Choose to mirror rows in Excel upside down.

Flip data horizontally

Flip columns in Excel left to right.

Transfer cell references correctly

Keep them unchanged or adjusted, or paste values only.

Choose to preserve original formatting of cells

Decide what to do with formatting if your tables have any.
Reverse the order of cells in Excel an easy way
License benefits
Our customers get
Unconditional 30-day money-back guarantee

Secure payment
guarantee

Life-time license,
no additional fees ever

Volume discounts: the more you buy, the less you pay

1 license
for 2 computers

Free life-time support
Frequently asked questions
Any questions or comments?
Please contact us here