Swap columns in Excel without copy-pasting
Switch the contents of two ranges at once
Swap Ranges for Excel enables you to move any two columns, rows, ranges, or individual cells in seconds. Though your tables will be re-arranged, the original data formatting will be preserved, and all of your formulas will keep working properly.
Learn more
This tool is part of
Ultimate Suite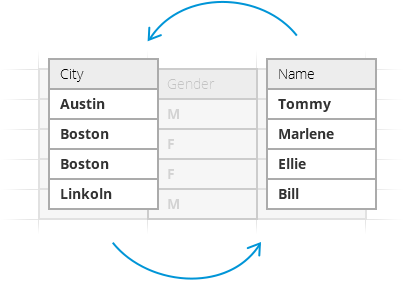 With Swap Ranges you will
Swap columns and other ranges in Excel

Exchange data between two columns, rows, ranges, or cells with a mouse click.

Select swapping options

Choose to keep or adjust cell references in formulas, or paste values only.

Keep formatting of the original range if needed

It's up to you whether to apply the format of the destination range or keep source formatting.

Switch data between two worksheets or workbooks

The tool can even swap ranges in two different worksheets or workbooks.
How to swap columns in Excel
License benefits
Our customers get
Unconditional 30-day money-back guarantee

Secure payment
guarantee

Life-time license,
no additional fees ever

Volume discounts: the more you buy, the less you pay

1 license
for 2 computers

Free life-time support
Frequently asked questions
Any questions or comments?
Please contact us here