Cell Cleaner for Microsoft Excel - cleaning hero for your worksheets
In this article you will learn about Cell Cleaner for Excel by Ablebits and its new options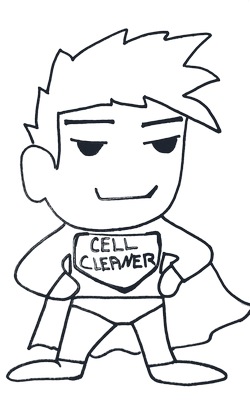 You've imported data to Microsoft Excel from the web and realized the entire nightmare of the next couple of hours. You simply can't work with the table because numbers are stored as text, words have the wrong case, strange characters are hanging around your cells... And on the whole the database that was initially supposed to help you is a complete chaos.
Cell Cleaner is the add-in for Microsoft Excel that will automate trimming spaces, changing number format and case. It also offers brand new features that allow removing or replacing unwanted characters and symbols.
Save your table from unwanted characters
If you have irrelevant symbols and characters scattered around your worksheet and cluttering up the cells this cleaning hero of an add-in has the Remove unwanted characters tab. Declutter your workbook by deleting inappropriate non-printing, numeric and text characters. You can also choose to wipe out special symbols like @%& and punctuation marks. If it's not enough, enter any custom character you need to remove in the corresponding field.
Trim excess spaces away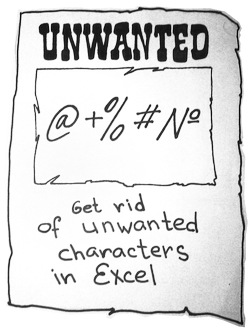 When you copy data from a text file or web page for example, it can result in numerous extra blanks in your spreadsheet. Excess spaces can lead to inability to remove duplicate values as well as to annoying layout. Cell Cleaner has the Trim spaces section where you can choose to:
delete leading and trailing spaces which appear before and after cell values,
trim blanks between cell values to one
and get rid of   which get to your table as part of HTML code especially if you happen to download data from the web.
Change number format and convert text
If you see that a formula doesn't work, the reason can be the fact that the digits are stored as text. You can convert them back to number format in a click. One more new feature is the possibility to replace characters and line breaks with a different character.
Just in case the case is wrong
One more solution Cell Cleaner offers to you is changing text case in Excel. You can convert the words to upper or lower case, capitalize each word or cell in the selected range.
It's that easy! No more need to work for your table before it starts working for you. With Cell Cleaner for Excel and its new options your table will be as clean as a whistle.
Give it a try!
Feel free to download a fully-functional 30-day evaluation version of the Cell Cleaner add-in.