Can Microsoft Excel formulas be easy to learn? Yep! This tutorial explains the very basics of Excel formulas for beginners, with detailed steps on how to write and use them. It also provides a number of advanced formula examples for experienced users. You will be amazed how simple creating formulas in Excel actually is.
If asked what Microsoft Excel is about, what would be your answer? Right, it's all about storing and crunching numbers. You can use Excel to calculate percentages and compound interest, count and sum cells based on specific criteria, find average, and even get a sample deviation of a given set of values. All this can be done by using Excel formulas.
In this tutorial, we are going to learn the basics of creating and using formulas in Excel. And because one of the most efficient ways to learn is through practice, we will also discuss a number of formulas examples to make things easier to understand. Here's a list of topics we are going to cover:
Microsoft Excel formulas - the basics
In MS Excel, formulas are equations that perform various calculations in your worksheets. Though Microsoft has introduced a handful of new functions over the years, the concept of Excel spreadsheet formulas is the same in all versions of Excel 2016, Excel 2013, Excel 2010, Excel 2007 and lower.
All Excel formulas begin with an equal sign (=).
After the equal symbol, you enter either a calculation or function. For example, to add up values in cells B1 through B5, you can either:

Type the entire equation: =B1+B2+B3+B4+B5
Use the SUM function: =SUM(B1:B5)

Press the Enter key to complete the formula. Done!

Elements of Microsoft Excel formulas
When you make a formula in Excel, you can use different elements to supply the source data to the formula and indicate what operators should be performed on those data. Depending on the formula type that you create, it can include any or all of the following parts: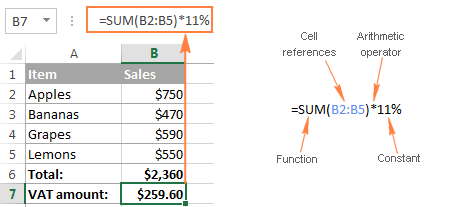 Operators in Excel worksheet formulas
To tell Microsoft Excel what type of operation you want to perform in a formula, you use special symbols that are technically called operators. There exist 4 types of operators in Excel:
Excel formula types
Formulas that you create in your Excel spreadsheets can be simple or complex:
Simple Excel formulas perform just one mathematical operation, for example =10*5 or =SUM(A1:A10)
Complex (advanced) Excel formulas include more than one calculation, for example =10*5+20 or =SUM(A1:A10)/2
Further on in this tutorial, you will find the detailed steps for making both types of Excel spreadsheet formulas.

How to create formulas in Excel
As already mentioned, any Excel formula starts with the equal sign (=). So, whatever formula you are going to write, begin by typing = either in the destination cell or in the Excel formula bar. And now, let's have a closer look at how you can make different formulas in Excel.
How to create simple formulas in Excel
Although simple Excel formulas perform just one calculation, they can do this in many different ways. You can supply the source data as constants, cell references, or defined names, and perform calculations by using mathematical operators or Excel functions. For detailed steps, please see the following resources:
How to create advanced formulas in Excel
When you have some experience with simple Excel formulas, you may want to perform several calculations within a single formula. And the following examples show how you can do this.
Absolute, relative and mixed cell references in Excel formulas
There exist 3 types of cell references in Excel: absolute ($A$1), relative (A1) and mixed ($A1 or A$1). All three of the above references refer to the same cell, and the dollar sign ($) is used only for one purpose - it tells Microsoft Excel whether to change or not to change cell references when the formula is moved or copied to other cells.
Absolute cell reference ($A$1) - the $ sign before the row and column coordinates makes a reference static, and lets you copy a formula without changing references.
Relative cell reference (A1) - a cell reference with no $ sign changes based on relative position of rows and columns in a spreadsheet.
Mixed cell reference - can be of 2 types:
Absolute column and relative row ($A1) - the $ sign in front of the column letter locks the reference to the specified column, so the column never changes. The relative row reference, without the dollar sign, changes depending on the row to which the formula is copied.
Relative column and absolute row (A$1) - the row's reference locked by $ doesn't change, and the column's reference does.
The following image shows how different reference types work in practice.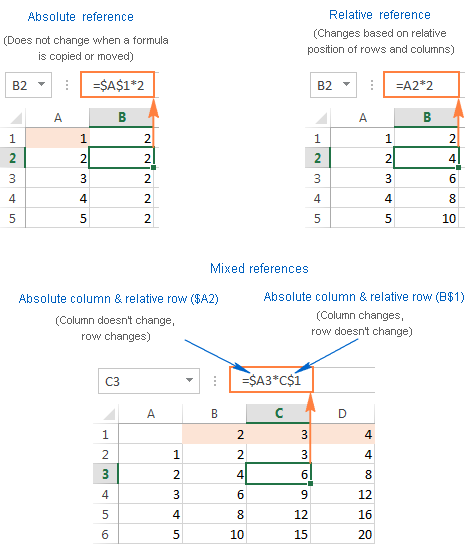 For more information about Excel cell reference and more formula examples, please see Why use $ in Excel formulas.

Tips and time-saving shortcuts for Excel formulas
Formulas in Excel are a powerful multi-faceted tool, and they can solve a great variety of tasks in your spreadsheets. Of course, learning various aspects of Microsoft Excel formulas and functions does take time, so you might feel there isn't enough time in the day to learn everything. Well, a good way to find more time is to save some time :)
To toggle between absolute, relative and mixed references in a formula, use the

F4

key as demonstrated in Switching between reference types in Excel.
To view all formulas on the sheet, click the Show formulas button on the Formulas tab > Formula Auditing group or press the

Ctrl+~

shortcut.
To edit a formula, press

F2

, or double click a cell, or click the formula bar.
To debug formulas in Excel, select a formula part and press

F9

. This will let you see the actual values behind cell references.
To copy a formula to all cells in a column, enter the formula in the first cell, select that cell, and hover the cursor over the small square in bottom right corner until it changes to a black cross (which is called
the fill handle). Double click that cross, and you will get the formula copied through the entire column.
To convert formulas to values, select all cells with formulas that you want to convert, press

Ctrl+C

to copy those formulas, then press

Shift+F10

, then press

V

, and then hit Enter.

Shift + F10 + V

is the shortcut for Excel's Paste special - values only. If you are not sure you will remember this shortcut, then simply press a usual shortcut for paste

Ctrl+V

, click the small arrow to the right of the Paste button to open the drop-down list, and select Paste Values. For more information, see How to replace formulas with their values in Excel.
Microsoft Excel formulas with examples
Excel provides formulas for almost anything, and there exist tens or even hundreds of different functions in modern versions of Microsoft Excel. So, if you encounter a task for which you cannot work out a solution, most likely you are missing out on a formula that can do it for you. Before spending hours and hours on performing manual calculations, take a few minutes to review the following resources. It is a selection of the most popular MS Excel formulas with examples, grouped by categories.
Well, we seem to have finally got to the end. What was planned as a short Excel formula tutorial for beginners has nearly turned into a voluminous manual because there are so many different aspects of Excel formulas to cover. I am really thankful to everyone who has read this page to the end!