How to remove duplicate emails in Outlook 2016 and 2013 quickly and safely
From this article you will learn why multiple copies of the same message may appear, and how to find & remove duplicate emails in Outlook quickly and safely, ensuring that all of your important messages remain intact.
If you've been using Outlook for a while and have only a few dozen or even a few hundred messages in your inbox or archive folders, then you're most likely to have never faced the problem of duplicate emails and this will hardly happen to you in the near future. Lucky you are! : )
But to be honest, I've never met a person like that. It's estimated that an average Outlook user receives around 50 - 100 messages a day. So, usually we have thousands and thousands of emails stuck in various folders and you may not even have a vague idea of how many duplicated emails actually are in your Outlook.
The reasons why duplicate emails appear in Outlook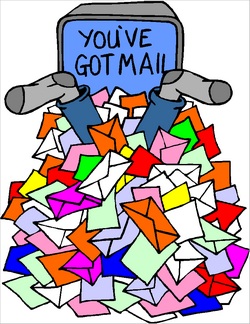 There are plenty of causes why duplicate email messages may occur in Outlook. For example, you can receive multiples copies of the same email from your friends or teammates who forward to your attention the same newsletter, press release or an exciting news item, which is often the case in our company.
Other reasons are more technical and not so obvious. An interrupted or incorrect synchronization with a laptop or mobile device is one of the most frequent causes, e.g. if you read some messages on the phone and others on your PC, and then place the read messages to a different folder on each device.
Sometimes duplicate e-mails are produced by a hiccup of the mail server, especially if you activated the "Leave Messages on the Server" settings option. Incorrectly configured Outlook rules when two or more "move a copy to" rules apply to a certain incoming message also lead to email duplication. Merging several PST files into one may result in duplicated messages too.
And even your antivirus software may create duplicate e-mails. Of course, it won't do this deliberately, it might be just an intermittent side-effect, especially if you click the "Send/Receive" button all too often interfering in the scheduled send/receive/store process.
Whatever the reason is, multiple copies of the same message might cause great confusion and disorder in your Outlook, making your work more stressful and less productive.
Problems created by duplicate email messages
As you probably know, Outlook is one of the most complex and resource-hungry applications of the Microsoft Office suite. It requires quite a lot of resources for smooth performance, and the more email items you have, the more memory, disk space and CPU usage it consumes. Finally, it may reach the point when the existing resources do not suffice and your Outlook will start to slow down in performance. For example, you want to find a particular message using Outlook's Instant Search, but all that you see is "Searching…". And you have to wait patiently while Outlook iterates through all email messages in a given folder including duplicated ones.
On an average PC, Outlook starts to slow down when the mailbox reaches 2-3 GB, and if you don't reduce the size of your mailbox and Outlook data file (.pst), your Outlook may start hanging, freezing and not responding.
How to delete duplicate emails in Outlook
Unfortunately, even the latest version of Outlook 2013 does not provide any tool that would let us remove duplicate email messages in Outlook folders. Microsoft suggests a way, or rather a workaround, to delete duplicates manually. You can try it if you have time, and this may even work if you have a few dozen emails. This might be challenging if you have several hundred messages, and next to impossible if you have thousands… and absolutely impossible if those thousands are stored in different folders.
So, how can you eliminate all duplicated emails from Outlook? There exist a number of different tools to eliminate dupes. Some of them are quick, simple and free. Others are more flexible and sophisticated but, as you may guess, paid. We will cover pros and cons of both types and you will decide which is right for you.
A free tool to remove duplicates in Outlook folders
The most popular and time-tested free tool is Outlook Duplicate Items Remover, also known by the abbreviated name ODIR (you can download it here).
Pros:
The biggest advantage of this tool, apart from being free, is that it's very straightforward and easy to use. This is how the main window of ODIR looks like: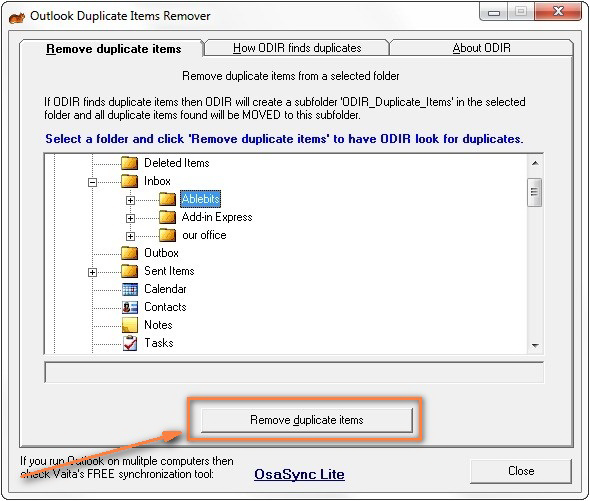 As you see, all you need to do is choose a folder to check for duplicates and click the "Remove duplicate items" button. Besides mail, this tool can search for duplicated contacts, tasks, notes and calendar items.
The ODIR add-in does not actually delete duplicate emails or other items that it finds, it lets you judge whether these are real duplicates. The plug-in creates a special "ODIR_Duplicate_Files" subfolder in the selected folder and moves the found duplicates into it, and this is also good and safe for us, Outlook users. If you don't have any messages of importance in the selected folder, then you can simply delete the contents of the ODIR_Duplicate_Files folder. Otherwise, you can compress or zip this folder and move it your hard drive or a flash drive before deleting the duplicate messages, just to be on the safe side. : )
Cons:
If to speak about shortcomings of this plugin, the main drawback is the lack of flexibility, i.e. lack of settings that would let you configure the search criteria. This add-in can look for duplicates within one Outlook folder only and cannot even search in subfolders of the same folder. So, if you are an organized person and have a multi-level structure of folders and you want to search for duplicates across all the folders, the ODIR add-in will be of very little help.
How ODIR finds duplicates
If you are a technical geek or guru, you might want to know what criteria the ODIR add-in uses to recognize an email message as a duplicate. The add-ins checks the following properties of mail items and if all of them match, the email is considered a duplicate:
Received emails - the internet message ID
Sent emails - email subject and the time the email is sent
Unsent emails - email subject only
While the first two (received and sent emails) do not raise any questions, you'd probably better not use this add-in to remove duplicates from the Drafts folder. If you actively use drafts in Outlook, for example to compose several versions of your reply when responding to a very important message, the ODIR add-in will recognize them as duplicates even if they have the same subject but different text in the message body.
Flexible, fast and safe way to remove duplicate emails
Regrettably, there is no free tool that would meet all the criteria in the heading, i.e. be flexible, reliable and quick. If you are looking for this kind of tool, check out Duplicate Email Remover, a time-tested solution from a trusted manufacturer of Outlook plug-ins (MAPILab) that has been working in this industry for many years.
This add-in provides a handful of advanced options, which are not available in free tools and which let you search for duplicates in the folders you specify, with the priority you set, and based on the criteria you choose.
Search for duplicate emails in several folders with specified priority
With Duplicate Email Remover you can choose the folders you'd like to check for duplicates and, most importantly, you can set the priority of folders.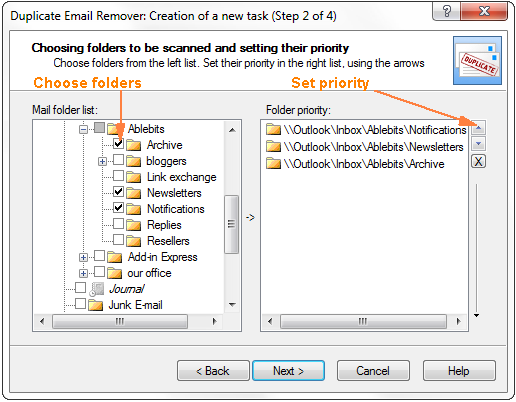 As you see in the screenshot above, you choose the folders to scan for duplicates on the left pane and set their priority on the right pane using the up and down arrows.
If multiple copies of a particular message are present in all the folders you've chosen, the Duplicate Email Remover will leave only one message in the folder that comes first in the list (the Notification folder in our case) and remove duplicate e-mails from the other folders. If identical messages exist only in the 2nd and 3rd folders, the message will be left in the 2nd folder and deleted from the 3rd, and so on. A very handy option, isn't it?
Choose what to do with duplicate emails
Another useful feature of the Duplicate Email Remover plugin is the ability to choose the action to be performed with duplicate e-mails. You can opt to delete them permanently, or move to the Deleted folder, mark with flag or mark as expired, copy or move to a specified folder.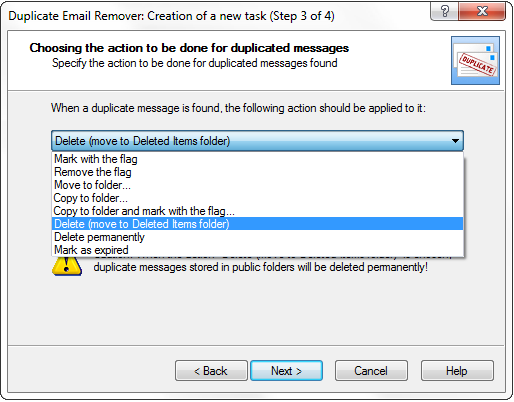 Apart from choosing the action, you can also specify the time period, i.e. apply the chosen action to email messages received within the last few days, weeks, months, or anytime.
Define which message fields to compare
This is also a very useful option if your aim is to find duplicated messages with tiny differences, e.g. the sender name or date and time of sending. With Duplicate Email Remover you can handle these almost identical emails too.
You simply choose the fields by which you want to compare mail items in a certain folder or folders, and then delete duplicate messages. For example, if you often receive multiple copies of the same message from the same person(s), uncheck a few irrelevant fields so that only one such email will remain in your inbox and all duplicates are gone.
As you see in the screenshot above, three fields are predefined and cannot be unchecked. These are the main fields by which the Duplicate Remover detects duplicates: message body, subject and sender's email address. The others are up to you.
Well, if you are interested to try Duplicate Email Remover, you can download an evaluation version here. This tools works with Outlook 2016, 2013, 2010, 2007, and 2003.
***
Besides the two add-ins we've just discussed, there are tens of other duplicates remover tools, paid and free. If you have time and the desire to experiment, you can look through this catalog. You can get a much bigger list by searching in google, bing, or any other search engine.
And finally, a little piece of advice, if you let me. When choosing the duplicate remover tool, make sure it is from a reliable and trustworthy vendor that has been on the market at least for a few years, Microsoft Partners and MVPs are given preference. You don't want some twopenny-halfpenny hack to bring havoc to your Outlook and eliminate a couple of important emails, do you?
You may also be interested in