EncodeFX for Outlook - instantly read emails from signal Forex providers
From this article, you will learn about an add-in for Outlook that instantly reads an e-mail from your Forex provider and converts it into a .csv file in order to open market orders in MetaTrader 4.
The purpose of the EncodeFX add-in for Outlook is to read the e-mails from signal Forex providers in order to convert the data received, like Entry Point, Stop Loss, Take Profit, Symbol, or Duration of the trade, into a .csv file that will be read by an Expert Advisor.
It is really simple to use. After subscribing, all you need is to run the setup.exe, install the add-in and Open Outlook to see the EncodeFx ribbon. Currently, the program is compatible with Outlook 2010-2016.

EncodeFX for Outlook options
You'll find 3 icons under the EncodeFX tab in Outlook:
Process selection;
Format settings;
About.
The Process selection icon will read the data from the selected mails and will convert them into a .csv file. The result can be 0 (zero) if the mail was already processed. This is the result of some certain type code block from the add-in that do not let you have duplicates. This is an example for your archived signals only. The ones received in your Inbox will automatically undergo the process.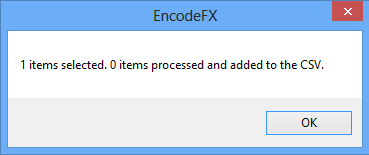 In the Format settings window you will find the list with our current signal provider. I decided to start only with three websites that offer Forex signals, but I intend to develop much more if there is a request in any particular provider.
Another feature is that all the e-mails are converted only if they are received from specific users (such as the providers which are already incorporated) and if they have a certain pattern (such as the e-mails received). All you have to do now is to add the path where the .csv files will be created (you can add several paths) and check the active box.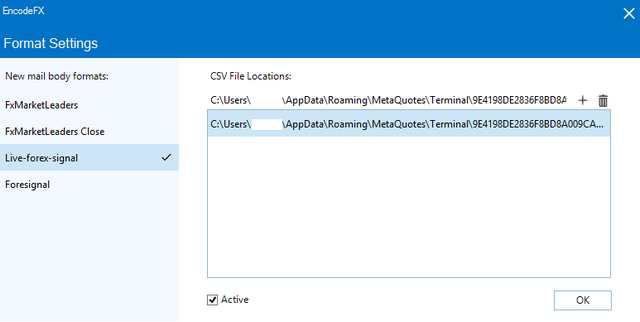 The About section is the place where you will find out how many days of your current subscription you have left, details about version of the add-in you use and also the EncodeFX website where you can find out more things about the program and products.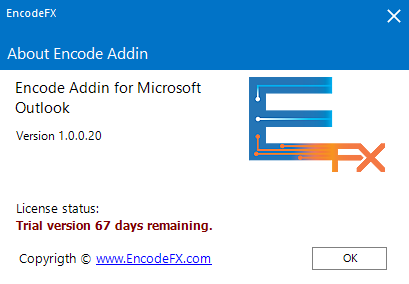 Use EncodeFX to convert data from a specific sender to .csv
With certain modification, it can be used by anyone who wants to convert any data received from specific sender into a .csv file. For example if you want to create a Database with your customers and you receive e-emails with their Name, Surname, Country or/and other information it will make your job easier and help you sort them out.
Future projects
We plan to offer a license plan for each of the providers in the list and higher discounts when you order a full or half year plan. Right now it is working only for a 90 days period.
Another mid-term project will be a premium version of the products, offering a Virtual Machine, in case you do not have Office 2010 or newer, or permanent internet connection if you simply cannot keep your PC running all the time.
I would like to close this review by thanking Eugene for the great tips he gave me to ease my first steps as a startup company. Also, I would like to thank Alexander, the developer of the Add-in for his great performance and timeliness. Without their help this project would have still remained a sketch. Thank you guys!
For more information feel free to visit www.encodefx.com