Use Outlook Tasks and still feel disorganized? Try the Tasklist add-in
Be sure to read this review if you actively use the Tasks option in Outlook, but still think it needs to support clear hierarchical structure. See how you can manage multiple Outlook tasks and deadlines with the Tasklist add-in.
When I start planning my projects and tasks in Outlook I often realize that there is a natural hierarchy, that the standard Outlook task list manager is lacking. That's why I've been quite happy to learn about the Tasklist add-in that I'd like to introduce to you today.
At its heart, Tasklist is a tool for creating and managing your daily duties in Outlook. It allows you to see your tasks with their due dates in a tree view, prioritize, change the structure of your to-dos by drag-n-dropping, and much more.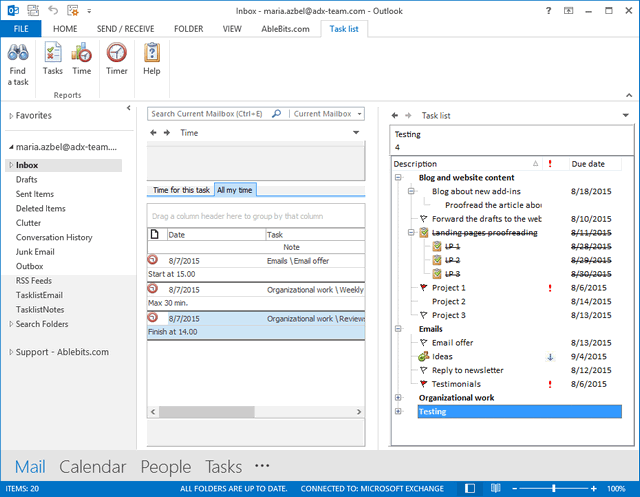 Why Tasklist is a smarter choice for your Outlook tasks
This helpful tool was designed to give a clear idea of how your day looks and help you focus on one group of duties at a time.
Here's what you get with Outlook Tasklist:
See all your tasks displayed in the hierarchical tree view
Drag-n-drop tasks to modify your list
Instantly turn emails into tasks
Create task-related notes, emails, appointments, contacts and distribution lists
Focus on important to-dos with helpful icons
Track the time your responsibilities take
Search and reopen completed tasks
Get Tasks and Time reports in Excel
Get your Outlook to-do list at hand when you look through your emails.
Thus, this Outlook tasks add-in has a number of powerful features that make personal organization less of a chore.
Display your Outlook tasks in a hierarchical tree view
After the installation the Tasklist add-in seamlessly embeds into Outlook giving you the right arrow above the Reading Pane.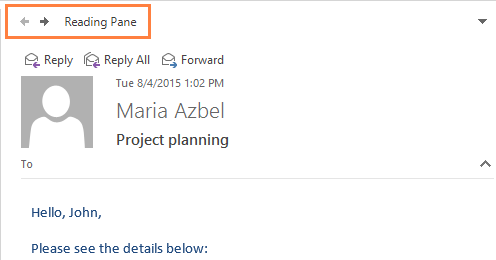 Clicking on this arrow opens the add-in pane where you can enter all your tasks.


Start with creating, naming, and saving new items for your Outlook task list. Just right-click on the pane and select the New root task option from the menu, or press the corresponding icon on the toolbar.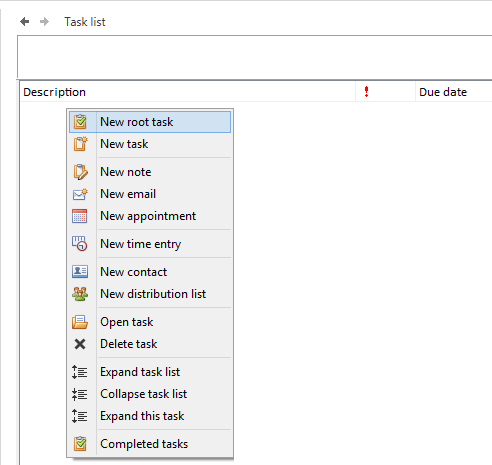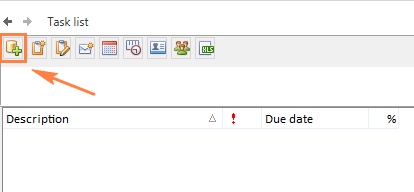 You will see a dialog box to enter the task name. The task also gets a number that you can modify if necessary. For example, you may want to use your customer or project number. It will also let you find the needed item later.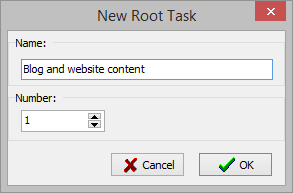 You can achieve more by breaking big tasks and projects into sub-tasks. If you right-click on the name and select the New task option from the list, you'll get a sub-task relating to the current root task. You can create as many root tasks and sub-tasks as necessary to build a convenient multi-level tree structure. All the items you create on the Task List pane automatically synchronize with Outlook tasks.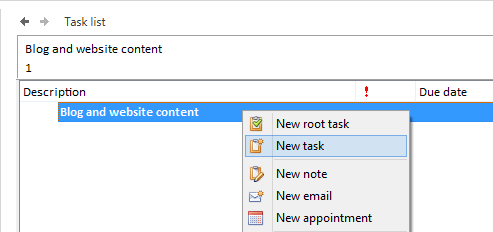 The next step will be to set due dates, priority, progress and status. You can double-click on the task name in the list to get the standard Outlook window and define all of the above.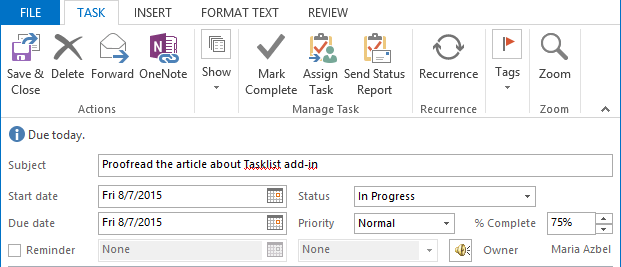 As you can see all the usual Outlook tasks features are available, including the possibility to set a reminder which is really helpful if you don't want to miss a deadline.
You can focus on different parts within the tree view by expanding or collapsing leaf nodes and modify the hierarchy by using the drag-n-drop operation. In addition, it's possible to click on the Description, Priority and Due date fields on the Task List pane to sort your tasks and concentrate on the most important projects.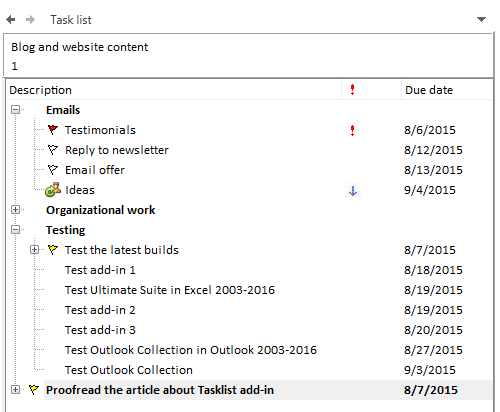 Turn emails into tasks in Outlook
If you often use emails to set up meetings or organize projects, you may know that messages can be easily overlooked due to the huge amount of correspondence in your inbox. With the Outlook Tasklist add-in you can organize your mailbox by instantly turning important emails into tasks.
Just drag-n-drop the email that requires further actions to the needed group in your task list and select the Add as new task option.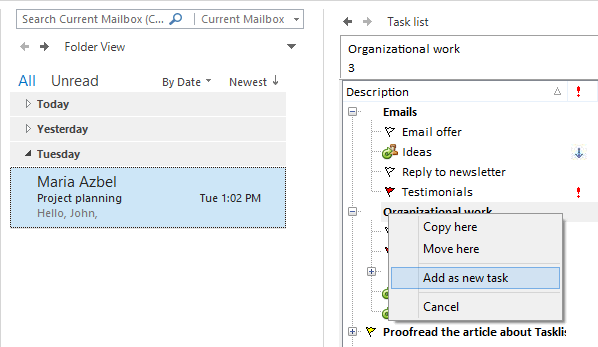 The email will appear in the list. Double-click on it to schedule, prioritize and complete along with your other to-dos.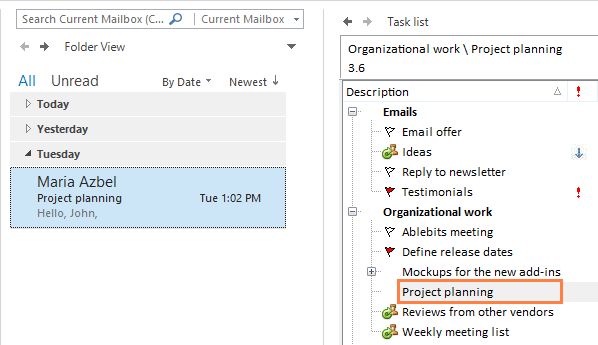 Manage your Outlook tasks in a clear visual way
Tasklist is really easy and intuitive to use. The tasks can be sorted both by time and priority and have helpful icons for quick visual identification.
See the deadlines. You can easily spot the tasks that are due today, within a week or that are overdue. The due date is reflected in your task list. The tasks that are due today have a yellow flag. Those to be completed within a week are white. The red flag indicates that the task is overdue.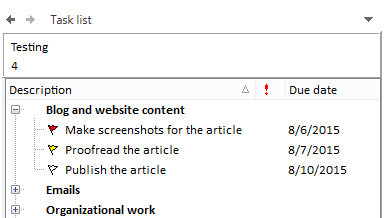 Prioritize. If you give the task a priority of low or high, it will be indicated with a blue down-arrow or a red exclamation mark correspondingly.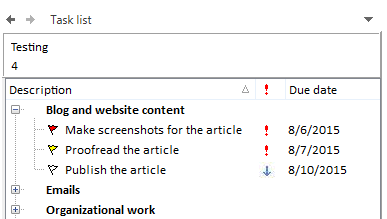 Set the status of the task. You can select one of the following statuses for your task: In progress, Completed, Waiting for someone else, Deferred, or Not started. If you select Waiting on someone else or Deferred, Tasklist will display an icon next to the task to indicate that you don't need to do anything about it at the moment. If you set the status of any task to Complete, this task along with its sub-tasks will be marked as struck-through.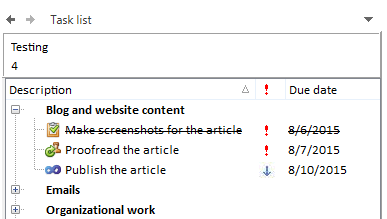 Get task-related emails, notes, appointments and contacts
You can easily create task specific emails, notes, appointments, time entries, contacts and distribution lists. Just right-click on a task to add the needed details.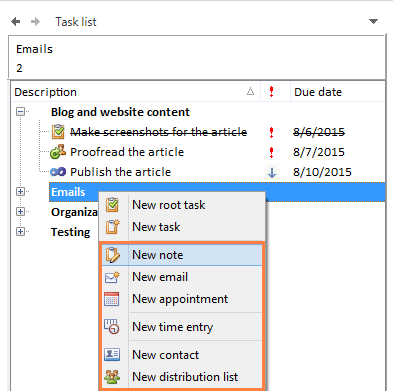 New note. If you need to add some more information about a task, such as note of a call with a customer, add a quick task note. Notes are stored unsorted in the Outlook TasklistNotes folder, but Tasklist gives you a view of them sorted by task.
New email. Create an email from a task so the thread connectivity is maintained. When you send the email, a copy will be placed in your Outlook TasklistEmail folder and associated with the task. You can also associate an incoming email with a task by dragging and dropping it from your inbox on to the task.
New appointment. Easily schedule task-related activities in your calendar. Tasklist shows you the appointments related to each task.
New contact and New distribution list. Add new contacts and mail lists related to a certain task. As with the emails, you can associate an existing contact with a task by dragging and dropping it on to it.
New time entry. Manage time spent on a task to boost your productivity.
You can see the items associated with a task in the Outlook Folder View. There is a separate view for emails, notes, appointments, time, contacts and distribution lists. Use the left-right arrows next to Folder View to look through the items.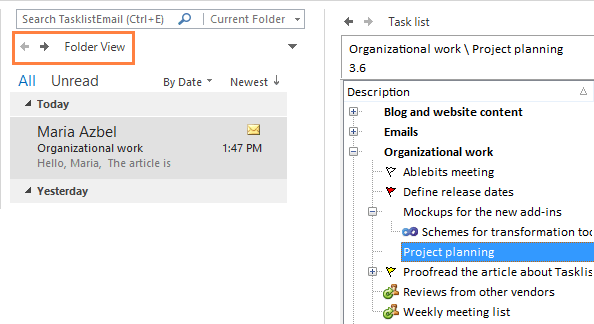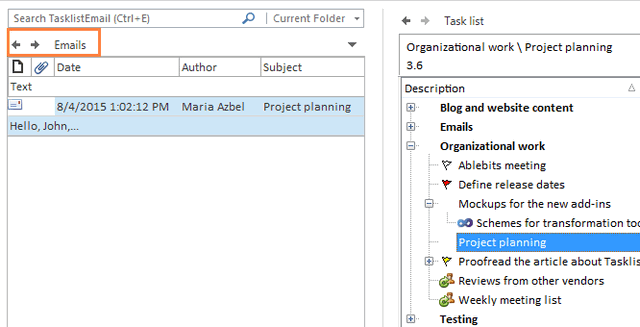 Use additional options to make managing your tasks super easy
Tasklist is packed with handy features that help you fine-tune the process of managing your Outlook tasks. You can easily find and reopen completed to-dos, get Excel reports with your tasks' details and use the Timer option.
Quickly search a completed task. By default, the add-in shows tasks completed today. Those finished before are not displayed in the task list. If you need to find or reopen one of such items, you can use either of the following ways.
Right-click on your task list and select Completed tasks.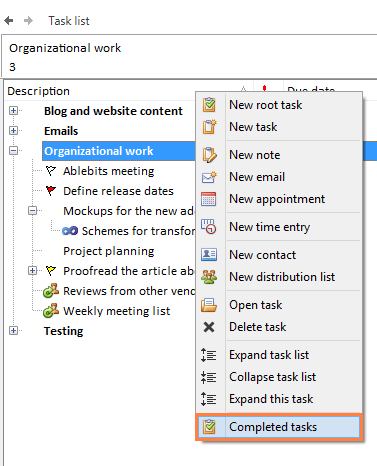 You'll see a dialog box allowing to enter the number of days for showing the finished tasks. You can reopen a completed task on your list by double-clicking on it, and setting the status to In progress.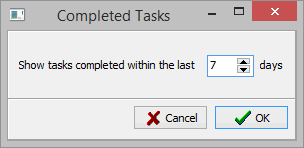 Also you can use the Find a task button. Pressing it opens a list of all your tasks including the completed ones. Search for the needed task by number or by name. When you find the task, click OK to see it reopened on the Task List pane.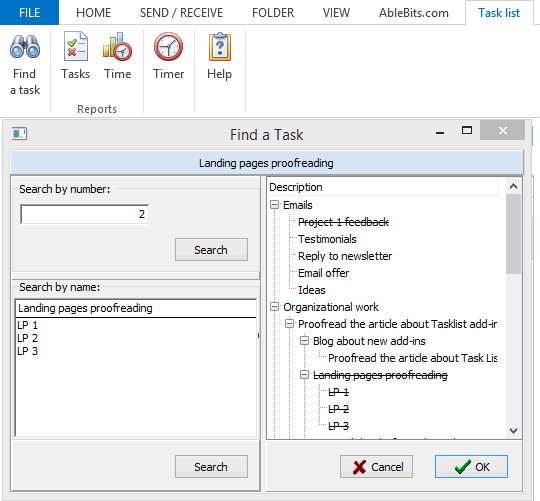 Automatically create an Excel sheet with your tasks or time details. It may be helpful if you have a performance review to make sure you are on track to meet the goals, or just want to print a copy of your task list. Just right-click on a task and select the Export to Microsoft Excel option, or click the same icon on the toolbar to see the Task report.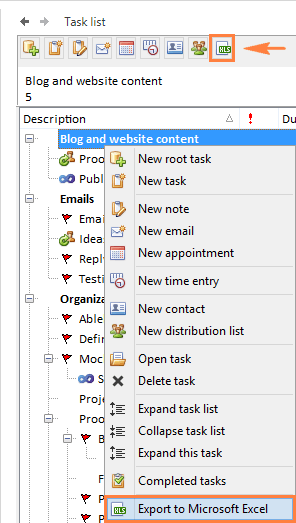 To get the Time report, find the Time item on the Outlook folder view and click the Export icon.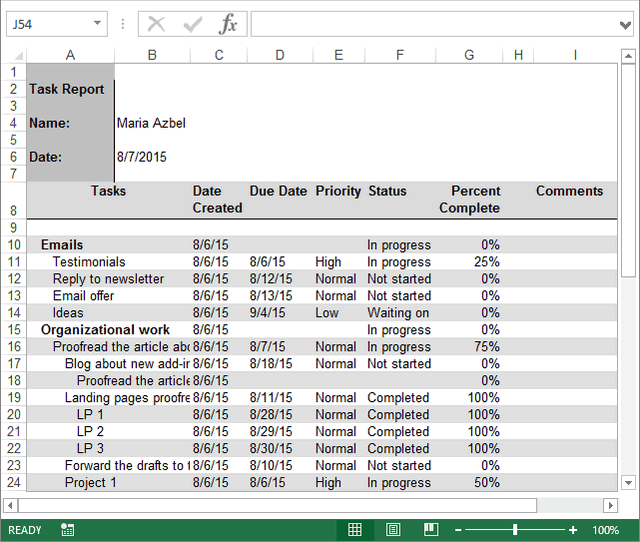 Time your tasks. Have no idea where the time goes? Benefit from the Timer option to see how much time you spent on your Outlook tasks. To start timing a task, click on the Timer button, and select the task you want to time from the list.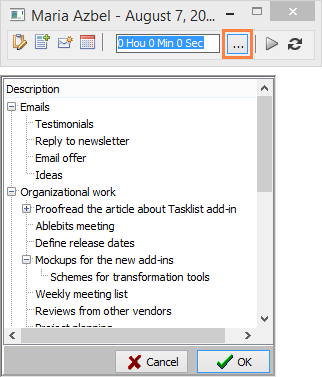 You can stop, start and reset the timer. When you start timing a task, it identifies if you already have time for this to-do today and loads the correct details.
Install Tasklist to get clear idea of how your work flow looks
Tasklist is just the right add-in to try if you are looking for an easy way to manage multiple tasks in Outlook. View all your tasks in a convenient tree structure, easily transform emails into tasks, focus on the most important duties, and keep track of the time you spend doing certain work.
Feel free to download and install the fully-functional 45-day trial version of Tasklist for Outlook to start managing tasks in a more effective way.
You may also be interested in