The latest Office 365 news and updates
Please stand back. The doors are closing. We are starting the trip to the Sky. Next stop is Cloud 365. We are going to have a tour around the latest Microsoft Office 365 news.
Microsoft to beef up its entry-level Office 365 offering
Microsoft is improving its K-plan for Office 365. The new capabilities feature Exchange ActiveSync support, doubling e-mail storage and Exchange Online Archiving. You will find more information about the improvements in this article.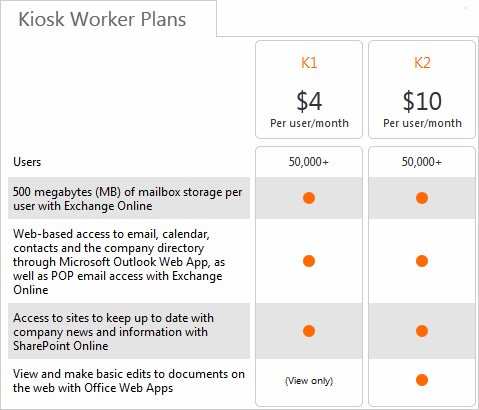 Office365 Saturday event in Redmond (25-Feb-2012)
Fancy visiting an Office 365-realted event in Redmond? You can join other business users, administrators, developers, and professionals. If you specialize in SharePoint, Lync, or Exchange with a strong focus on Office 365 or your company is involved in it, and you're interested in sponsoring have a look at this invitation.
Cloud Fest - Denver 2012
Cloud Computing has been around for a while now and it's time to celebrate the fact. So Colorado Convention Center welcomes you to Cloud Fest on February 9, 2012. You'll be able to attend workshops and technical presentations by Microsoft Certified Trainers, engineers, and MVPs. Grab this link for more details.
Office 365 TechCenter now available
For a few days, the Office 365 TechCenter is now available. You'll find a lot of good information there including 10 virtual labs that show how to prepare an organization to move user accounts to Office 365.
How Office 365 has improved in the past 6 months - grid user post
One of the key advantages of the cloud-based software is the opportunity to get updates automatically without any impact to operations. At the beginning Microsoft planned to release new updates and features every 90 days. After Office 365 was released there was nothing for a while. But Microsoft have pulled themselves together and now we see fresh implementations almost weekly. Here's a short list of the improvements to Office 365 since its release.
Microsoft Office Web Apps have partnered with Guy Kawasaki
Check out the first blog post done as part of a partnership of Guy Kawasaki with Microsoft and Office Web Apps.
Want to get certified in Office 365?
Certifications are a great way to check and document your skills. To help you certify your Office 365 skills Microsoft IT pros are releasing two exams soon.
Here is one more article about certification exams.
And one more post covering the emotional side and sharing the first impressions.
Spanish bank to move 100,000+ employees to Google Apps
More and more large and small businesses are switching to cloud-based suites. So Google and Microsoft are competing for every single user. This time Spanish bank preferred Google apps over Microsoft for email and collaboration.
Office 365's weakest link
Have you ever tried to get Office 365 phone support? Find a piece of mind about one of the key customer service features - support provided by phone which is regarded as one of the weakest Office 365 points.
Blackberry Business Cloud Services for Office 365
From this short blog post you will learn about Blackberry Business Cloud Services, which allow Blackberry devices to connect to a mailbox in Office 365 Exchange Online.
Seems we have visited every corner of Cloud 365 and the guide has exhausted all the Office 365-themed sources. The next tour will be the next week and we will keep the finger on the pulse of cloud news for you.