Power Tools is a collection of 30+ add-ons for Google Sheets. They help speed up most of your daily tasks, both complex and simple, enhancing your performance and saving your time. Get help with cleaning up and organizing data in your Google Sheets. Pick the group below to learn the tools the add-on has to offer.
Start Power Tools
Start the add-on from Extensions > Power Tools > Start: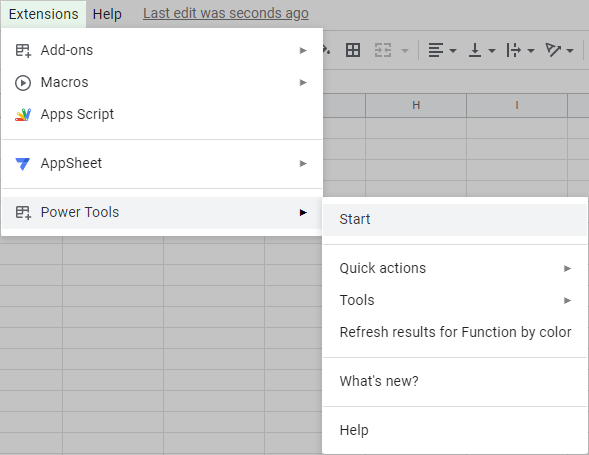 You will see the add-on pane with all toolsets on the right of your spreadsheet.
Tip.
You can make Power Tools open its sidebar in each spreadsheet automatically by pinning the button at its very bottom:

Please bear in mind that this doesn't open any specific add-on. It simply opens Power Tools so you could proceed with the desired add-on right away.
Tip.
Select the range of cells you want to process in your sheet before running the add-on or any time before clicking any action button.
Choose the action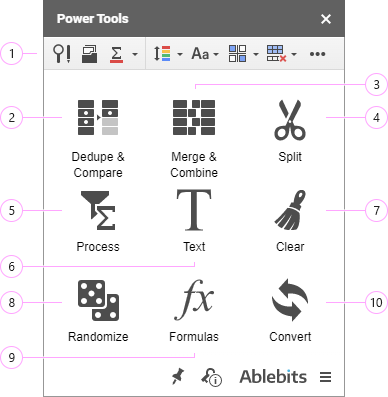 Recent & Favorite tools
When you run simple one-step tools such as Split Text or Add Text, or save scenarios for such add-ons as Remove Duplicates or Merge Sheets, these operations appear under the Recent tools tab on the main pane: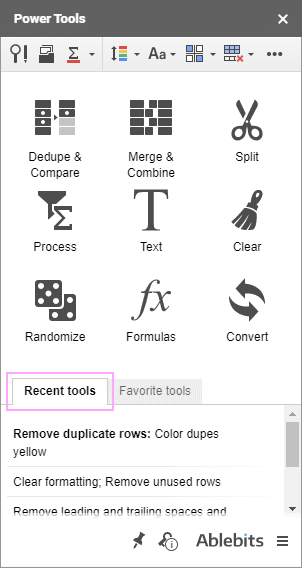 You can click any of these records to run the action again quickly without opening the required tool.
Since Recent tools display only a limited number of recently run add-ons, the oldest actions will sooner or later disappear from the list. To keep some of them always at hand, you can save them to Favorite tools:
Hover your mouse over the necessary recent action and click on the star icon that appears next to it:

Go to the Favorite tools tab and you'll see the action saved there.

Tip.
All scenarios for Remove Duplicates and Merge Sheets automatically fall into both tabs, Recent and Favorite tools.
To remove the action from favorites, click that star icon again:


At the bottom of the Power Tools pane you will see more buttons:


The first button is always pinned by default. It makes Power Tools run automatically in each spreadsheet you open up. Of course, it's up to you whether to leave it be this way.
If you haven't subscribed to the product yet, the key icon will hint how many trial days you have left. Click this key to either order a subscription or activate your key.
Next comes our logo. Hover your mouse over it and you'll see the version of the add-on that is uploaded to Google servers. Click on the logo to open the page where you can access the detailed description of all our add-ons for Google Sheets.
The icon with three lines gives you other possibilities:


Order a new subscription or activate your existing one.
Make use of the knowledge resources such as help pages, a list of known Google Sheets issues that may limit the tools' capabilities at some points, and the list of all new features, improvements and fixes that appear in the collection with each version.
You can also reset all properties (revert all checkboxes and other settings you may have used in the collection to their default state) and enable/disable the auto-start at any time.
Next steps with Power Tools
Wonder where to get even more info about the add-ons, installation, ordering, and activation? We've gathered all pieces in the Power Tools for Google Sheets category in our Docs section.
Want to improve your overall Google Sheets skills? Come find a variety of useful articles on our free Ablebits blog.
Have something to ask, the feature to request, or the feedback to share? Contact our team directly by using the form at the very bottom of this page or emailing support@ablebits.com.