Split Sheet is a one-step add-on that divides your Google Sheets table into several sheets based on the contents in the selected columns. The resulting sheets can be placed to the same file next to the source sheet, to a completely new Google spreadsheet, or to multiple separate spreadsheets next to the original file.
Before you start
Please bear in mind that Google Sheets limits the total number of possible cells in your file up to 10 million cells.
If there are filtered rows in your sheet, they will be processed as well and grouped into multiple sheets.
How to use Split Sheet
Start the add-on
Open the sheet you want to split and go to Extensions > Split Sheet > Start: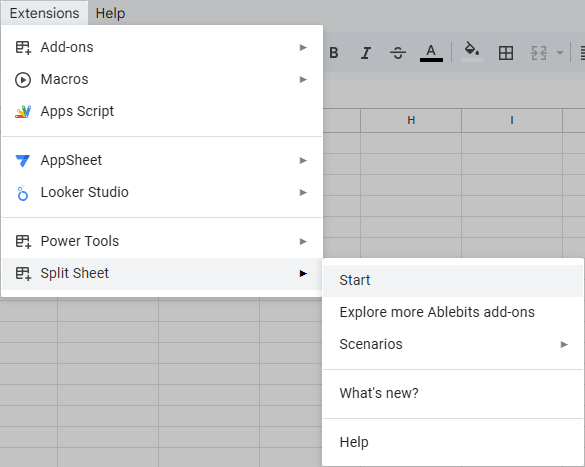 Tip. You will also find Split Sheet in Power Tools. Just proceed to the Split group and look for the add-on icon: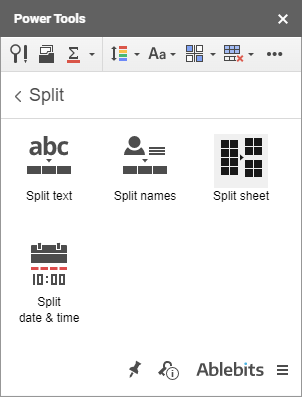 Fine-tune the options
All the settings you are to adjust are located on this first and the only step:

Select the range with the table to split.

Tip.

Pick any cell within the table and hit

Auto select

. The add-on will highlight all cells with data till the first empty row & column.

Tip.

Or click the

Select range

icon within the

Source range

field and specify the exact range to process.

If columns in your sheet have labels, check the option My table has headers. In this case, each new sheet will contain the same set of titles copied from the original table.
Use the checkbox in the header row to quickly select all columns and group data by records they all contain. The 1st row content will hint on the values in those columns.
You are free to choose any particular columns to split by. If you check more than one column, the add-on will create new sheets based on the common info in all selected columns:

Decide where to place the resulting sheets:


Have a brand new file created with the new sheets (in your Drive next to your source spreadsheet) by picking the option New spreadsheet.
Choose Multiple separate spreadsheets to place each table to a completely new file. The add-on will create a new folder next to a file with your original table in Drive, and put all these new spreadsheets there.
Or select Current spreadsheet to insert all new sheets to the same file where your source table is.
When you're ready, press Split.
See the result
Once the add-on divides the table, you will see the confirmation message saying how many new sheets have been created and where they have been placed.
Tip.
If you decide to place the resulting sheets to a new spreadsheet or multiple separate spreadsheets, the add-on will offer you a link to open the new file / folder with files right away.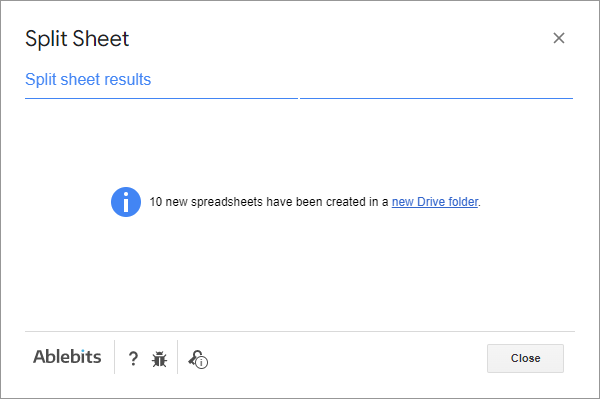 Related pages