This small tool from the Power Tools collection will split the selected column with Date time values into new columns with only date or only time units.
How to use Split Date & Time
Select a column that contains those Date time values that you want to split.

Note.

If you select more than one column, only the values from the leftmost column will be processed.

Go to Extensions > Power Tools > Start to run the tool:

Access the Split group:

And then click the icon representing the add-on:

Tip.
You can change the range to divide to columns any time before you click the
Split
button. Simply select the necessary column or other cells in your spreadsheet.
How to separate date and time in Google Sheets
You will see the add-on pane with a few settings to tweak: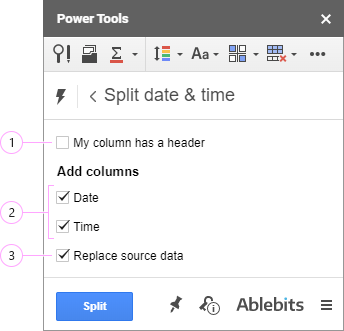 If the column you selected has a header, check the very first setting. It will keep the top value from being split and will add headers with the corresponding unit names (Date and Time) to new columns.
Select those units that you want to get individually in new columns: Date, Time, or both.

Tip.

The unit that you don't choose will be ignored even if it is present in the source column.

If the original column is no longer needed, select the last option to replace it with new columns. This way, you won't have to delete the source column manually afterwards.

Tip.

This is especially useful if you want to extract

Date/Time

units from the

Date time

record and work with the former only.
Once you're ready, hit Split. You will see the split units in new columns to the right of the original one.