Sort by Color add-on for Google Sheets does exactly what its name suggests. It arranges your data, whether the selected range or whole rows, by the fill or font colors they contain.
Before you start
Please keep in mind that the add-on doesn't process hidden, filtered & grouped cells.
How to sort by colors in Google Sheets
Start Sort by Color
Go to Extensions > Power Tools > Start to open the collection first: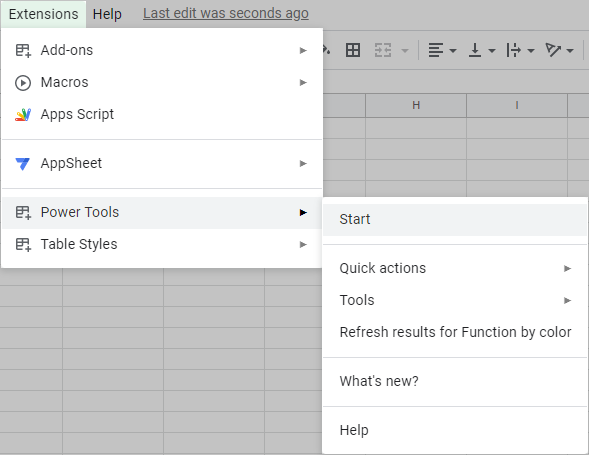 Then either click on the tool icon in the toolbar:



or access the settings in the sidebar from the Process group: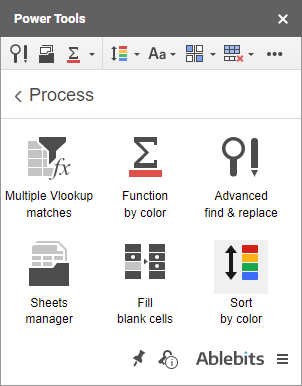 How to sort by fill or font colors in Google Sheets
If you click the icon in the toolbar, you will see a drop-down with the instantly available options to sort by color: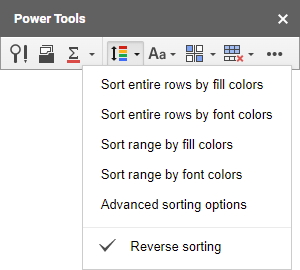 The first two options will instantly organize entire rows (including those columns that fall outside the selected range) by all fill or font colors.
The next two immediately sort only the rows within the selected range by the fill or font colors it contains.
By default, these first 4 options sort your data in the order established by the Google Sheets palette:
First, you'll see the rows of all colors from red berry to magenta. Their shades & tints and your custom colors will be arranged according to the main colors – in-between.
They will be followed by the black color and shades of gray.
White cells will bring up the rear.
To arrange the data the other way around, tick off Reverse sorting before actually initiating the sort by color in Google Sheets.
Note.
With the reversed sorting enabled, colors from red berry to magenta will still come first but in the opposite order: magenta to red berry. They will be followed by white rows first, then by the shades of gray, and lastly by black rows.
Click Advanced sorting options to access other settings.
Advanced options to sort by colors from one Google Sheets column
Once you click the Advanced sorting options from the drop-down menu in the toolbar or open Sort by Color directly from the Process group, you will see the following settings in the sidebar.
Note.
These options will handle only the selected range.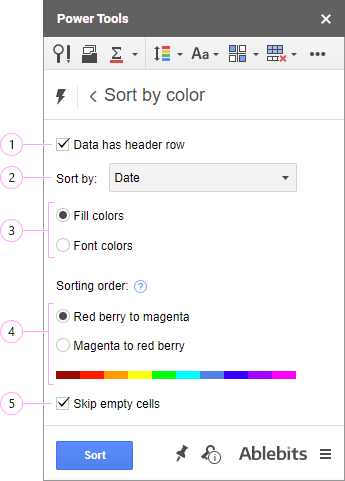 If there are headers in your selected range, make sure to tick off the first checkbox so the column names stay in place.
Select any particular column here and your entire selected range will be sorted by colors that appear in this column only.
Pick the colors you want to order.
Choose the appropriate sorting direction.

The add-on follows the order from the standard Google Sheets palette. The colored line below the options always hints at the selected order and shows the main colors of the palette. All other shades, tints, and even your custom colors will also be arranged according to these main colors.
Once you're all set, hit Sort, and the add-on will sort your range in Google Sheets by fill or font colors.
Related pages