CEO at APPS4GS, Nick Mikhuta:
"Here at APPS4GS, we do our best to keep your privacy private! It's not just "words" – we actually did all the possible things to reduce the information we get from you to the necessary minimum. We do respect your privacy!"
What data do we collect?
In the case with free Google Workspace add-ons for Google Drive, Sheets, Docs, and Forms, we do not collect any Personal Data from you at all.
When it comes to paid add-ons, we get your name, email address, billing address, phone number, and subscription ID (for our product that you use).
We also get your name and email address directly from you when you provide them to us – by leaving the feedback using the contact form on our Website or by emailing us.
Your IP address. (For details please see the following section below: How do we collect your personal information?).
We collect anonymous information about the usage of our Website and products.
We do not collect and do not have access to:
any payment information such as bank account details, credit card information, and check information.
How do we collect your personal information?
Directly from you (you provide it personally) when you email us or leave us a message on our Website.
Indirectly from you when you visit our Website: your browser sends your IP address to indicate "a way back" in order to receive the necessary page.
Directly from 2Checkout, our e-commerce partner that processes your payments for us.
What personal information do we store?
Your email address and subscription ID.
How will we use your personal information?
In order to provide you with our products and services, we need to know you. Your email address and subscription ID is the necessary minimum to sign you up to our services.
How do we store your personal information?
We securely store your irreversible hashed personal information on Europe or the US (depending on your location) servers.
The access is highly restricted and allowed to authorized persons only. The staff use this data according to the Security procedures, Security officer controls those procedures.
We keep your personal information while it's actual or until you order to delete it. The data is being deleted by the authorized person within 24 hours after your request.
Data security
To secure your Personal Data, our products and services are designed with security and privacy in mind. We encrypt your data when transferring it; external web resources are protected by SSL encryption.
However, please be aware that no method of transmission over the Internet, or method of electronic storage is 100% secure and we are unable to guarantee the absolute security of the Personal Information we have collected from you.
The safety and security of your information also depend on you. Whether we have given you or you have created a password to access certain parts of our Website, you are responsible for keeping this password confidential. We ask you not to share your password with anyone. We urge you to be careful about giving out any information in public areas of the Website like blog or help pages comments. The information you share in public areas may be viewed by any user of the Website.
By using the Website or providing Personal Data to us, you agree that we may communicate with you electronically regarding security, privacy, and administrative issues relating to your use of the Website. If we learn of a security system's breach, we may attempt to notify you electronically by posting a notice on the Website or sending an email to you. You may have a legal right to receive this as a written notice.
What are your data protection rights?
We would like to make sure you are fully aware of all of your data protection rights. Every user is entitled to the following:
The right to access – You have the right to request from us the copies of your Personal Data. We may charge you a small fee for this service.
The right to rectification – You have the right to request that we correct any information you believe is inaccurate. You also have the right to request Our Company to complete the information you believe is incomplete.
The right to erasure – You have the right to request that we erase your Personal Data, under certain conditions.
The right to restrict processing – You have the right to request that we restrict the processing of your Personal Data, under certain conditions.
The right to object to processing – You have the right to object to our processing of your Personal Data, under certain conditions.
The right to data portability – You have the right to request that we transfer the data that we have collected to another organization, or directly to you, under certain conditions.
If you make a request, we have one month to respond to you. If you would like to exercise any of these rights, please email us at support@apps4gs.com
Cookies
Cookies are text files placed on your computer to collect standard Internet log information and visitor behavior information. When you visit our Website, we may collect information from you automatically through cookies or similar technologies.
For further information, visit allaboutcookies.org
How do we use cookies?
We use cookies for Google Analytics only. Please read our Cookies Policy for more details.
Data processing by our products or services
Our main mission is to help you process your data faster. We have created a lot of add-ons for Google Workspace that may be your favorite tools to get the result faster and easier, like Merge Sheets, Remove Duplicates, Doc Tools, etc. Obviously, whatever add-on you choose, it has to get access to your file to get the job done. After installing the add-on, you'll get a list of permissions required by the tool, like this: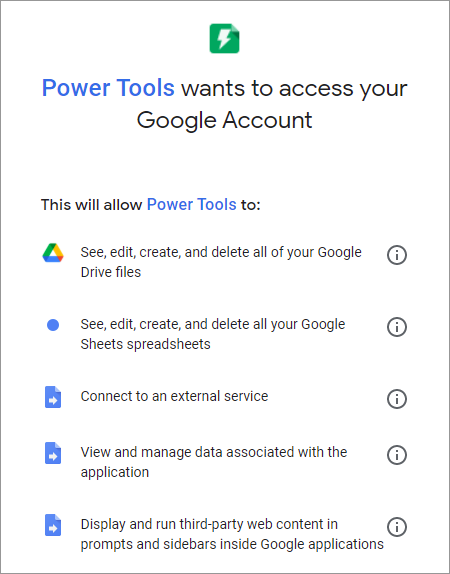 Please note, all those permissions are related to the add-on which is stored and launched on the Google servers and runs on your PC/Mac/Chromebook.
We do not collect, store, or share any data from your files. At all
All your files are stored under your Google account on Google servers. The source code of our add-ons is reviewed and approved by Google. It is running on Google servers and in your browser only. No other programs, computers and people, servers and services, whether ours or third-party, have access to your files.
So, you can be absolutely sure your files are transferred between your machine and Google servers. This process is managed, controlled, and secured by Google and you solely.
The list of possible permissions for Google Workspace add-ons
See, edit, create, and delete all of your Google Drive files
Such tools as Remove Duplicates, Combine Sheets, Merge Sheets, etc. may access your Google Drive only when you ask them to copy or move the results to a new spreadsheet or when you pick files from your Google Drive to combine.
See, edit, create, and delete all your Google Sheets spreadsheets
This permission allows our add-ons to process the data in your files (change case, merge and split records, find duplicates, build navigation panes, etc.) strictly in accordance with the options you choose. Your files are being processed within Google Workspace services exclusively.
Connect to an external service
Once in a while, the add-ons check if your Google account has an active subscription. For that, the tools send only your irreversible hashed email address and the license key (if you have one) to our licensing service.
View and manage data associated with the application
This service permission allows add-ons to save the settings you select solely on Google server. This way, each checkbox you check/uncheck will remain the same the next time you run the tool.
Display and run third-party web content
This one is required so you could see our icons, pictures, and other static resources that we store on Amazon Content Delivery Network.
Special categories of information
We do not ask you to provide, and we do not knowingly collect, any special categories of Personal Data from you, such as Personal Data that reveals your racial or ethnic origin, political opinions, religious or philosophical beliefs, or trade unions membership, or data concerning your health, or sex life, or sexual orientation, or history of criminal convictions.
Automated decision making
We do not use your Personal Data with any automated decision making processes.
Consent to Personal Data processing outside of the European Union
We may process your Personal Data outside of your home country. We only do this when we are legally permitted to do so and when we have appropriate safeguards in place to protect your Personal Data.
If you are a resident of the European Economic Area ("EEA"), your Personal Data may be moved outside of the EEA, including but not limited to the United States.
If you are visiting our Website from the European Union or other regions with laws governing data collection and use, please note that you are agreeing to the transfer of your information to the United States and to the processing of your data globally. By providing your Personal Information, you consent to any transfer and processing in accordance with this Privacy Policy.
Links to other websites
Our Website contains links to other websites. Our Privacy Policy applies only to our Website, so if you click on a link to another website, you should read their privacy policy.
Do Not Track signals
Do Not Track is a preference you can set in your web browser to inform the Website that you do not want to be tracked. You can enable or disable Do Not Track by visiting the Preferences or Settings page of your web browser.
We do not track you over time and across third-party websites or other online services for any purpose, therefore we do not respond to browser DNT signals and do not modify what information we collect or how we use that information based upon whether such signal is broadcast or received.
Changes to our Privacy Policy
We keep this Privacy Policy under regular review and place any updates on this web page. This Privacy Policy was last updated on 18 April 2022.