Quick Dedupe is a speedy solution to remove duplicate rows in Google Sheets. There's only one step where you choose the columns to check and decide how to deal with repeated entries.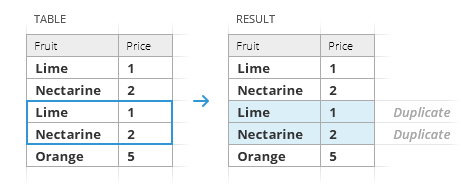 Before you start
We care about your data and suggest you always create backup copies of your spreadsheets. A special option of the add-on will do that for you if you select it.
Please bear in mind that Google Sheets limits the total number of possible cells in your file up to 5 million cells.
How to use Quick Dedupe
Start the add-on
Select the range you want to process and go to Extensions > Remove Duplicates > Quick dedupe: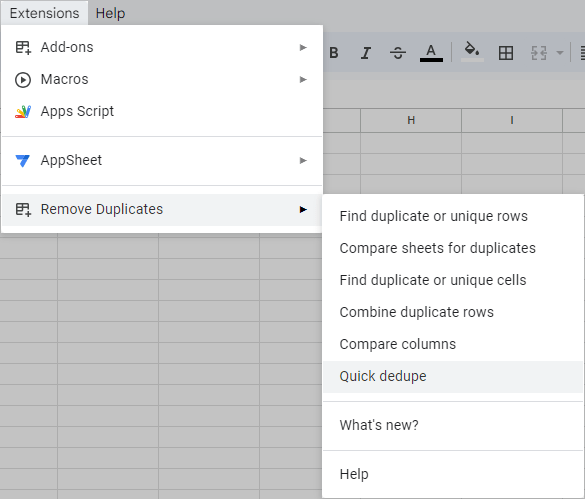 Tip.
If you don't select your table before running the add-on, it will automatically pick up the used range — cells with data till the first blank row & column.
Tip.
You can also spot Quick Dedupe in the
Dedupe & Compare
group in
Power Tools
. Just click the icon with a blue lightning: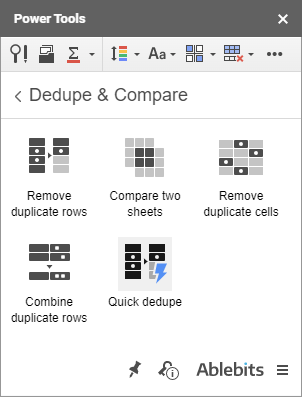 Tweak the settings
The only step of the add-on will ask you to fine-tune the following settings:

Based on the first two options, the tool will process or skip certain data:

Tick off My table has headers if the range of interest contains header rows. Such lines won't be checked for duplicates, and you will see the title of each column in the tool.
To ignore recurring blanks, make sure to check the Skip empty cells option. Or else, matching blank cells will be treated as duplicated data.

Use the checkbox in the header row to select all columns at once and search for complete row duplicates. The 1st row content will hint on the records your columns contain.
Choose the columns you want to scan for duplicated data in your Google Sheets. If you check more than one column, a row will be considered duplicate if the values in all selected columns are the same:

Decide how to process the found records:


Highlight duplicates in Google Sheets with a color of your choice.
Remove the lines with dupes inside your table by choosing Delete rows within selection.
Delete entire rows on the sheet will completely remove cells outside of the selected table as well (assuming it's a row with duplicates, of course).
Pick Add a status column to identify rows in a neighbouring column:

The Clear values option will delete duplicate entries from the selected columns only, keeping other data in the same rows intact.
Have the rows with the found duplicates copied to a new sheet of the same file.
Or make the add-on move (cut and paste) duplicates to a new sheet while shifting your original data up.
Click Dedupe to quickly check your data for duplicates.
See the result
Once the add-on deduplicates your table, you will see the confirmation message saying how many rows have been found and what action was applied to them: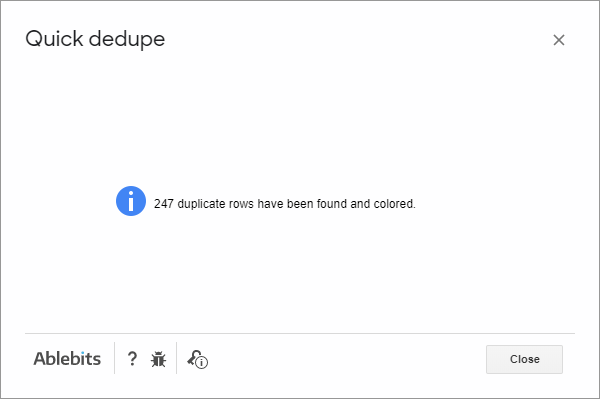 Related pages