Power Tools provides you with various utilities to speed up most of your daily tasks. Learn how to work with the Clear tool to remove blank rows and columns, numbers or text, dates and notes, delete formatting, hyperlinks, and Booleans in your Google spreadsheet.
Before you start
The Clear tool also handles cells in filtered & hidden rows & columns.
How to clear data
Run the Clear tool
Go to Extensions > Power Tools > Start to open the add-on in Google Sheets:

Click on the Clear icon on the add-on sidebar:

Clear data by type
Select the range with your cells and tick off the checkboxes next to the data types you'd like to remove:

Select the Clear all option to erase all types of data including images and formatting in the selected range.
Choose to Clear formatting to reset formatting to default in all cells of interest.
Check the Clear numbers option to remove all cells formatted as numbers in the highlighted range.
Clear hyperlinks will unlink all cells with hyperlinks within the range.
Tick off Clear formulas to get rid of all formulas in the selected range.
Use Clear dates to remove all date-formatted cells.
Clear notes allows you to delete all notes in the range in one click.
Select the Clear text option to delete all cells formatted as text in the range.
Decide to Clear booleans to remove all TRUE and FALSE boolean values from the cells.
Have all Data validation rules removed from all cells in the selection using the Clear validation option.
Press Clear and all the data types you picked will be removed from the range of your choice.
Remove empty rows and columns
The options from the bottom block let you remove empty rows and columns. You can use them with or without the Clear options. Tick off the checkboxes next to whatever you want to delete:

Remove all empty rows
Pick this option to delete all blank rows within the data in your sheet.
Remove all empty columns
Similarly, choose to delete all blank columns within your data.
Remove unused rows
Once your table is a complete set of data, you can get rid of all empty rows under it by checking this box.

Tip.

Deleting unused rows helps to make your spreadsheet smaller and contributes to processing data faster and easier.

Remove unused columns
The same way you can delete all empty columns at the end of your data.

Tip.

This option will lighten your spreadsheet and make it easier to process your data.

Remove from all sheets
Have the tool remove all empty and/or unused rows and/or columns from the entire spreadsheet in one go.
Once the needed options are ticked off, click Clear and see the result.
Tip.
You can quickly delete all empty and unused rows and columns right from the toolbar: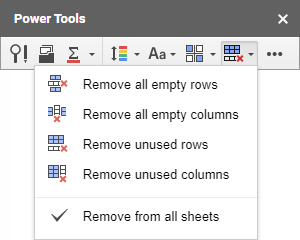 Related pages