Add blind carbon copy to Outlook emails
With the Auto BCC/CC plug-in
Invest a few minutes in creating a rule and from now on you will never forget to add a CC or BCC address to your outgoing email. Automatic copies will be sent for all your outgoing messages whether it is a new email, a reply, or a forwarded letter.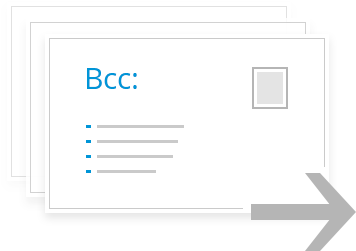 With Auto BCC for Outlook you will
Copy your outgoing e-mails automatically

Set up a BCC rule in Outlook for all your outgoing messages.

Create rules for different profiles and accounts

Send BCC from certain Outlook accounts when specified conditions are met.

Use key phrases for each condition

Set key phrases and add exceptions to your BCC or CC rules.

Control adding CC/BCC

Turn on notifications to be informed when CC or BCC address has been added.
How to automatically send BCC in Outlook
License benefits
Our customers get
Unconditional 30-day money-back guarantee

Secure payment
guarantee

Life-time license,
no additional fees ever

Volume discounts: the more you buy, the less you pay

1 license
for 2 computers

Free life-time support
Buy now
Frequently asked questions
About Auto BCC for Outlook
What is Auto Bcc for Outlook?

Auto BCC is an easy to understand and convenient to work with plug-in for Outlook. You just create a CC or BCC rule and the add-in does the whole job itself. A well-thought-out system of conditions and exceptions allows you to have a blind copy or CC address inserted automatically for:

All outgoing emails from all your e-mail accounts.
E-mails sent from one of your Microsoft Outlook profiles or accounts.
Messages sent to the specified addresses only.
Outgoing messages with particular words or phrases in the subject line or in the attachment name.

How to create a new Auto BCC rule in Outlook?

There are 5 easy steps:

Click on the add-in's icon to open it on the Ablebits.com tab. In you use Outlook 2007, go to the Main menu -> Tools -> Auto BCC for Outlook.
Click the New rule button.
Select one of the options:

Apply the rule for all outgoing e-mail messages in all profiles.
Apply the rule only if the message meets certain conditions.

If you select the latter, set up your conditions and exceptions.
Click OK and let Auto BCC take care of your Outlook email CC or Blind Carbon Copies.

Please find more information here.
Supported versions
Outlook

Outlook 2019
Outlook 2016
Outlook 2013
Outlook 2010
Outlook 2007
32-bit and 64-bit
Desktop Outlook included in Office 365
Desktop Outlook included in Office 365 ProPlus

Windows

Windows 10
Windows 8.1
Windows 8
Windows 7
32-bit and 64-bit
.NET Framework 4.0 must be installed
Free download
7-day trial version
Any questions or comments?
Please contact us here