Silently monitor outgoing emails
With Silent BCC for Microsoft Outlook
With Silent BCC for Microsoft Outlook, you can easily monitor every outgoing email in your company. E-mail senders will never know that a BCC copy was sent from their computers. The Silent BCC plug-in leaves absolutely no trace of its work.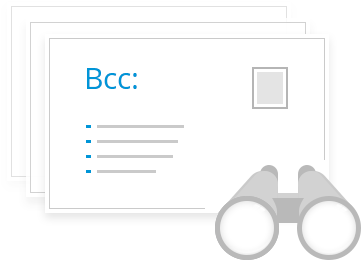 With Silent BCC for Outlook you will
Get copies of all emails sent from chosen accounts

The add-in will deliver you BCC copies of all messages sent from all or the selected user accounts of a given PC.

Keep the BCC process silent and invisible

BCC addresses are removed from Sent Items, no records are left in Add, Remove, or All programs.
Get silent copies of all outgoing Outlook emails
License benefits
Our customers get
Unconditional 30-day money-back guarantee

Secure payment
guarantee

Life-time license,
no additional fees ever

Volume discounts: the more you buy, the less you pay

1 license
for 2 computers

Free life-time support
Buy now
Frequently asked questions
About Silent BCC for Outlook
What is Silent BCC for Outlook and what do I need it for?

Silent BCC is an Outlook plug-in that delivers you BCC copies of all messages sent from the chosen or all user accounts of a given PC. It is perfectly invisible in Outlook and everywhere else in the system, there is no user interface for the user to turn the plug-in off or alter your monitoring settings. If you want to be sure that your employees always send you a copy of their e-mail, install Silent BCC for Outlook on their machines and have a blind carbon copy of each and every email in your Inbox.

How to install and configure Silent BCC for Outlook?

Run the setup file and follow the instruction of the installation wizard that will walk you through the installation process.
Specify the e-mail address to send BCC copies to. It can be one or several addresses.
Set up exceptions if necessary. You may want not to be copied on e-mails sent to certain recipients, then just specify their e-mail addresses (addresses can be in TO, CC, or BCC field). Also, you can exclude certain user accounts from monitoring.
Enter the password to protect your settings.
Click OK.

Please find more information here.
Any questions or comments?
Please contact us here