In this short tutorial, we'll talk about Excel SMALL function, how it works and how to use it to find the Nth smallest number, date, or time.
Need to find a few lowest numbers in a worksheet? This is quite easy to do with the Excel Sort feature. Do not want to waste time on re-sorting your data with every change? The SMALL function will help you quickly find the lowest value, second smallest, third smallest, and so on.
Excel SMALL function
SMALL is a statistical function that returns the n-th smallest value in a data set.
The syntax of the SMALL function includes two arguments, both of which are required.
SMALL(array, k)
Where:
Array - an array or a range of cells from which to extract the smallest value.
K - an integer that indicates the position from the lowest value to return, i.e. k-th smallest.
The function is available in all versions of Excel for Office 365, Excel 2021, Excel 2019, Excel 2016, Excel 2013, Excel 2010, and earlier.
Basic SMALL formula in Excel
A SMALL formula in its basic form is very easy to build - you just specify the range and the position from the smallest item to return.
In the list of numbers in B2:B10, supposing you want to extract the 3rd smallest value. The formula is as simple as:
=SMALL(B2:B10, 3)
To make it easier for you to check the result, column B is sorted in ascending order: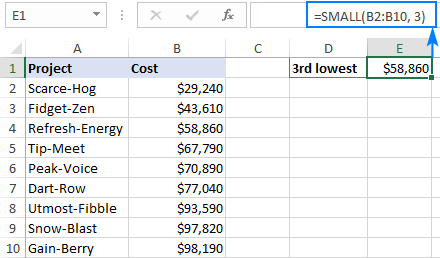 4 things you should know about SMALL function
The following usage notes will help you better understand the behavior of the SMALL function and avoid confusion when building your own formulas.
Any blank cells, text values, and logical values TRUE and FALSE in the array argument are ignored.
If array contains one or more errors, an error is returned.
In case there are duplicates in array, your formula may result in "ties". For example, if two cells contain the number 1, and the SMALL function is configured to return the smallest and the 2nd smallest value, you will get 1 in both cases.
Assuming n is the number of values in array, SMALL(array,1) will return the lowest value, and SMALL(array,n) will pick the highest value.
How to use the SMALL function in Excel - formula examples
And now, let's look at some more examples of the Excel SMALL function that go beyond its basic usage.
How to highlight bottom values in Excel
To highlight the smallest n values in your table with Excel conditional formatting, you can use either a built-in Top/Bottom option or set up your own rule based on a SMALL formula. The first method is faster and easier to apply, while the second provides more control and flexibility. The below steps will walk you through creating a custom rule:
Select the range in which you want to highlight bottom values. In our case, the numbers are in B2:B10, so we select it. If you'd like to highlight entire rows, then select A2:B10.
On the Home tab, in the Styles group, click Conditional formatting > New Rule.
In the New Formatting Rule dialog box, choose Use a formula to determine which cells to format.
In the Format values where this formula is true box, enter a formula like this one:

=B2<=SMALL($B$2:$B$10, 3)

Where B2 is the leftmost cell of the numeric range to be checked, $B$2:$B$10 is the whole range, and 3 is the n bottom values to highlight.

In your formula, please mind the reference types: the leftmost cell is a relative reference (B2) while the range is the absolute reference ($B$2:$B$10).

Click the Format button and choose any format you like.
Click OK twice to close both dialog windows.
Done! The bottom 3 values in column B are highlighted: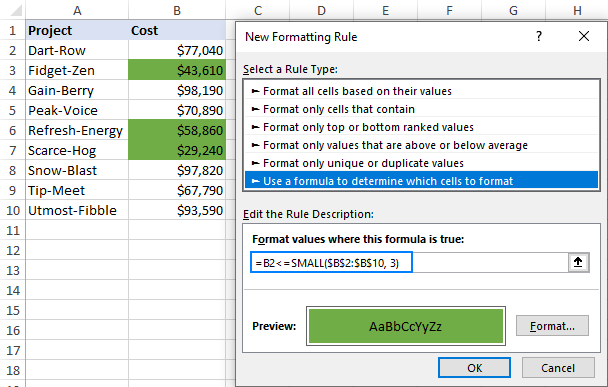 For more information, please see Excel conditional formatting based on formula.

Excel SMALL function not working
As you've just seen from our examples, using the SMALL function in Excel is quite easy, and you are unlikely to have any difficulties with it. If your formula does not work, most likely that will be a #NUM! error, which may occur because of the following reasons:
Array is empty or does not contain a single numeric value.
The k value is less than zero (a silly typo can cost you hours of troubleshooting!) or exceeds the number of values in the array.
That's how to use a SMALL formula in Excel to find and highlight bottom numbers in a set of data. If you know any other scenarios where the function comes in handy, you are most welcome to share in comments. I thank you for reading and hope to see you on our blog next week!