How to create custom lists in Excel and get every benefit from Random Generator
You can use our add-in to have Excel custom lists at your fingertips, to add a new custom list using data of any format and even to create worksheets named as custom list values. And you can do all this in just a couple of clicks.

Simple as our add-ins are they still have some tricks to surprise both the novices and sophisticated users.
This little secret is for those of you who often work with fixed lists, be it your class, your staff or birthday dates.
You may have tried Excel custom list feature. But if your class changes every semester, or your list of IDs changes every week, it's a pain to go all the way to open custom lists and edit them in Microsoft Excel. Let alone the numbers and dates that you can't import in a pile. You need to enter every single value formatted as text to have it in a custom list.
Excel custom lists on tap
Click on the Random Generator icon and you get quick access to your custom lists.
This opens a pane on the left of your worksheet with the Custom list section.

All you do to add a new one is:
Select the range with your list in Excel. It can be formatted as date, number, anything really.

Click the New list button in the Custom list section

Confirm selection and that's all. Your new custom list is ready and added to standard Excel custom lists of course.
You can expand the list and see its contents if you click on the little plus icon to the left of the list.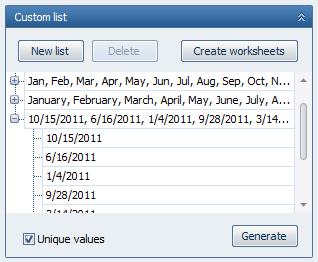 What else you can do with Excel custom lists
Of course you can work with all these lists just like you're used to in Excel: enter a value from the list, click on the right-hand lower corner of the cell and drag it down or sideways to fill the cells with other values from the list (thanks to Excel Auto Fill feature). But you probably know all that.
Check out new things you can do with Random Generator:
Pick random entries from the list
First of all you can fill the cells you select with the values from the custom list at random. Now, there are a whole lot of things you can do with this feature. Split groups into teams, fix a date or hand out assignments without offending anyone, you can randomize your choice with one click.
If you have a group of 30 people and you've got 5 assignments, what do you do? Select 5 cells for the names, select the list with the group and click Generate, it's fair! Or pick one from the list to make a report next week:
select a cell
select the custom list with the group
click Generate.
Here comes the lucky one!

Create worksheets named as custom list values in 1 click
As a bonus, you get the possibility to create worksheets with the names of all custom list values by clicking on one button, "Create worksheets". So if you need to get worksheets with the days of the week, just click this button and they're ready.
If you don't have Random Generator yet
Feel free to download a fully-functional evaluation version of Random Generator add-in.