Below you can find a list of possible issues that can occur when working with Google Sheets add-ons. They are caused by current technical limitations on Google end. We are looking for ways to go around them, though in some cases the only thing we can do is wait for bug fixes or new possibilities for third-party developers. We appreciate your patience and understanding.
If the problem you are having is not described here, please use the contact form below to write to us or email straight to support@ablebits.com
The add-on doesn't work (the Next button is disabled, "working" arrows are spinning all the time, or there is no result)
This issue occurs if you are logged in under more than one Google account. It happens due to an issue with multiple Google accounts on Google side.
Possible solution: Please sign out and log back in with an account under which you want to work with your spreadsheet.
Issue-prone add-ons: All Google Sheets add-ons.
This issue is known for all add-ons for Google Sheets. Most often it occurs in Safari browser. Some technical peculiarities of the way Google Sheets add-ons are made are causing this.
Possible solution: Try to update your browser or change it to Google Chrome.
Issue-prone add-ons: All Google Sheets add-ons.
The only option in the add-on menu is Help
Sometimes when you're trying to run the add-on, the only option you can see in the drop-down menu is Help. This is usually caused by Google internal problems.
Current solution: Reload the spreadsheet a few times and see if other options appear. If this doesn't help, email us to support@ablebits.com
Issue-prone add-ons: All Google Sheets add-ons.
Custom functions are not updated automatically
Caused by a known bug in Google Sheets, unless you change a value in one of the cells, we can't automatically update the formulas we insert.
Current solution: Function by Color introduced the Refresh option to update all custom formulas it inserts into your sheet in one go.
Issue-prone add-ons: Power Tools.
Function by Color doesn't work
A lack of locale in your spreadsheet may prevent the function from calculating the results as it doesn't know what delimiter should be used.
Possible solution: Set the locale in File > Spreadsheet settings.
Issue-prone add-ons: Power Tools.
It is not possible to work with non-adjacent ranges
Google Spreadsheet Service doesn't provide a way for the scripts to access multiple selected ranges at the moment, that's why you will always see the results for the last selected range. We are looking forward to adding this functionality to many add-ons.
Issue-prone add-ons: All add-ons; Merge Values, Random Generator, Power Tools among them.
Dates cannot be processed
When the add-ons process dates, they don't get them in the same way you see them. When the add-on script gets an array of data to process, it receives the date as a combination of numeric characters that differs from the date format displayed to you in the sheet, e.g. the script sees "Mon May 05 2014 00:00:00 GMT" instead of "5/5/2014". This is the reason why neither search, nor replacement will return correct results. Most our add-ons do not process dates to avoid data corruption.
Issue-prone add-ons: Advanced Find and Replace, Merge Values, Power Tools.
All records starting with a single quote (') are processed as numbers.
Unfortunately, this limitation occurs for all add-ons in Google Sheets and we cannot bypass it. Thus, if you enter '12 in your cell, the record will be turned into 12 and processesed accordingly.
Issue-prone add-ons: All Google Sheets add-ons.
No results with merged cells in the range
There is no technical possibility for the add-on to find out if the selection contains merged data, which prevents us from showing you a message with an explanation. When the script processes your data by row or column and it encounters merged cells in the selection, it can't correctly fulfill the task and returns no results.
Possible solution: Select the option to Unmerge under Format > Merge cells prior to running the add-on.
Issue-prone add-ons: Power Tools.
The add-on returns no results
When you work with a large range of various data and if you have a very slow Internet connection, the add-on may hit Google's 360-second time limit for operation. Our developers work hard to avoid such issues, please let us know if you encounter it with any Ablebits tools.
Issue-prone add-ons: Advanced Find and Replace, Table Styles.
The add-on gives a Server error
This is a very general error. It may be caused by exceeding the limit of 5 million cells in Google Sheets. If you have a large spreadsheet, you can check this by trying to duplicate the sheet with your data, you will see the error right away.
Current solution: Avoid the options that add cells and skip the option to create a backup copy of the sheet.
Issue-prone add-ons: All Google Sheets add-ons.
Table Styles can't pick some of your formatting
Access to some formatting options is limited in the API that Google provides. This is why Table Styles add-on can't "see" the borders you have; it can't set any color but black for the added borders for the same reason. Similar limitations do not let it recognize text alignment in the selected range. There is also no technical way to see whether the text is wrapped when the add-on tries to pick the selected style.
Though there are no possibilities for us to identify the above, we can still let you add, save and apply these options when creating table styles.
Issue-prone add-ons: Table Styles.
Change case doesn't work
Capitalize and Sentence case. don't work if your data already contains any words in capitals.
Current solution: Please apply lowercase first. This was made intentionally in order not to corrupt any acronyms you may have. Though it does take one extra click to first turn text to lowercase, we believe it is easier than restoring words that were supposed to be in uppercase.
Issue-prone add-ons: Power Tools.
I can't make the add-on run automatically
Unfortunately, at the moment it's impossible to run our add-ons automatically.
Current solution: Our Remove Duplicate Rows now supports scenarios - the sets of options that you choose often. This lets you automate repetitive tasks and check for duplicates in a click.
All you need to do is click one button to save these settings, name this scenario, and run it from the menu later. You will find all the details concerning scenarios on the add-on's help page.
Issue-prone add-ons: All Google Sheets add-ons.
I removed the add-on but it's still in the list of my tools
The problem has appeared recently on the Google side and is most likely connected to migrating to G Suite Marketplace from Chrome Web Store.
Current solution: Go to G Suite Marketplace and install the tool from there.
Tip. No worries, G Suite doesn't have to be paid for.
After that, scroll down to the bottom of the left panel in G Suite Marketplace and click Manage Apps: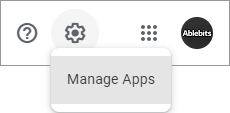 Then return to your spreadsheet and remove the add-on once again the standard way.
If this doesn't help, email us to support@ablebits.com
Issue-prone add-ons: All Google Sheets add-ons.