In this tutorial, we'll break down the causes of the Excel #NUM error and show you how to fix it.
Are you staring at your computer screen, sipping on your coffee, and wondering why your Excel spreadsheet is suddenly showing a strange error message with the hashtag symbol? It is frustrating, confusing and downright annoying, but fear not! We're here to unravel the mystery of the #NUM error in Excel and help you fix it.
What does #NUM error mean in Excel?
The #NUM error in Excel is a common error message triggered by invalid numeric values, leading to an impossible outcome. This error typically occurs when a function contains incorrect arguments, or when the supplied numbers or dates are not valid numeric values, or when a calculation exceeds the limit of what Excel can handle.
The #NUM error can be resolved in a number of different ways depending on the underlying cause. These can include adjusting input values, changing the formula or calculation, or modifying Excel's calculation settings. A particular solution depends on the specific error and the context of its occurrence.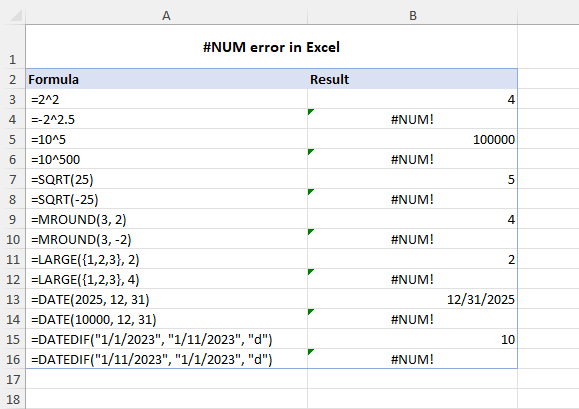 #NUM error in Excel – causes and solutions
Below, we will delve into each possible cause of the #NUM error in more detail and provide you with the necessary steps to resolve it.
In summary, the #NUM error in Excel is a common issue that can occur for various reasons, including incorrect arguments, unrecognized numbers/dates, impossible operations, and surpassing Excel's calculation limits. Hopefully, this article has helped you understand these reasons and effectively troubleshoot the error.
You may also be interested in