The tutorial shows how to generate random numbers, randomly sort a list, get random selection and randomly assign data to groups. All with a new dynamic array function - RANDARRAY.
As you probably know, Microsoft Excel already has a couple of randomizing functions - RAND and RANDBETWEEN. What is the sense in introducing another one? In a nutshell, because it's far more powerful and can replace both older functions. Apart from setting up your own maximum and minimum values, it lets you specify how many rows and columns to fill and whether to produce random decimals or integers. Used together with other functions, RANDARRAY can even shuffle data and pick a random sample.
Excel RANDARRAY function
The RANDARRAY function in Excel returns an array of random numbers between any two numbers that you specify.
It is one of six new dynamic array functions introduced in Microsoft Excel 365. The result is a dynamic array that spills into the specified number of rows and columns automatically.
The function has the following syntax. Please notice that all the arguments are optional:
RANDARRAY([rows], [columns], [min], [max], [whole_number])
Where:
Rows (optional) - defines how many rows to fill. If omitted, defaults to 1 row.
Columns (optional) - defines how many columns to fill. If omitted, defaults to 1 column.
Min (optional) - the smallest random number to produce. If not specified, the default 0 value is used.
Max (optional) - the largest random number to create. If not specified, the default 1 value is used.
Whole_number (optional) - determines what kind of values to return:
TRUE - whole numbers
FALSE or omitted (default) - decimal numbers
RANDARRAY function - things to remember
To efficiently generate random numbers in your Excel worksheets, there are 6 important points to take notice of:
The RANDARRAY function is only available in Excel for Microsoft 365 and Excel 2021. In Excel 2019, Excel 2016 and earlier versions the RANDARRAY function is not available.
If the array returned by RANDARRAY is the final result (output in a cell and not passed to another function), Excel automatically creates a dynamic spill range and populates it with the random numbers. So, be sure you have enough empty cells down and/or to the right of the cell where you enter the formula, otherwise a #SPILL error will occur.
If none of the arguments is specified, a RANDARRAY() formula returns a single decimal number between 0 and 1.
If the rows or/and columns arguments are represented by decimal numbers, they will be truncated to the whole integer before the decimal point (e.g. 5.9 will be treated as 5).
If the min or max argument is not defined, RANDARRAY defaults to 0 and 1, respectively.
Like other random functions, Excel RANDARRAY is volatile, meaning it generates a new list of random values every time the worksheet is calculated. To prevent this from happening, you can replace formulas with values by using Excel's Paste Special > Values feature.
Basic Excel RANDARRAY formula
And now, let me show you a random Excel formula in its simplest form.
Supposing you want to fill a range consisting of 5 rows and 3 columns with any random numbers. To have it done, set up the first two arguments this way:
Rows is 5 since we want the results in 5 rows.
Columns is 3 as we want the results in 3 columns.
All of the other arguments we leave to their default values and get the following formula:
=RANDARRAY(5, 3)
Enter it in the top left cell of the destination range (A2 in our case), press the Enter key, and you will have the results spilt over the specified number of rows and columns.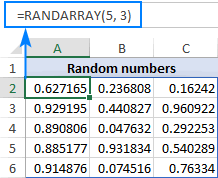 As you can see in the screenshot above, this basic RANDARRAY formula fills the range with random decimal numbers from 0 to 1. If you'd rather get whole numbers within a specific range, then configure the last three arguments as demonstrated in further examples.

How to randomize in Excel - RANDARRAY formula examples
Below you will find a few advanced formulas that cover typical randomizing scenarios in Excel.
Excel RANDARRAY function not working
When your RANDARRAY formula returns an error, these are the most obvious reasons to check:
#SPILL error
As with any other dynamic array function, a #SPILL! error most often means that there isn't enough space in the intended spill range to display all the results. Just clear all the cells in this range, and your formula will recalculate automatically. For more information, please see Excel #SPILL error - causes and fixes.

#VALUE error
A #VALUE! error may occur in these circumstances:
If a max value is less than a min value.
If any of the arguments is non-numeric.
#NAME error
In most cases, a #NAME! error indicates one of the following:
The function's name is misspelled.
The function is not available in your Excel version.
#CALC! error
A #CALC! error occurs if the rows or columns argument is less than 1 or refers to a blank cell.

That's how to build a random number generator in Excel with the new RANDARRAY function. I thank you for reading and hope to see you on our blog next week!