The tutorial explains the basics of the Flash Fill functionality and provides examples of using Flash Fill in Excel.
Flash Fill is one of the most amazing features of Excel. It grabs a tedious task that would take hours to be performed manually and executes it automatically in a flash (hence the name). And it does so quickly and simply without you having to do a thing, but only provide an example of what you want.
What is Flash Fill in Excel?
Excel Flash Fill is a special tool that analyzes the information you are entering and automatically fills data when it identifies a pattern.
The Flash Fill feature was introduced in Excel 2013 and is available in all later versions of Excel 2016, Excel 2019, Excel 2021, and Excel for Microsoft 365.
Started in December 2009 as an attempt of Sumit Gulwani, a senior researcher at Microsoft, to help a businesswoman he accidentally met at the airport with her merging challenge, a few years later it has evolved into a powerful ability to automate many Excel chores.
Flash Fill easily copes with dozens of different tasks that otherwise would require complex formulas or even VBA code such as splitting and combining text strings, cleaning data and correcting inconsistencies, formatting text and numbers, converting dates to the desired format, and a lot more.
Each time, Flash Fill combines millions of small programs that might accomplish the task, then sorts those code snippets using machine-learning techniques and finds the one that suits best for the job. All this is done in milliseconds in the background, and the user sees the results almost immediately!

Where is Flash Fill in Excel?
In Excel 2013 and later, the Flash Fill tool resides on the Data tab, in the Data tools group:


Excel Flash Fill shortcut
Those of you who prefer working from a keyboard most of the time, can run Flash Fill with this key combination: Ctrl + E

How to use Flash Fill in Excel
Usually Flash Fill starts automatically, and you only need to provide a pattern. Here's how:
Insert a new column adjacent to the column with your source data.
In the first cell of a newly added column, type the desired value.
Start typing in the next cell, and if Excel senses a pattern, it will show a preview of data to be auto-filled in the below cells.
Press the

Enter

key to accept the preview. Done!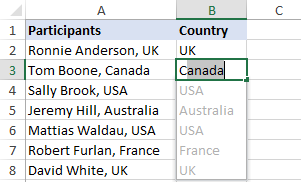 How to Flash Fill in Excel with a button click or shortcut
In most situations, Flash Fill kicks in automatically as soon as Excel establishes a pattern in the data you are entering. If a preview does not show up, you can activate Flash Fill manually in this way:
Fill in the first cell and press Enter.
Click the Flash Fill button on the Data tab or press the

Ctrl + E

shortcut.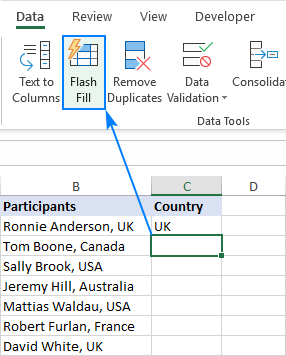 Excel Flash Fill options
When using Flash Fill in Excel to automate data entry, the Flash Fill Options button appears near the auto-filled cells. Clicking this button opens the menu that lets you do the following:
Undo the Flash Fill results.
Select blank cells that Excel has failed to populate.
Select the changed cells, for example, to format them all at once.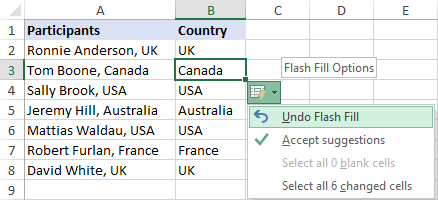 Excel Flash Fill examples
As already mentioned, Flash Fill is a very versatile tool. The below examples demonstrate some of its capabilities, but there is much more to it!
Excel Flash Fill limitations and caveats
Flash Fill is an awesome tool, but it does have a couple of limitations that you should be aware of before you start using this feature on your real data sets.
1. Flash Fill results do not update automatically
Unlike formulas, the results of Flash Fill are static. If you make any changes to the original data, they won't be reflected in the Flash Fill results.

2. May fail to identify a pattern
In some situations, especially when your original data are arranged or formatted differently, Flash Fill may stumble and produce incorrect results.
For example, if you use Flash Fill to extract middle names from the list where some entries contain only the First and Last names, the results for those cells will be wrong. So, it is wise to always review the Flash Fill output.


3. Ignores cells with non-printable characters
If some of the cells to be auto-filled contain spaces or other non-printable characters, Flash Fill will skip such cells.


So, if any of the resulting cells are blank, clear those cells (Home tab >Formats group > Clear > Clear All) and run Flash Fill again.

4. May convert numbers to strings
When using Flash Fill for reformatting numbers, please be aware that it may convert your numbers to alphanumeric strings. If you prefer to keep the numbers, use the capabilities of Excel format that changes only the visual representation, but not the underlying values.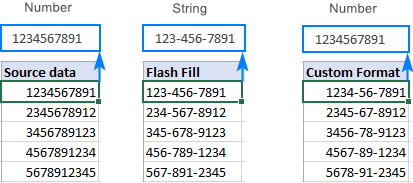 How to turn Flash Fill on and off
Flash Fill in Excel is turned on by default. If you do not want any suggestions or automatic changes in your worksheets, you can disable Flash Fill in this way:
In your Excel, go to File> Options.
On the left panel, click Advanced.
Under Editing options, clear the Automatically Flash Fill box.
Click OK to save the changes.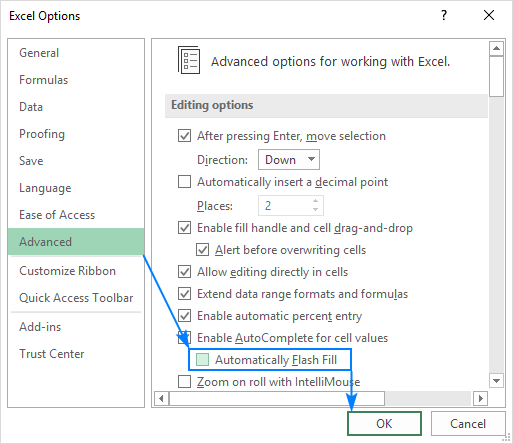 To re-enable Flash Fill, simply select this box again.

Excel Flash Fill not working
In most cases, Flash Fill works without a hitch. When it falters, the below error may show up, and the following tips will help you get it fixed.


1. Provide more examples
Flash Fill learns by example. If it is unable to recognize a pattern in your data, fill in a couple more cells manually, so that Excel could try out different patterns and find the one best suited for your needs.

2. Force it to run
If Flash Fill suggestions do not appear automatically as you type, try to run it manually.

3. Make sure Flash Fill is enabled
If it does not start either automatically or manually, check if the Flash Fill functionality is turned on in your Excel.

4. Flash Fill error persists
If none of the above suggestions has worked and Excel Flash Fill still throws an error, there is nothing else you can do but enter the data manually or with formulas.

That's how you use Flash Fill in Excel. I thank you for reading and hope to see you on our blog next week!