The tutorial looks at how to use the ISTEXT and ISNONTEXT functions in Excel to check if a cell contains a textual value or not.
Whenever you need to get information about the contents of some cell in Excel, you'd typically use the so-called Information functions. Both ISTEXT and ISNONTEXT belong to this category. The ISTEXT function checks if a value is text and ISNONTEXT tests if a value is not text. Whatever simple the concept is, the functions are amazingly useful for solving a variety of different tasks in Excel.
Excel ISTEXT function
The ISTEXT function in Excel checks is a specified value is text or not. If the value is textual, the function returns TRUE. For all other data types (such as numbers, dates, blank cells, errors, etc.) it returns FALSE.
The syntax is as follows:
ISTEXT(value)
Where value is a value, cell reference, expression or another function whose result you want to test.
For example, to find out whether a value in A2 is text or not, use this simple formula:
=ISTEXT(A2)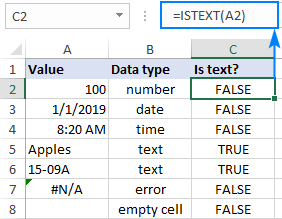 Excel ISNONTEXT function
The ISNONTEXT function returns TRUE for any non-text value including numbers, dates and times, blanks, and other formulas that return non-textual results or errors. For text values, it returns FALSE.
The syntax is the same as that of the ISTEXT function:
ISTEXT(value)
For instance, to check if a value in A2 is not text, use this formula:
=ISNONTEXT(A2)
As shown in the screenshot below, the ISTEXT and ISNONTEXT formulas return the opposite results: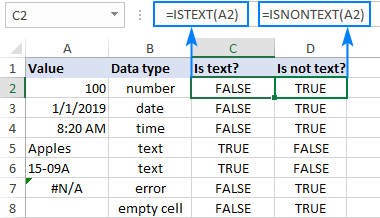 ISTEXT and ISNONTEXT functions in Excel - usage notes
ISTEXT and ISNONTEXT are very straightforward and easy-to-use functions, and you are unlikely to run into any difficulties with them. That said, there are a few keys points to take notice of:
Both functions are part of the IS functions group that return the logical (Boolean) values of TRUE or FALSE.
In a specific case when numbers are stored as text, ISTEXT returns TRUE and ISNONTEXT returns FALSE.
Both functions are available in all versions of Excel for Office 365, Excel 2019, Excel 2016, Excel 2013, Excel 2010, Excel 2007, Excel 2003, Excel XP, and Excel 2000.
Using ISTEXT and ISNONTEXT in Excel - formula examples
Below you will find examples of practical uses of the ISTEXT and ISNONTEXT functions in Excel that will hopefully help you make your worksheets more efficient.
Highlight cells that contain text
The ISTEXT function can also be used with Excel conditional formatting to highlight cells containing text values. Here's how:
Select all the cells that you want to check and highlight (A2:C5 in this example).
On the Home tab, in the Styles group, click New Rule > Use a formula to determine which cells to format.
In the Format values where this formula is true box, enter the below formula:

=ISTEXT(A2)

Where A2 is the leftmost cell of the selected range.

Click the Format button and choose the desired formatting.
Click OK twice to close both dialog boxes and save the rule.
For more detailed explanation of each step, please see: Using formulas for Excel conditional formatting.
As the result, Excel highlights all the cells with any text strings: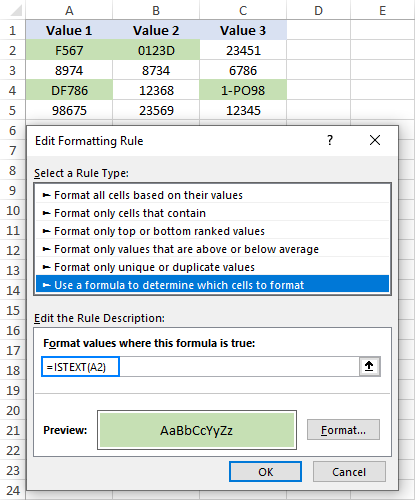 That's how to use the ISTEXT and ISNONTEXT functions in Excel. I thank you for reading and hope to see you on our blog next week!
You may also be interested in