The article provides detailed guidance on how to use conditional formatting Icon Sets in Excel. It will teach you how to create a custom icon set that overcomes many limitations of the inbuilt options and apply icons based on another cell value.
A while ago, we started to explorer various features and capabilities of Conditional Formatting in Excel. If you haven't got a chance to read that introductory article, you may want to do this now. If you already know the basics, let's move on and see what options you have with regard to Excel's icon sets and how you can leverage them in your projects.
Excel icon sets
Icon Sets in Excel are ready-to-use formatting options that add various icons to cells, such as arrows, shapes, check marks, flags, rating starts, etc. to visually show how cell values in a range are compared to each other.
Normally, an icon set contains from three to five icons, consequently the cell values in a formatted range are divided into three to five groups from high to low. For instance, a 3-icon set uses one icon for values greater than or equal to 67%, another icon for values between 67% and 33%, and yet another icon for values lower than 33%. However, you are free to change this default behavior and define your own criteria.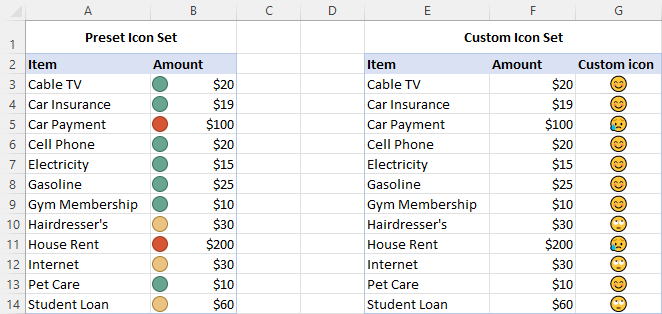 How to use icon sets in Excel
To apply an icon set to your data, this is what you need to do:
Select the range of cells you want to format.
On the Home tab, in the Styles group, click Conditional Formatting.
Point to Icon Sets, and then click the icon type you want.
That's it! The icons will appear inside the selected cells straight away.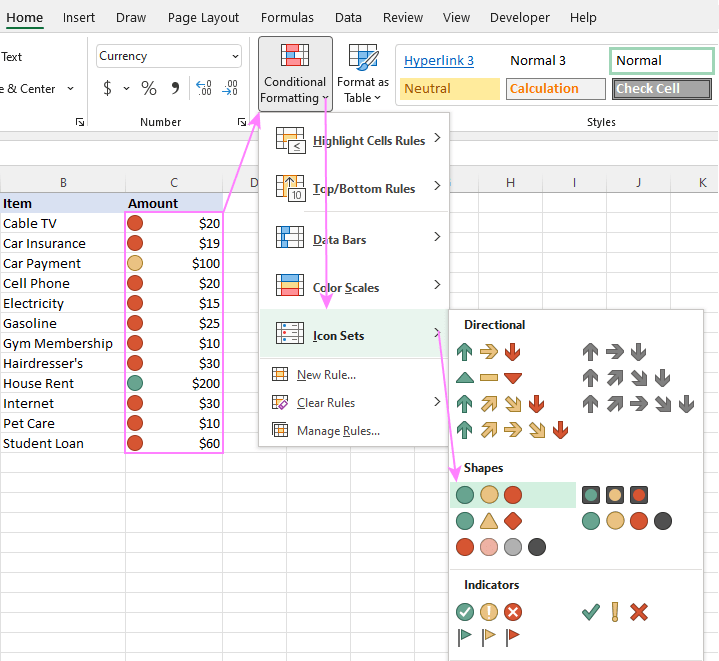 How to customize Excel icon sets
If you are not happy with the way Excel has interpreted and highlighted your data, you can easily customize the applied icon set. To make edits, follow these steps:
Select any cell conditionally formatted with the icon set.
On the Home tab, click Conditional Formatting > Manage Rules.
Select the rule of interest and click Edit Rule.
In the Edit Formatting Rule dialog box, you can choose other icons and assign them to different values. To select another icon, click on the drop-down button and you will see a list of all icons available for conditional formatting.
When done editing, click OK twice to save the changes and return to Excel.
For our example, we've chosen the red cross to highlight values greater than or equal to 50% and the green tick mark to highlight values less than 20%. For in-between values, the yellow exclamation mark will be used.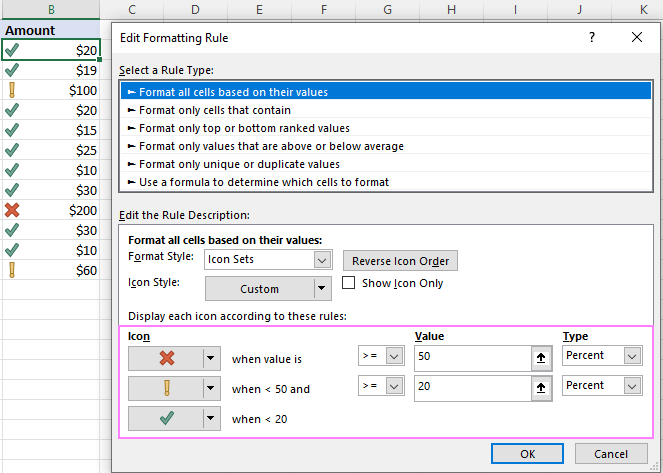 Tips:
To reverse icon setting, click the Reverse Icon Order button.
To hide cell values and show only icons, select the Show Icon Only check box.
To define the criteria based on another cell value, enter the cell's address in the Value box.
You can use icon sets together with other conditional formats, e.g. to change the background color of the cells containing icons.
How to create a custom icon set in Excel
In Microsoft Excel, there are 4 different kinds of icon sets: directional, shapes, indicators and ratings. When creating your own rule, you can use any icon from any set and assign any value to it.
To create your own custom icon set, follow these steps:
Select the range of cells where you want to apply the icons.
Click Conditional Formatting > Icon Sets > More Rules.
In the New Formatting Rule dialog box, select the desired icons. From the Type dropdown box, select Percentage, Number of Formula, and type the corresponding values in the Value boxes.
Finally, click OK.
For this example, we've created a custom three-flags icon set, where:
Green flag marks household spendings greater than or equal to $100.
Yellow flag is assigned to numbers less than $100 and greater than or equal to $30.
Green flag is used for values less than $30.
How to set conditions based on another cell value
Instead of "hardcoding" the criteria in a rule, you can input each condition in a separate cell, and then refer to those cells. The key benefit of this approach is that you can easily modify the conditions by changing the values in the referenced cells without editing the rule.
For example, we've entered the two main conditions in cells G2 and G3 and configured the rule in this way:
For Type, pick Formula.
For the Value box, enter the cell address preceded with the equality sign. To get it done automatically by Excel, just place the cursor in the box and click the cell on the sheet.
How to show only some items of the icon set
Excel's inbuilt 3-icon and 5-icon sets look nice, but sometimes you may find them a bit inundated with graphics. The solution is to keep only those icons that draw attention to the most important items, say, best performing or worst performing.
For example, when highlighting the spendings with different icons, you may want to show only those that mark the amounts higher than average. Let's see how you can do this:
Create a new conditional formatting rule by clicking Conditional formatting > New Rule > Format only cells that contain. Choose to format cells with values less than average, which is returned by the below formula. Click OK without setting any format.

=AVERAGE($B$2:$B$13)

Click Conditional Formatting > Manage Rules…, move up the Less than average rule, and put a tick into the Stop if True check box next to it.
As a result, the icons are only shown for the amounts that are greater than average in the applied range:
How to add custom icon set to Excel
Excel's built-in sets have a limited collection of icons and, unfortunately, there is no way to add custom icons to the collection. Luckily, there is a workaround that allows you to mimic conditional formatting with custom icons.
Method 1. Add custom icons using Symbol menu
To emulate Excel conditional formatting with a custom icon set, these are the steps to follow:
Create a reference table outlining your conditions as shown in the screenshot below.
In the reference table, insert the desired icons. For this, clicking the Insert tab > Symbols group > Symbol button. In the Symbol dialog box, select the Windings font, pick the symbol you want, and click Insert.
Next to each icon, type its character code, which is displayed near the bottom of the Symbol dialog box.
For the column where the icons should appear, set the Wingdings font, and then enter the nested IF formula like this one:

=IF(B2>=90, CHAR(76), IF(B2>=30, CHAR(75), CHAR(74)))

With cell references, it takes this shape:

=IF(B2>=$H$2, CHAR($F$2), IF(B2>=$H$3, CHAR($F$3), CHAR($F$4)))

Copy the formula down the column, and you will get this result:
Black and white icons appear rather dull, but you can give them a better look by coloring the cells. For this, you can apply the inbuilt rule (Conditional Formatting > Highlight Cells Rules > Equal To) based on the CHAR formula such as:
=CHAR(76)
Now, our custom icon formatting looks nicer, right?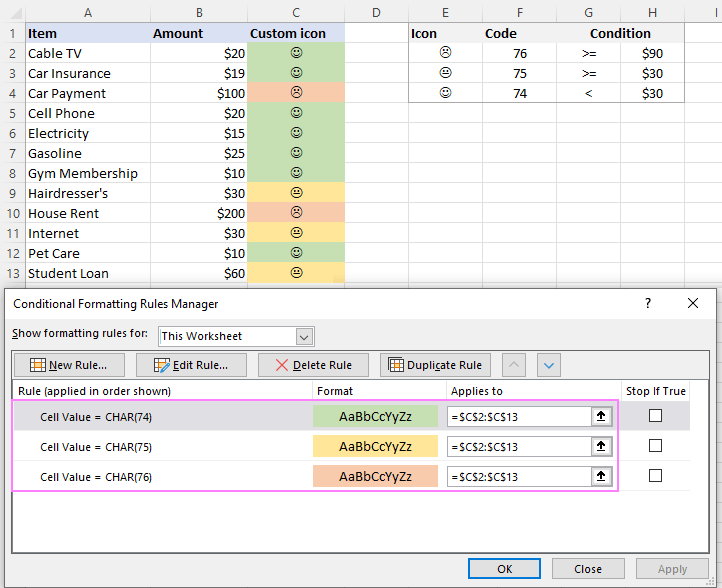 Method 2. Add custom icons using virtual keyboard
Adding custom icons with the help of the virtual keyboard is even easier. The steps are:
Start by opening the virtual keyboard on the task bar. If the keyboard icon is not there, right-click on the bar, and then click Show Touch Keyboard Button.
In your summary table, select the cell where you want to insert the icon, and then click on the icon you like.

Alternatively, you can open the emoji keyboard by pressing the Win + . shortcut (the Windows logo key and the period key together) and select the icons there.

In the Custom Icon column, enter this formula:

=IF(B2>=$G$2, $E$2, IF(B2>=$G$3, $E$3, $E$4))

In this case, you need neither the character codes nor fiddling with the font type.
When added to Excel desktop, the icons are black and white: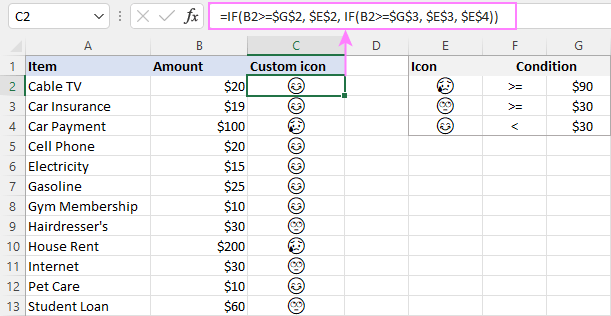 In Excel Online, colored icons look a lot more beautiful: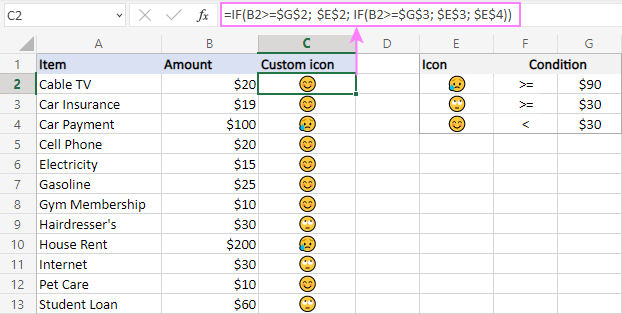 This is how to use icon sets in Excel. Upon a closer look, they are capable of a lot more than just a few preset formats, right? If you are curious to learn other conditional formatting types, the tutorials linked below may come in handy.