In this tutorial, you will learn how to count unique values in Excel with formulas, and how to get an automatic count of distinct values in a pivot table. We will also discuss a number of formula examples for counting unique names, texts, numbers, cased-sensitive unique values, and more.
When working with a large dataset in Excel, you may often need to know how many duplicate and unique values are there. And sometimes, you may want to count only the distinct (different) values.
If you have been visiting this blog on a regular basic, you already know the Excel formula to count duplicates. And today, we are going to explore different ways to count unique values in Excel. But for the sake of clarity, let's define the terms first.
Unique values - these are the values that appear in the list only once.
Distinct values - these are all different values in the list, i.e. unique values plus 1st occurrences of duplicate values.
The following screenshot demonstrates the difference: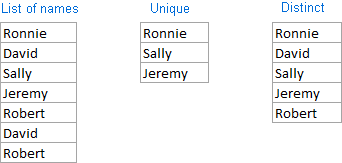 And now, let's see how you can count unique and distinct values in Excel using formulas and PivotTable features.
I thank you for reading and hope to see you again next week. In the next article, we are going to discuss various ways to find, filter, extract and highlights unique values in Excel. Please stay tuned!
You may also be interested in