Trim Spaces app for Excel - remove trailing and leading spaces
Every day we receive emails where you ask about Office 2013 support. An it's really awesome as this shows you still need our tools. Please believe, our developers are working hard to release the add-ins compatible with the latest Office version as soon as possible. The good news is you can already use one of Ablebits tools in your Excel 2013. Trim Spaces is available in Microsoft Office Store waiting for you to download the tool, rate it and provide your feedback.
How to get Trim Spaces in my Excel 2013?
If you have excess blanks before or after cell values or between words, it can become a challenge to find duplicates, merge worksheets, sort or filter the data correctly. If you already moved to Office 2013 and miss Trim Spaces in your Excel, follow the steps below to regain the tool for finding and removing leading and trailing spaces in your worksheets.
First off, go to Office Store - Apps for Excel and find Ablebits.com Trim Spaces for Excel.


Click on its icon and you'll find all the information about the tool. Then press the Add button on the add-in page.


Microsoft will offer you to sign in and then you'll see the instructions with the screenshots about how to find the app in your Microsoft Excel 2013.
Now I have the Trim Spaces window in Excel 2013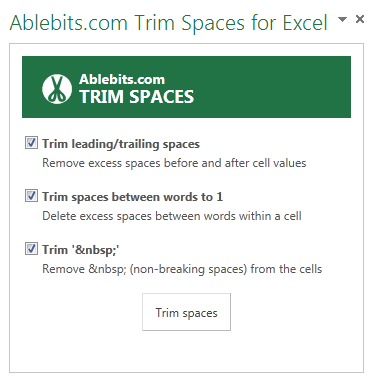 You'll see the add-in window to the right of your worksheet. Just select a range in your table, tick the necessary checkboxes and click the Trim Spaces button.
If you ever need to move, close or resize the add-in window just click on the drop-down arrow next to the name of the tool.


Breathe out! Trim Spaces is still on your side in brand-new Excel 2013. Your feedback and rates are really welcome :).
You may also be interested in