In this tutorial, you will find step-by-step instructions on how to install the Personal edition of Ultimate Suite for Excel. If you need to install the Business edition of Ultimate Suite, please visit the Business edition installation page; if you are looking for a way to install or activate the Terminal Server edition, please follow the Terminal Server installation and activation instructions.
If you face any problems during installation, please look over our Ultimate Suite installation troubleshooting page.
Also, have a look at the Collection for Outlook installation tutorial.
How to install the Personal edition of Ultimate Suite
First of all, you can download the latest version of Ablebits add-ins for Excel here.
Before you start
Note!!!
Before starting installation,
uninstall
all Ablebits stand-alone add-ins for Excel and previous Ulitmate Suite versions from all user profiles!
Close all Microsoft Excel windows.
Unzip the folder with the add-in files.
Run the setup.exe file:

Follow the Setup Wizard instructions
Here is the Setup Wizard window:

Click Next >.
Please read the license agreement, tick I Agree, and click the Next > button:

On this step, let's select the installation folder:

Click OK and hit Next >.
This is the final confirmation that the Ablebits setup is ready to start:

Click Next >.
In a few seconds, the installation is finished:

Click the Close button.
Make sure the setup is complete
Let's start Excel and make sure the Ablebits add-ins have been installed. On the ribbon, you will see two new tabs: Ablebits Data and Ablebits Tools.


How to uninstall the Personal edition of Ultimate Suite
Tip.
If you use Windows 10, go to
Settings
→
Apps
, find the add-in in the list and click on it: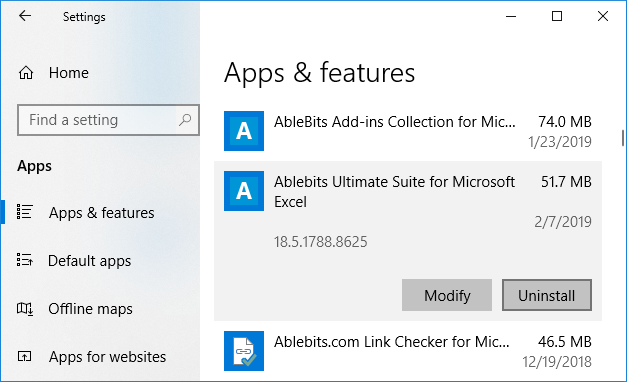 If you use another Windows version, uninstall the add-in via Control Panel:
Close all Microsoft Excel files.
Go to Start and open Control Panel.
Click on Programs:

Pick the Uninstall a program option:

You will see a list of all installed programs. Find the add-in you want to uninstall and double-click it.
Click Yes in the dialog window: