In this tutorial, you will find step-by-step instructions on how to install and uninstall the Business edition of Ultimate Suite for Excel. Also, you can learn to install the Ultimate Suite Personal edition and deploy the Ultimate Suite Business edition via SCCM or via GPO.
If you face any problems during installation, please visit our Ultimate Suite installation troubleshooting page.
Also, have a look at the Collection for Outlook installation tutorial.
How to install the Ultimate Suite Business edition
Before you start
The Business edition of Ultimate Suite can be used for both purposes, private and business, by a single or several users of a single computer.
By default, the Business edition installs its executable files to the AppData\Local folder of the currently logged user, so your permissions should allow you to change this folder as well as to run any executable files from this folder (typical for the standard user accounts of Windows). When installing into AppData\Local, Ultimate Suite Business will be added to Excel and activated for the current user only. The AppData\Local based installation allows administrators to install Ultimate Suite Business for several users of one computer, e.g. for the selected users on a terminal server.
To support roaming profiles, you can install Ultimate Suite Business into the \AppData\Roaming folder, that will solve possible licensing issues when a user migrates between terminal servers.
Finally, the Business edition supports the deployment via Group Policy Objects and SCCM. But there is one important limitation - do not install Ultimate Suite Business into roaming profiles if you use the Office deployed from Microsoft Store since this Office doesn't support this scenario.
Important! The installation of Ultimate Suite and the subsequent launch of Excel must be performed in the context of the same user.
Important!
Before starting installation,
uninstall
all Ablebits stand-alone add-ins for Excel and previous Ultimate Suite versions from all user profiles!
Close all Microsoft Excel windows.
Unzip the folder with the add-in files.
Run the setup.exe file:

Before moving further, make sure to close the windows that may have appeared while unzipping the package, e.g. from WinRAR or WinZip.
Follow the Setup Wizard instructions
Here is the Setup Wizard window:

Click Next.
Please read the license agreement, tick I Agree, and click the Next button:

On this step, you are to select the installation folder:

This is the final confirmation that the Ablebits setup is ready to start:

Click Next.
In a few seconds, the installation is finished:

Click the Close button.
Make sure the setup is complete
Let's start Excel and make sure the Ablebits add-ins have been installed and two new tabs have appeared in the ribbon: Ablebits Data and Ablebits Tools:


Activate your license
To activate your Ultimate Suite license after installation, follow the Activation guide.
How to deploy with Command Line
Instead of interactive installation, power users or administrators may install Ultimate Suite Business with one command line.
To install and activate Ultimate Suite for the current user, enter the following command in Command Prompt:
msiexec /i "C:\Downloads\excel-ultimate-suite.msi" /q REGISTRATIONNAME="Your License Name" REGISTRATIONKEY="Your License Key"



Press Enter.
How to activate for all users via GPO
Note.
For activation via GPO, you need to have Administrator permissions.
To activate the license via Group Policy, refer to the Add registration information via GPO guide.
Configure AppLocker to let the add-in work correctly
If you use AppLocker in your organization, do not forget to configure it to let the Ablebits add-ins work. Find a quick manual on this page: Configure AppLocker to let the add-in work correctly
No Ablebits tabs when you start Excel as administrator
If you cannot see Ablebits tabs in your ribbon after installing Ultimate Suite Business edition, it may mean that you are running Excel as administrator. If your account has admin rights, reinstall the add-in with the corresponding privileges: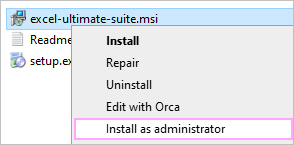 Note.
It is not possible to reinstall Ultimate Suite Business edition with administrator privileges in the case of corporate deployment via GPO or SCCM.
For detailed information on other reasons behind the missing Ablebits tabs, please visit this troubleshooting page.
How to uninstall Ablebits add-ins
Tip.
If you use Windows 10, go to
Settings
→
Apps
, find the add-in in the list and click on it: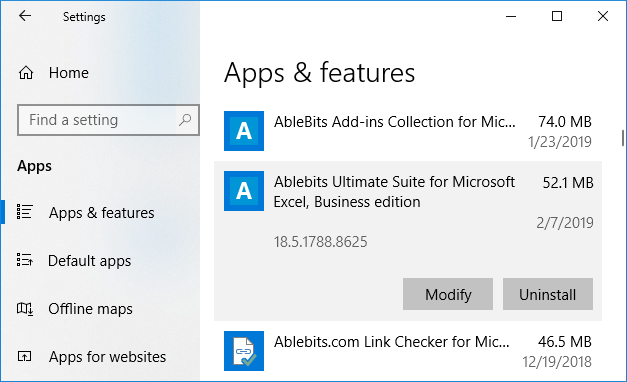 If you use another Windows version, uninstall the add-in via Control Panel:
Close all Microsoft Excel windows.
Go to Start and open Control Panel.
Click on Programs:

Pick the Uninstall a program option:

You will see a list of all installed programs. Find the add-in you want to uninstall and double-click it.
Click Yes in the dialog window: