Install and use Template Phrases on Outlook 2013 Reading Pane
We have just released a new update for Template Phrases. Install the latest version and enjoy using it on the reading pane in Outlook 2013; check out the improved macros and bug fixes.
We continue improving Template Phrases for Outlook. Our developers have already introduced a more advanced base for storing your templates and several new helpful macros.
Our support team were reported about some problems and did their best to find a workaround and fix the bugs as soon as possible. We would like to thank you for helping us improve this handy add-in and we are sorry if the issues caused you any inconvenience.
Template Phrases on the Preview Pane
We have just published an update for Template Phrases for Outlook that you can download from our website.
The latest version is intended for the users of Outlook 2013 who asked us for the possibility to use the add-in in the Reading Pane. Now your templates appear next to it and it's no longer necessary to click Pop Out every time you want to insert a template text to your email.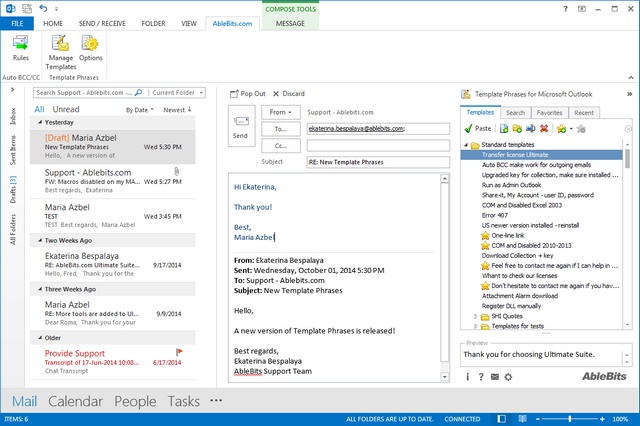 Macros improvements
There are also a couple of improvements for all Template Phrases fans.
~%ATTACHMENTS macro now doesn't add any punctuation marks if there is only one attachment name. Several names are separated by commas.
If you use macros like ~%INSERT_RECIPIENT_FIRSTNAME, you may know that the current email needed to be in your address book. Now if you are replying or forwarding an email, the program makes advanced search in all your local address books including exchange. If the add-in doesn't find the necessary email, it inserts the full name from the To line. Thus, you can get and edit the name without copying and pasting.
We promise to keep working on Template Phrases. As a spoiler, I can say that new design and more fixes are on the waiting list. Feel free to ask any questions and leave your feedback in the comments below. Thank you for your attention.