On this page, you will find handy tips and tricks on how to maximize your benefit from working with Shared Email Templates in Outlook.
Pasting text from other sources may break formatting
Pasting text from an external source to your template may make HTML inconsistent and break your template formatting. To fix this, you can select the template text and click the Clear Formatting option on the toolbar:
After that, format your template anew.
Another solution to avoid the issue is to collect and edit your templates in Outlook and connect an Outlook folder to Shared Email Templates.
Clear macros formatting
When you use macros, keep in mind that the entire macro text has to be of the same formatting, otherwise, the macro won't work. For instance, you macro can't look like this ~%FILLSUBJECT[Price List]. But if in this example the difference in formatting is obvious, in many other cases in may not be.
So, if your macro may have different formatting, select the entire macro text and clear formatting by clicking the Clear Formatting icon in the toolbar:
Use team and profile properties
If there are some pieces of information you frequently use in your templates, do not forget about the profile, team, and mailbox properties you may use.
For example, you need to create such a message:
"Hello, thank you for contacting the Sales department. My name is Jessica Johnson, I am marketing manager".
You may use the following properties:
"Sales" as a team property "TeamName"
"Jessica Johnson" as a profile property "FullName"
"marketing manager" as a profile property "Position"
The benefit here is that you create a property once and insert it whenever you need with the corresponding macro.
So, your template text will look as follows:
"Hello, thank you for contacting the ~%TEAM_PROPERTIES[TeamName] department. My name is ~%PROFILE_PROPERTIES[FullName], I am ~%PROFILE_PROPERTIES[Position]".
There are some predefined properties, but you can create your custom ones. Here is the guide:
How to use team, mailbox, & profile properties
Use properties in snippets and vice versa
To save time even more, you can add your profile or team properties to snippets: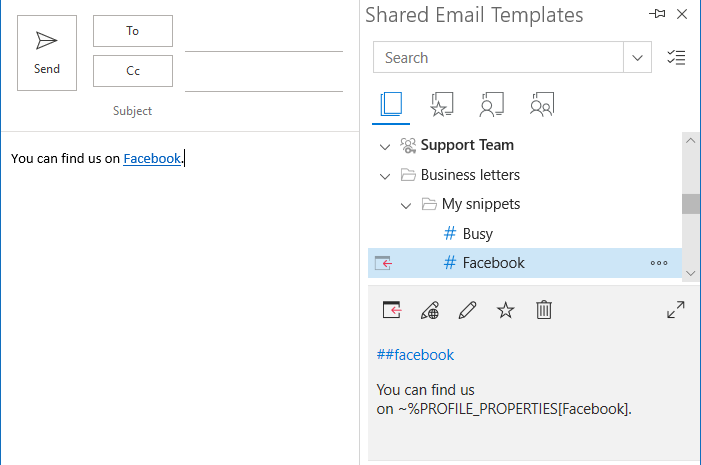 This works the other way around as well: you can use snippets in your team and profile properties. You first create a snippet, then add a new property and use the snippet in it:

Then you can compose a new template and use this property in it: