This manual is for users who have received an invitation from their admin or colleague to join a team in Shared Email Templates for Outlook.
If you do not have the add-in installed, please first follow these instructions: How to install Shared Email Templates
Step 1: Accept the invitation
As soon as your colleague invites you to a team, you'll get a Shared Email Templates invitation email. Open it and click the Join the team button: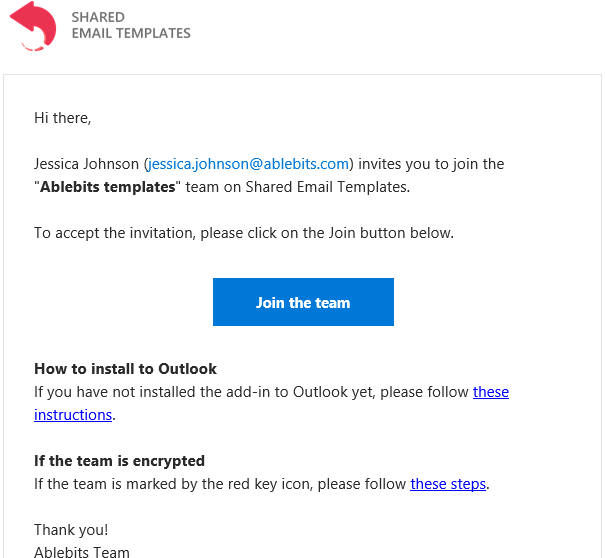 Upon the click, a new tab will be opened in your default browser. You do not have to log in to the Shared Email Templates web app, so you can close the tab. We recommend that you go to Shared Email Templates in your Microsoft Outlook client (or first install it if you haven't done it yet).
The next step is to create a Shared Email Templates account, but If you already have one, jump right to Step 3.
Step 2: Сreate an account in Shared Email templates
Start Shared Email Templates
To run Shared Email Templates, open your Outlook, go to Home → New Email, find the Ablebits group, and click the Shared Email Templates icon:

Tip.
If you prefer using the Outlook online version, click the
New message
button in the top left corner of the window, then hit the three dots and find
Shared Email Templates
in the context menu: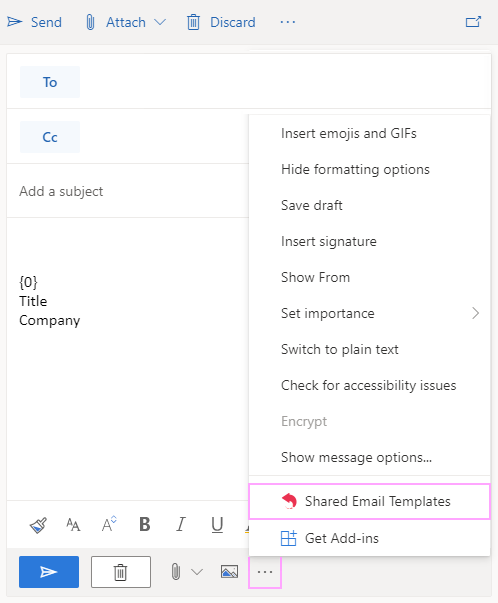 Create your account
In the opened Shared Email Templates window, click Create an account: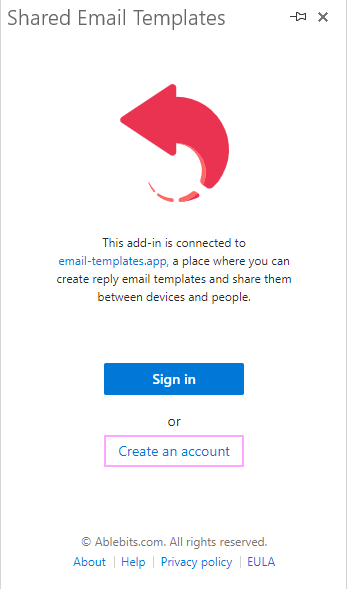 Enter your first and last name, email, create login, password, and click Register. That's it. Now you can meet the tool and learn its capabilities.
Step 3: Activate your license key
Besides the invitation to a team, you may get an email from your admin that contains your license key and the Team Password in case the team is encrypted: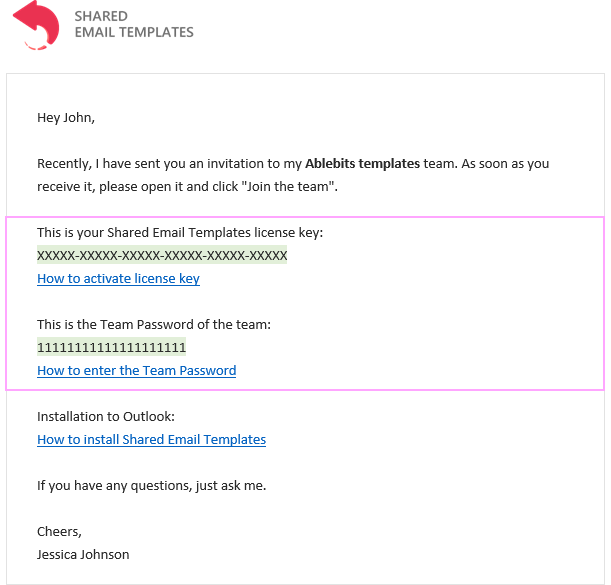 Copy the license key from this email and activate it by taking the steps described below.
Click the three dots in the bottom right corner and select Profile:

Click the Enter License Key button:

Paste your license key into the corresponding field and click Activate:

You'll see the Successful activation dialog window:

Step 4: Join an encrypted team
The same email from your admin should contain the Team Password you are invited to, so, copy it to clipboard.
To get access to an encrypted team, stand on it and find the Team Password field on the grey background. Paste the received key into this field and click Get Access:

Now you are a team member and can use the templates in the team.