If you've received an invitation from your colleague to join a team in Shared Email Templates for Outlook, follow the steps below.
Note.
If there is no Shared Email Templates in your Outlook yet,
install the add-in
first.
Step 1. Accept the invitation
As soon as your colleague invites you to a team, you'll get a Shared Email Templates invitation email. Open it and click the Join the team button: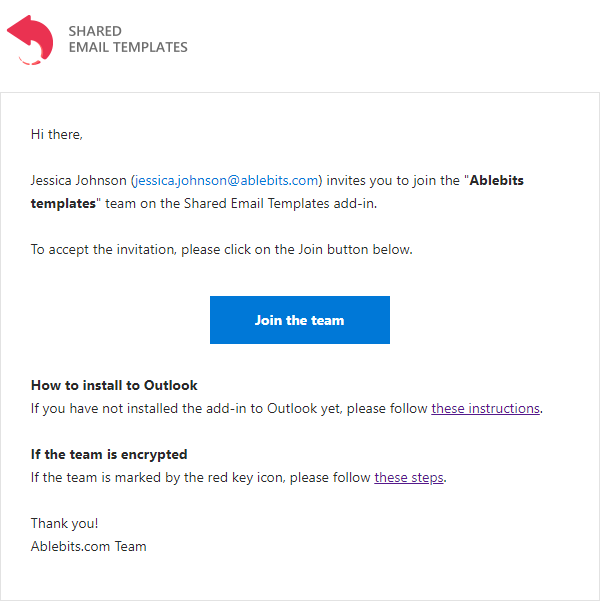 Upon the click, a new tab will be opened in your default browser. You don't have to log in to the Shared Email Templates web app, so you can close the tab. We recommend that you go to Shared Email Templates in your Microsoft Outlook client (or first install the add-in if you haven't done it yet).
The next step is to create a Shared Email Templates account. If you have already created it, jump right to Step 3.
Step 2. Сreate an account in Shared Email Templates
For detailed information on how to create a personal Shared Email Templates account, visit this help page.
Step 3. Activate your subscription key
Besides the invitation to a team, you might get an email that contains your subscription key and the Team Password (if the team is encrypted):

Copy the subscription key from this email, sign in to your Shared Email Templates account, and activate the key.
Step 4. Join an encrypted team
To get access to an encrypted team, stand on it and find the Team Password field. Paste the Team Password, which you received from your colleague, into this field and click the Get Access button:


Now you're part of the team and can use the team templates.