Note.
The instructions below are for those users who have personal Shared Email Templates accounts. If you have a company account, your subscription is managed by your company's administrator and therefore it's not possible for you to activate or deactivate a subscription key right from your profile—both the
Enter Subscription Key
button and the
Deactivate
button are absent.
Start Shared Email Templates
To learn to start the add-in, click on the version of Outlook you use in the list below:
Sign in to Shared Email Templates
Click the Sign in button:

Enter your username (or email address) and password and click Sign in: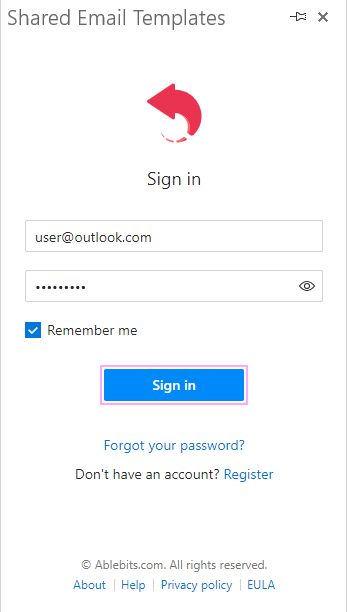 If you haven't created an account yet, follow these steps: How to start and create an account
Enter your subscription key
Click the three dots in the bottom right corner of the Shared Email Templates pane and select Profile:

Click the Enter Subscription Key button:

Paste your subscription key into the corresponding field and click Activate:

You'll see the Successful activation dialog window:

How to deactivate your subscription key
Note.
You won't be able to reactivate your subscription key within 24 hours after you deactivate it.
To deactivate your subscription key, click the Deactivate button: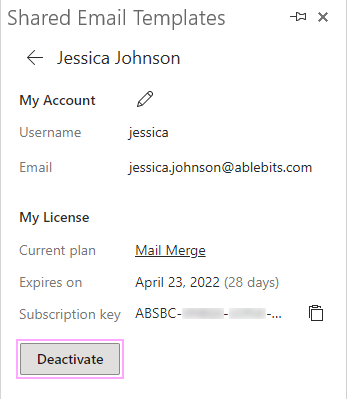 Confirm the deactivation: