As soon as you create a Shared Email Templates account, you can either use it for free without activation (the Free subscription plan) or get a license key if you choose other subscription plans. On this page, find the detailed instructions on how to activate your Shared Email Templates license key.
Note. One license key can be used by several users, each of them has to activate the key on their client apps by following the steps on this page. The key is sent to the purchaser only and must be delivered to users by the purchaser.
Run Shared Email Templates
There are two ways to start the tool depending on the Outlook version you use (online or desktop).
In Outlook on the web, click the New message button in the top left corner of the window, click on the three dots, and find the add-in in the list:

In the desktop Outlook version, go to Home → New Email, find the Ablebits group, and click the Shared Email Templates icon to run the tool:

Sign in to Shared Email Templates
Click the Sign in button: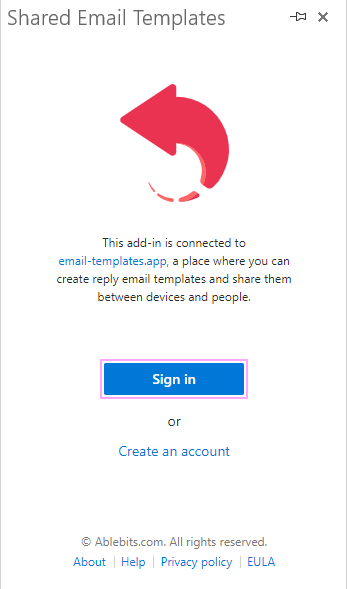 Enter your email, password, and click Sign in: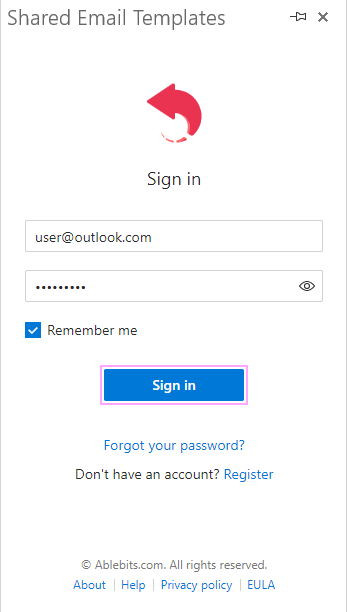 Enter your license key
Click the three dots in the bottom right corner and select Profile:

Click the Enter License Key button:

Paste your license key into the corresponding field and click Activate:

You'll see the Successful activation dialog window:

How to deactivate your license key
Note. Please note, you won't be able to reactivate the key within 24 hours after you confirm the deactivation.
To deactivate the license key, click the Deactivate button: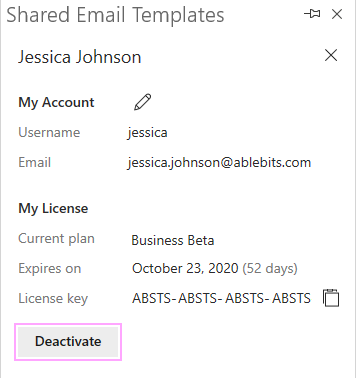 Confirm the deactivation: