Shared Email Templates is an add-in for Outlook that works in both Outlook on the web and desktop Outlook (Windows or Mac). On this page, find out how to install the tool on your device no matter which type of Outlook you prefer.
As soon as the installation is complete, you can create your account and get acquainted with the tool.
How to install Shared Email Templates
You can install the add-in via a manifest file or from the Microsoft Office Store. For both ways, the first step is the same – open the Add-ins for Outlook dialog window.
Open Add-ins for Outlook
Let's find the Get Add-ins button:
Install via manifest file
In the Add-Ins for Outlook dialog box, click My add-ins:


Note.

In desktop Outlook, first pick

ADD-INS

in the top left corner and then select

My add-ins

:

.

Scroll down to the Custom add-ins section and click Add a custom add-in:


Choose Add from URL... if you have a link to the manifest file. Insert the link into the Add private add-in from a URL window and click OK:

Pick Add from file... if you have a manifest file downloaded on your machine, and select the file.
Install from Microsoft Office Store
In the Add-Ins for Outlook dialog box, find the Search Add-ins field, and type in Shared Email Templates. Select the tool in the drop-down list:

Click the Add button:

Make sure installation is complete
In Outlook on the web, click the New message button in the top left corner of the window, click on the three dots, and find the add-in in the list: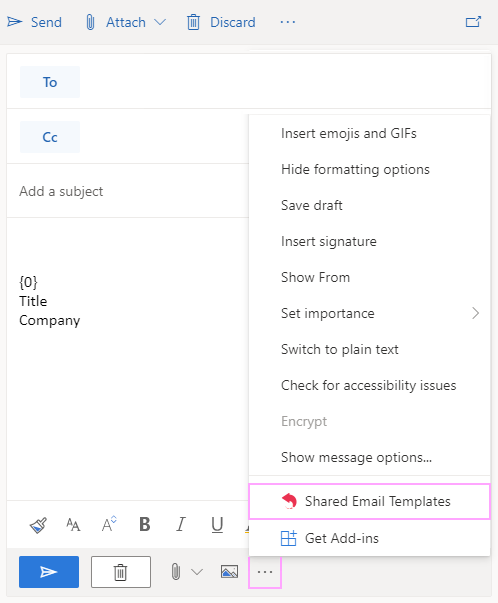 In the desktop Outlook version, go to Home → New Email, find the Ablebits group, and click the Shared Email Templates icon to run the tool:

Now you can create your Shared Email Templates account.
How to uninstall Shared Email Templates
To uninstall the utility, click the Get Add-ins button, find the My add-ins section, and click on the Shared Email Templates box: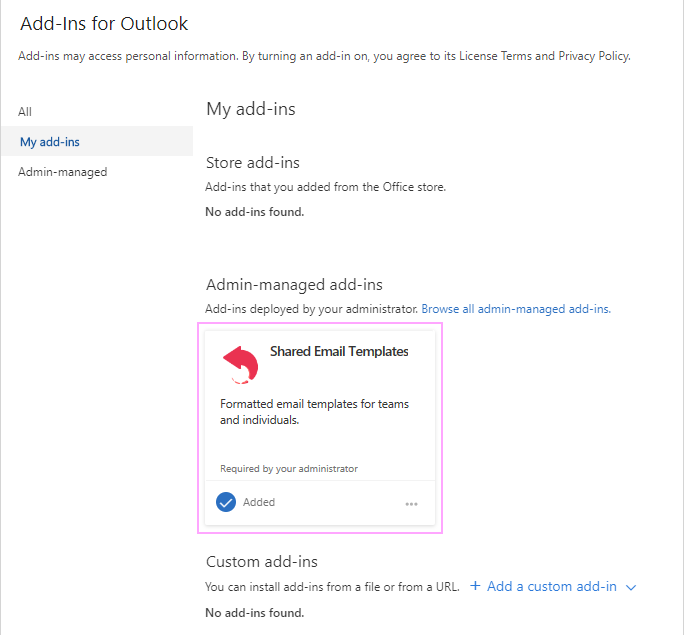 Click Remove:


Other Shared Email Templates links
More Shared Email Templates pages: