The tutorial shows how to use the MAXIFS function in Excel to get the maximum value with conditions.
Traditionally, when you ever needed to find the highest value with conditions in Excel, you had to build your own MAX IF formula. While not a big deal for experienced users, that might present certain difficulties for novices because, firstly, you should remember the formula's syntax and, secondly, you need to know how to work with array formulas. Luckily, Microsoft has recently introduced a new function that lets us do conditional max an easy way!
Excel MAXIFS function
The MAXIFS function returns the largest numeric value in the specified range based on one or more criteria.
The syntax of the MAXIFS function is as follows:
MAXIFS(max_range, criteria_range1, criteria1, [criteria_range2, criteria2], …)
Where:
Max_range (required) - the range of cells where you want to find the maximum value.
Criteria_range1 (required) - the first range to evaluate with criteria1.
Criteria1 - the condition to use on the first range. It can be represented by a number, text or expression.
Criteria_range2 / criteria2, …(optional) - additional ranges and their related criteria. Up to 126 range/criteria pairs are supported.
This MAXIFS function is available in Excel 2019, Excel 2021, and Excel for Microsoft 365 on Windows and Mac.
As an example, let's find the tallest football player in our local school. Assuming the students' heights are in cells D2:D11 (max_range) and sports are in B2:B11 (criteria_range1), use the word "football" as criteria1, and you will get this formula:
=MAXIFS(D2:D11, B2:B11, "football")
To make the formula more versatile, you can input the target sport in some cell (say, G1) and include the cell reference in the criteria1 argument:
=MAXIFS(D2:D11, B2:B11, G1)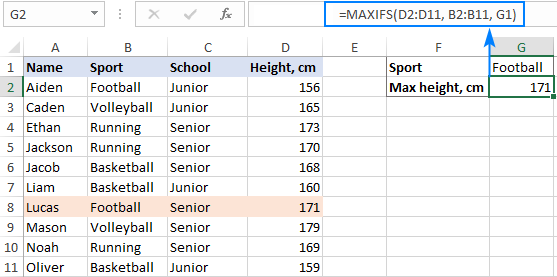 Note. The max_range and criteria_range arguments must be of the same size and shape, i.e. contain the equal number of rows and columns, otherwise the #VALUE! error is returned.
How to use MAXIFS function in Excel - formula examples
As you have just seen, the Excel MAXIFS is quite straightforward and easy to use. However, it does have a few little nuances that make a big difference. In the below examples, we will try to make the most of conditional max in Excel.
7 things to remember about Excel MAXIFS
Below you will find a few remarks that will help to improve your formulas and avoid common errors. Some of these observations have already been discussed as tips and notes in our examples, but it might be helpful to get a short summary of what you've already learned:
The MAXIFS function in Excel can get the highest value based on one or multiple criteria.
By default, Excel MAXIFS works with the AND logic, i.e. returns the maximum number that meets all of the specified conditions.
For the function to work, the max range and criteria ranges must have the same size and shape.
The SUMIF function is case-insensitive, i.e. it does not recognize the letter case in text criteria.
When writing a MAXIFS formula for multiple cells, remember to lock the ranges with absolute cell references for the formula to copy correctly.
Mind the syntax of your criteria! Here are the main rules:

When used on their own, text and dates should be enclosed in quotation marks, numbers and cell references should not.
When a number, date or text is used with a logical operator, the whole expression must be enclosed in double quotes like ">=10"; cell references and other functions must be concatenated by using an ampersand like ">"&G1.

MAXIFS is only available in Excel 2019 and Excel for Office 365. In earlier versions, this function is not be available.
That's how you can find the maximum value in Excel with conditions. I thank you for reading and hope to see you on our blog soon!